Gia Bath and Body Works Chocolate Body Polishing Scrub Review
I am bit fanatic when it comes to skin care and do my best to my skin healthy & glowy and scrubbing once a week is one such habit. So, Today I will be reviewing a tempting Body scrub from my latest skin care obsession "Gia Bath and Body Works", the Chocolate Body Polishing Scrub.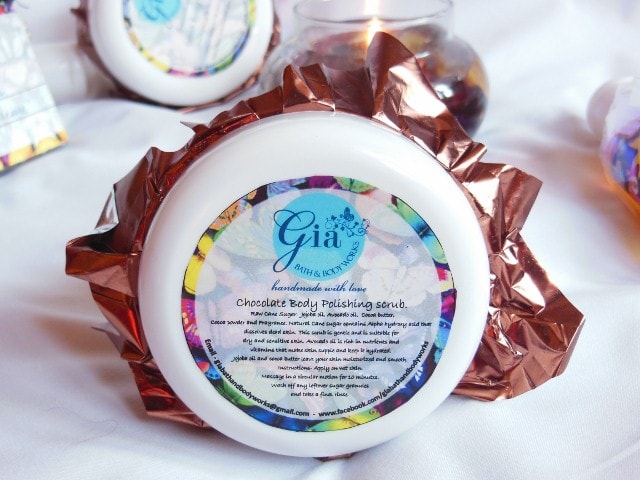 Product Claims: Natural cane sugar contains alpha hydroxy acid that dissolves dead skin. This scrub is gentle and is suitable for dry and sensitive skin. Avocado oil is rich in nutrients and vitamins that make skin supple and keep it hydrated. Jojoba oil and cocoa butter leave your skin moisturised and smooth.
Direction for Use:- Apply on wet skin. Massage in a circular motion for 10 minutes. Wash off any left over sugar granules and take a final rinse.
Ingredients:- Raw cane Sugar, Jojoba Oil, Avocado Oil, Cocoa Butter, Cocoa Powder and fragrance.
Price:- Rs. 450 for 200g
Packaging:- The Scrub comes in a round opaque white colored plastic jar with a screw lid. The packaging isn't fancy and like other tub cases not very hygienic to use but I don't mind that. It comes sealed with some plastic wrappers in between the lid to avoid any spillage or leaking of the product but I would have really liked if there is some sort of separator under the lid too. (Asking too much.. ?? 😛 )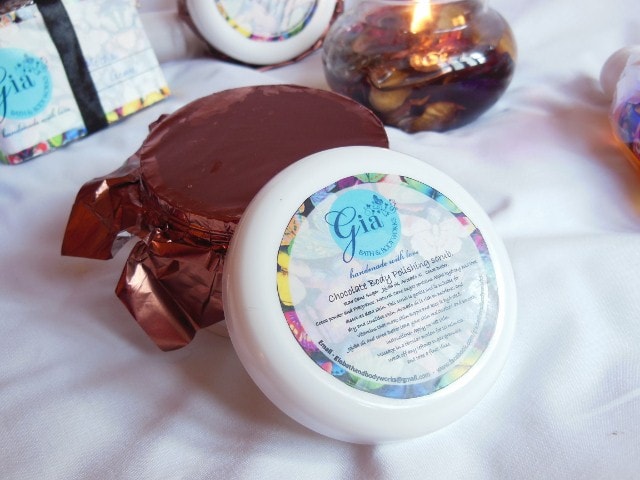 My experience with Gia Bath and Body Works Chocolate Body Polishing Scrub:-
Chocolate Body Polishing Scrub is a coffee-brown colored scrub with raw cane sugar granules but its gritty texture doesn't feel harsh on skin as the granules melt pretty quickly while scrubbing them against damp skin. As the scrub doesn't contain any filler, the scrubbing granules aren't bonded together with any creamy base which makes it slightly difficult to use and face issues like falling it on the bathroom floor during application. I would suggest rub it between palms for easy application and also as the sugar dissolves fast use it in small portions covering each part of body in sections.
The sugar granules do a good job at removing dead skin cells and at the same time its oil enriched formula with skin moisturizers like Cocoa Butter, Avocado Oil, and Jojoba Oil moisturizes skin and leaves it extremely smooth just like I had an oil massage. It rinses of effortlessly and doesn't leave behind any oily/greasy residue. I don't feel the need of following with any lotion or body butter afterwards.
Coming to the best part of the scrub its fragrance which is a wonderful combination of Coffee and cocoa notes mixed with some exotic oils. It's exotic chocolaty fragrance is ideal for chilly winters as it has some cozy warmth. The fragrance is a bit strong at first but once it is rinsed off it leaves subtle soothing aroma which I love. The smell lingers on really long and I could make it even after hours of shower (I tested for 5 hours).
It is superb quality body scrub and has become a staple in my shower rack. My search for HG Body Scrub ends here.. 😀 😀
Don't Miss to Checkout:
Pros of Gia Bath and Body Works Chocolate Body Polishing scrub:-
Gently slough away dead skin cells
Leaves skin super smooth
Highly moisturizing
Excellent for dry skin in winters
Doesn't require to follow with any moisturizer
Alluring fragrance
Fragrance lingers on for hours
Contains luxury oils like Jojoba Oil, Avocado Oil
Completely natural and free from harmful chemicals
Value for Money
Cons of Gia Bath and Body Works Chocolate Body Polishing scrub:-
Bit difficult to use
Wish for a lavish packaging
Recommendation:- Gia Bath and Body Works Chocolate Body Polishing scrub is a  treat to my skin with mesmerizing fragrance lingering on for hours post–shower. It exfoliates my skin thoroughly and leaves it soft, smooth and bouncy just like baby cheeks. If your skin turns dry and flaky in winters do try this utterly moisturizing body polish which will not only remove dead skin cells but replenish it with moisture too. I absolutely loved the fragrance of it and it's completely natural ingredient list which gives a "Spa At Home" kind of feeling. Highly recommended!
Quick tips:
Pick up the scrub and rub between palms for even application and avoid from falling t to the floor.
For a thorough exfoliation apply it on a damp skin not wet (Wait for a minute a two after pouring water in the shower) as this way the granules will last longer giving extra time for scrubbing
Rating:- 5/5
Have you tried Gia Bath and Body Works Chocolate Body Polishing Scrub? Which is your favorite Body Scrub/Polish?