Get your Dream Eyes with O-Lens Jenith 3 Color Lenses
Hello Everyone,
It is going to be first of its kind review here on BMM..its about contact lenses! I hate to tell that I am a specy and wear those nasty glasses almost whole day unless I am doing makeup tutorials.. :P. I tried out some regular colored lenses in brown 4-5 years back but didn't liked the look…so I just dumped the idea of contact lenses! Then, Olens India hit me with their colorful selection and I gave in to the Blues.. If you remember the commercial for promoting eye donation with Aishwarya Rai with her dreamy blue eyes…you will know why :P. So, lets just see how these O-Lens Jenith 3 color lenses in Blue worked for me.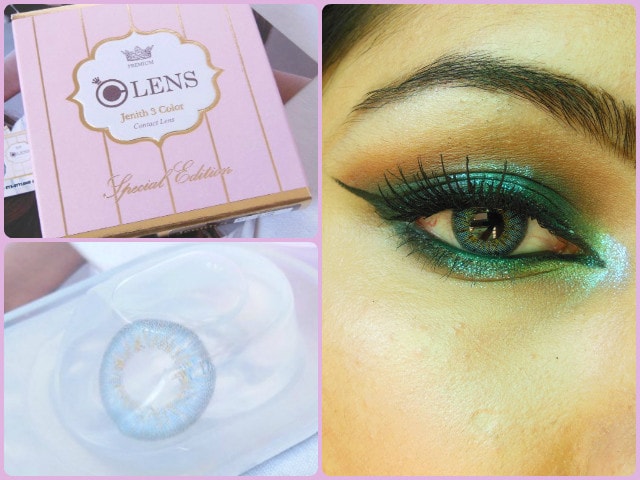 Price:- Rs.1690 for a pair
Shelf Life:  6 months disposable
Shades Available:
O-Lens Jenith 3 Brown
O-Lens Jenith 3 Natural Grey
O-Lens Jenith 3 Sky Grey
O-Lens Jenith 3 Green
O-Lens Jenith 3 Pink
O-Lens Jenith 3 Blue
Packaging: The lenses are housed in a sleek pink colored box with gold details. I tell you I was already sold with their pretty packaging. <3
My experience with O-Lens Jenith 3 Blue Lenses:
I haven't used much of the colored contact lenses ( or even regular lenses) so I am incapable of comparing them with other brands but based on my personal experience I just loved them.
O-Lens Jenith 3 Blue has made my dreams come true because I always wanted to have those deep blue eyes and I got to feel the beauty with these lenses! The diameter is slightly bigger than my natural eye lens (pupils) which made my eyes look slightly bigger but still so natural that I can even fake that I am born with blue eyes 😉
I have used contacts after years but they got applied pretty easily without making me pinch in the eyes and within few seconds they adjusted themselves in my eyes and I forgot that I am wearing lenses in another few minutes.
They wore comfortably on my super sensitive eyes even with full on makeup ( refer pictures below :P).
Recommendation: O-Lens Jenith 3 Blue Lenses are a bomb!! Olens is a Korean Brand and as you know that I am obsessed with everything Korean these days.. These just added to my obsession. The quality is amazing and they feel super comfortable on eyes. I absolutely loved these on me and frankly speaking now I want to play around with colors like Pink and Green too.. Color crazy me.. :P! Highly Recommended!
Rating: 5/5
Have you tried O-Lens Jenith 3 Color Lenses? Which is your favorite brand for colored lenses?
PS: Product sent by brand for consideration