Get Set Celebrate with October Fab Bag
Hello Everyone,
Can you feel the chill in the winds already.. its quite during the day but I can sense the winters coming when I step out early in the morning. So, its that time of the year again when I have to pull in all my thick heavy body lotions to quench my skins thirst and yes also prep up for the festive season.. gosshhh I am super excited for all the festive madness!! 😀
If you still couldn't put yourself together for festivities.. I would suggest buy yourself October Fab Bag and you will be sorted.. Read on to know why I am saying this and have a look at what all I got in this months Fab Bag.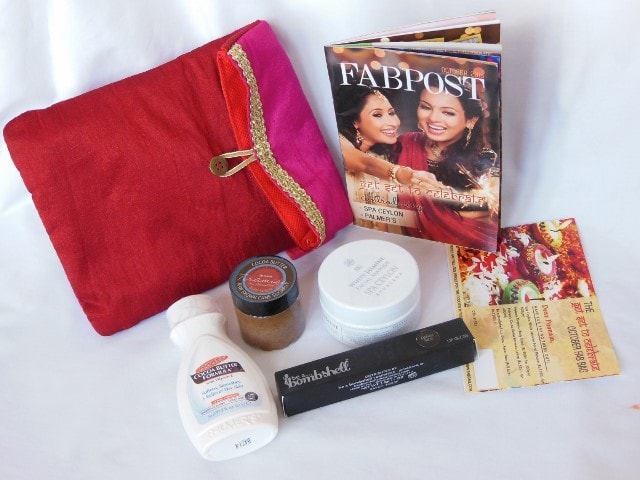 Products in October Fab Bag 2015:
Be a Bombshell Lip Gloss – Poker Face – Rs 1200 (Full Size)
Spa Ceylon White Jasmine Face Masque- Rs 2150 for 100gms ( 50gm tub)
Palmers Cocoa Butter Body Lotion – Rs 545 for 400ml ( 50ml bottle)
Nyassa Tiramisu Body Scrub – Rs 900 for 200gm (30gms Jar)
I really liked the idea of giving us the option of choosing a makup product that we would like to have in this Months Fab Bag because you know,.. now you can pick something you like or would like to try 😉
So, I picked a lipgloss from Be A Bombshell..  !! 😀 in the shade "Poker Face"  which is a deep pinkish Red lip gloss and I feel it is perfect for the upcoming festive season to brighten up my face instantly.. because nothing can beat a bright Red lip and I just love Red Lips <3
Rest of the stuff is all the skincare kinds but it isn't boring sorts that will just lie around in my drawers for months but the products are thoughtfully put together for the coming up winters with nourishing formulas to shrug off the dry flaky skin while you get indulged in their charming warm scents.
Nyassa cocoa butter infused Tiramisu body scrub smells like a rich coffee to me (So warm and delicious … I love itt!!) It has tiny raw sugar granules which will exfoliate skin and the butter will nourish your skin at the same time..
I haven't tried face masque in years, last one was a Lotus Herbals Fruit Face Mask which was just Okay and I was itching to get myself a good face masque.. because they are kinda trending these days and when I saw this… I was like.. I got it !! Yayy! 🙂
It's Spa Ceylon White Jasmine Face Masque, the brand launched in India few months back. It is a thick grayish paste and has a the best ever Jasmine scent .. it smells heavenlyyy.. cant wait to try it!
The last product in the bag is Palmers Cocoa Butter Body Lotion. I haven't tried Palmers products earlier but have heard really good things about them s I am excited to slather it on my dry skin as well! 🙂
Instead of the usual 5 we have 4 products in this month's fab bag including a 1 full sized makeup product but the size of the samples is pretty good especially that Spa Ceylon Masque. Overall, I am super happy with my this month's fab bag and will surely recommend you guys to give this a try!
Have you tried any of these products? Which one is your favorite here?
PS: Bag sent by brand for consideration