Get Glowing with Faces Ultime Pro Metaliglow Champagne 
Hello Gorgeous,
Today, I am going to share with you the latest liquid highlight in the Indian Market and that's from Faces. I have used Faces Long Wear Eye Pencils in the past and loved them to the core but never did I feel for anything else from the brand but latelt I guess they are upping their makeup game and launching a bunch of new stuff in their ULTIME PRO range which excited me a lot. I recently tried Faces Ultime Pro eye shadow Crayons and they were Fabulous.Lets see if this Faces Ultime Pro MetaliGlow Highlight does its job!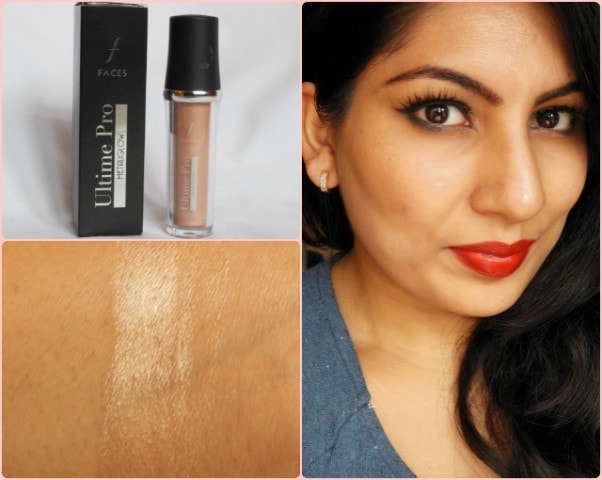 Product Claims: FACES METALIGLOW is a collection of gel based illuminator that glides easily, brightens the complexion and adds instant luminosity.
Ultrafine light-reflecting pearls melts into the skin for a polished, natural-looking radiance.
It has high percentage of thin pearls to deliver a precious, homogeneous glow.
Its aqua based formula leaves a cooling effect on your face.
It is dermatologically tested and paraben free.  
Metaliglow can be used alone or mixed with a lotion to be used all over your face and body to highlight and create a sun-kissed, bronzed look for a sexier you!
Use it as a highlighter or just pat it over your foundation for a subtle glow.
Price:- Rs.799 for 15ml
Shelf Life: 3  years from the Mfg date.
Packaging: Faces Ultime Pro MetaliGlow comes in a see through glass looking plastic bottle with a pimp dispenser and a matte black cap. I really like the shape and the easy to use packaging of this highlighter but feel its slightly bulky to travel with.
Shades Available:
Opal
Champagne
Topaz
My experience with Faces Ultime Pro MetaliGlow Champagne:-
Texture: Faces Ultime Pro MetaliGlow is claimed to be a gel based liquid highlighter and I quite like its light liquidy texture which goes on really smoothly onto the skin. The highlighter feels very light on skin and almost vanishes into nothing after giving a slight cooling sensation on application.
Shade: I got it in the shade Champagne which is a peachy golden shade and kinda perfect for warm Indian skin tones for that perfect skin within glow.
Formula: The formula has ultra fine shimmers which are milled beautifully into the liquid base and gives that gorgeous glow to the skin. I love that the shimmers does feel or look chunky on application and I can wear it during the day without looking like a disco ball. The glow is noticeable but isn't overwhelming or OTT that will scare you ( I love OTT highlight though).
Pigmentation: The highlighter has good color payoff and with just tiniest dot it shows up on skin and for more of an intense highlight I like to layer it slightly heavy on the high points of my face like top of cheekbones, bridge of nose, chin, cupid's bow and forehead.
Finish: Normally, with liquid highlighter we expect a slippery oily finish which might not work for oily skin but you are safe with this as it sets in to a satin matte finish which won't move at all. Also, because they are aqua base they are non-greasy and super-light on skin
Longevity: The highlight does last long on me and I can see that glow even after 7-8 hours though it faced slightly after 4-5 hours but all of that depends on the type of base you are wearing.
Some Pointers: Though the highlighter is pretty awesome but I feel there are few issues with the formula and needs to be highlighted so that you know what you are dealing with before buying it.
The formula blends in nicely but it sets in super fast and it will be pretty much impossible to blend it after that. So you have to be super quick with blending.
Even after blending it super quick sometimes I do see streaks on the edges and I can tell where I have the highlight which isn't that flattering to see in person. ( Not sure if I am doing it wrong during the application but will test it a little more and see :D)
It claims that it can be worn all over the face when mixed with foundation but I wont recommend that as it does give that streaky finish on drying down which may make you look patchy if used with foundation.
Recommendation: Faces Ultime Pro MetaliGlow Champagne is a gel based liquid highlighter with finely milled pearlescent peachy gold shimmers running in the base which impart that gorgeous pearly glow to the skin. The formula feels super light on skin, goes on smoothly and blend easily into the skin. The only issue I have with these is that it sets in lightening fast so I have be real quick to have a nice, non-patchy application. Faces used to have liquid highlighters earlier as well but they re-launched them with Ultime Pro collection but I haven't tried the older version so can't really compare but overall, I am impressed with the quality and finish of this highlighter. As in India, we don't have many options for liquid highlighters so this one is definitely great addition to the list. Recommended!
Rating:- 4/5
Don't Miss to Checkout:
Have you tried Faces Ultime Pro MetaliGlow Champagne? Would you like to give this liquid highlighter a try?
PS: Product sent by Brand for consideration