#BlendedWithLove: Garnier Ultra Blends Shampoos Review
Hey Gorgeous, Today I will be talking about the newest launch from Garnier, the Garnier Ultra Blends Shampoos range. Garnier hosted a grand launch event in Mumbai to introduce this new shampoo range.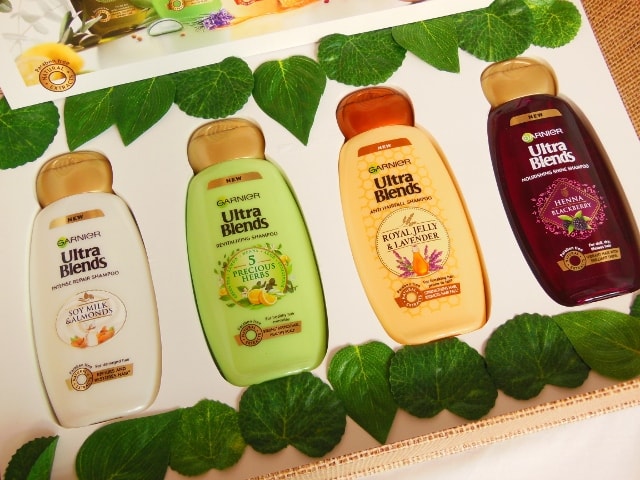 Price:
Shampoo: Rs55 for 75ml/ Rs 120 for 175ml/ Rs 230 for 340ml (Buy on Amazon)
Conditioner: Rs 170 for 175ml / Rs 75 for 75ml (Buy on Amazon)
Well, as the name suggests "Ultra Blends" this shampoos are a blends of natural ingredients that will do magical things to hair. Garnier has launched 5 different variants of Shampoos and conditioners in this Garnier Ultra Blends range. So , now you can pick the one that works best for your hair.
Garnier Ultra Blends Shampoos Range:
Royal Jelly & Lavender: Anti-hairfall
5 Precious Herbs: Revitalising
Soy Milk & Almond – Intense Repair
Mythic Olive- Deep Nourishing
Henna & Blackberry- Nourishing Shine
I wish I were there to attend the event because they had such a beautiful setup. They have showcased each product with its main ingredients like 5 precious Herbs surrounds by herbs, Royal Jelly and Lavender with lavenders, Soy milk and almond range with almonds and milk and so on!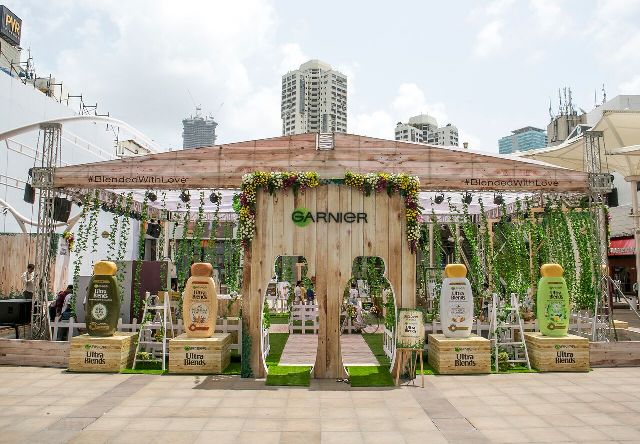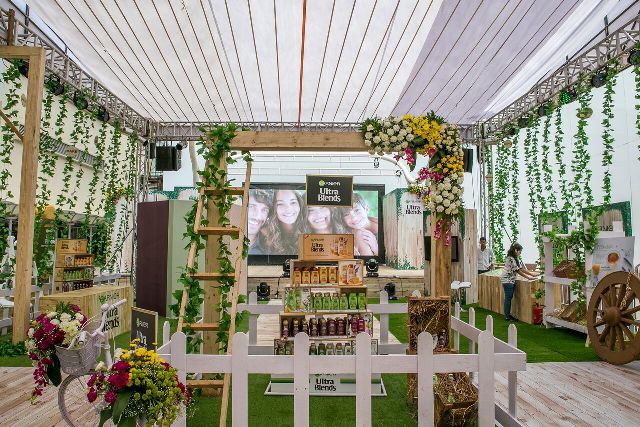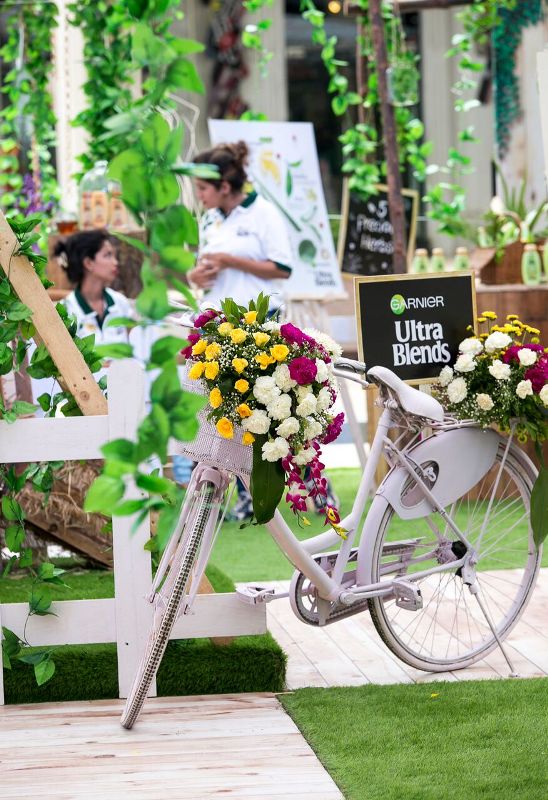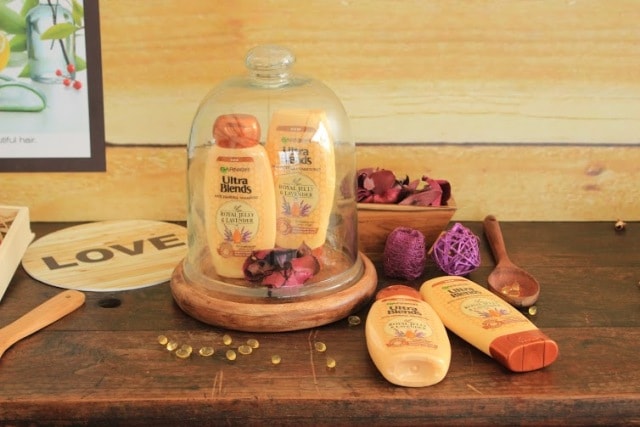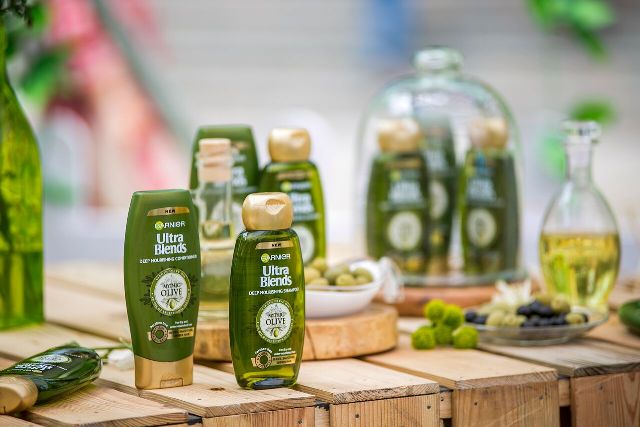 Packaging: Garnier Ultra Blends Shampoo and conditioner range comes in a color co-ordinated packaging highlighting the blend of ingredients in the product. I absolutely love the sleek packaging and the cute leaf symbol on the cap. The have a flip cap and sturdy bottle so it absolutely travel safe.
My experience with Garnier Ultra Blends Shampoo Range:
Garnier Ultra Blends range has 5 different variants and I got 4 of these to try. I will start with the first thing that I loved in these after packaging!.. fragrance
Fragrance: I usually detest fragrances in products especially herbal ones because sometimes they don't go well with me. But this time the fragrance is bang on. All the shampoos in the range smells divine. They have such a beautiful aroma that I feel like getting lost in the nature. The smell is mild and pleasing to the senses. My favourite is Garnier Ultra Blends 5 precious herbs Shampoo but others are gorgeous too. Its the first time that I am loving the scent in shampoos so much!
Texture: Each of the shampoo has a medium thin texture that spreads and applies easily. Only the Garnier Ultra Blends Heena and Blackberry Shampoo has a gel like texture while the rest have a creamy milky appearance.
Formula: The shampoos lather well. Each variant contains a unique blend of natural extracts which gives desired results on hair like Garnier Ultra Blends Soy Milk and Almonds Shampoo contains Almond milk which nourishes and repair hair from deep inside and leaves them silky smooth. I have tried almost all of them and I can definitely say that they deliver what they claim.
Results:
I have even tried them on oily hair and they still give good lather with a little bit more of the product. The Garnier Ultra Blends Royal Jelly and Lavendar Shampoo actually helped me with hairfall and I loose less hair with that. The Garnier Ultra Blends 5 Precious Herbs Shampoo adds such a lovely bounce and volume to my hair. And the volume last good 3-4 days. My hair feels smoother, softer and looks healthy and shiny with these. I haven't experienced such a lovely difference from single use from any other shampoo in this price range (or even higher).
My hair never feels rough or dry even if I don't follow with a conditioner. I don't have their complementing conditioners right now but will be ordering soon. Also, the shampoos are free from Parabens which is awesome!
Recommendation: Garnier Ultra Blends Shampoos are definitely the best Drugstore shampoos I have ever tried. Garnier has done such a fantabulous job with fragrance in each variant. Each one of them smells amazing and that is my favourite thing from the range. The formula lather well and gently cleanses hair leaving them silky smooth to touch and the beautiful blend of ingredients in each variant does their job wonderfully. The shampoos are also affordably priced so you can try them without a second thought. I have never seen such a significant difference in my hair texture from any other shampoo in first use.

The only downside is that these shampoos are surfactant based and contains SLES but otherwise they do a fabulous job at transforming hair to glamorous tresses I have been debating on which shampoo range to try next and now I have these Garnier Ultra Blends Shampoos, staple in my hair care routine from now on. I absolutely love the formula of these shampoos.. cant wait to lay my hand the 5th version, Garnier Ultra Blends Mythic Oil Shampoo (secretly ordering it from Amazon right now :P). Highly Recommended!
Rating: 4.8/5
Don't Miss to Checkout:
Have you tried these Garnier Ultra Blends Shampoos? Which one of these would you like to try?
PS: Product sent by brand for consideration but honest and unbiased opinion!