Garnier Body Cocoon Intense Moisturizing Lotion Review
Today I am going to review my first Garnier product the Garnier BodyCocoon Intense Moisturizing Lotion. I have a dry skin which tends to get extremely dry and flaky in winters. 🙁 I can't dare to skip moisturizer even for a single day. In summers, I prefer lotions with some SPF so as to protect my skin from harmful UV rays and tanning but for winters I like to nourish my skin with heavy creams and body lotions.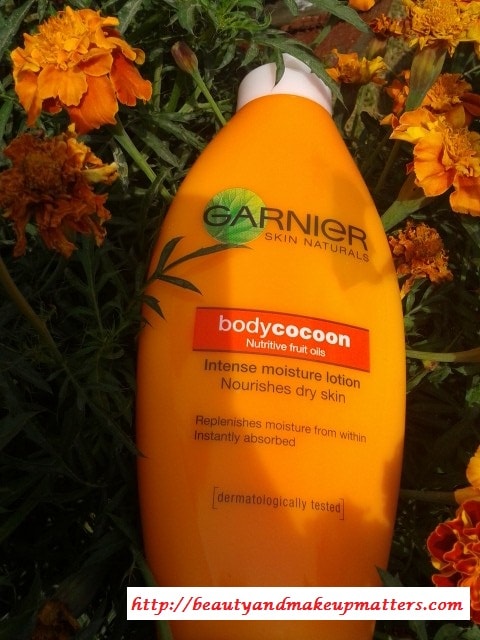 I was waiting to try this lotion since long but I had a hell lot of bottles of body lotions with me which needs to be finished first. Thanks to the harsh winters, that helped me finishing them as fast as possible. 😛 .
Product Claims:- What Garnier has to say about this:
Is Garnier bodycocoon lotion right for me? If your skin feels dry, rough, flaky and tight and you want a moisturizing body lotion that will soothe and restore the skin's suppleness, leaving it unbelievably soft.
How is it different?
Its creamy yet light texture is instantly absorbed into the skin, enveloping it in a nourishing cocoon of softness, leaving it deliciously fragranced. Its moisturizing formula blends selected natural ingredients: nutritive fruit oils from apricots, olives, blackcurrants and avocados to deliver an immediate burst of moisture to the skin. Use, wherever possible, active natural ingredients which have been carefully extracted to preserve their quality and purity

Dry Skin appears transformed:
Visibly smoother
Noticeably softer

Have been dermatologically tested to ensure respect to your skin.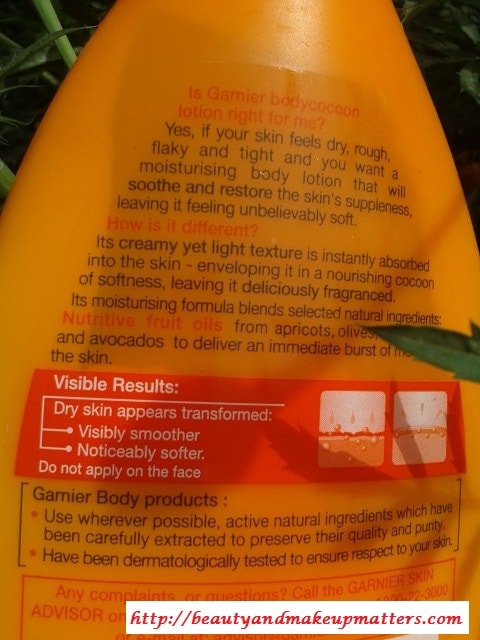 Ingredients : – 

Price:- Rs 90 for 125ml, Rs170 for 250 ml
Shelf Life:- 36 Months from the Mfg date
Packaging:- I was bored of looking at the regular white, yellow bottles of body lotions but this one stands out with a bright orange bottle. It is an oval shaped translucent bottle with a white flip cap that shuts with a satisfactory click sound. The packaging is sturdy and travel friendly. It can be easily carried around without worrying about messing your handbag. 😉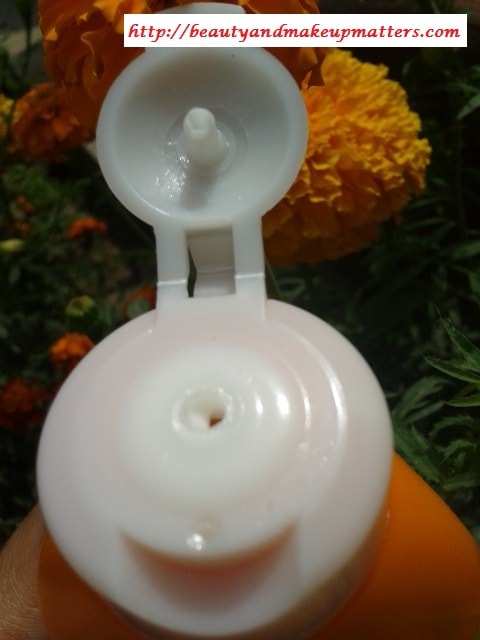 My experience with Garnier Body Cocoon Body Lotion:-
Texture/Consistency:- The lotion is milky white in color.The lotion has creamy silk like texture which is not at all heavy. It has a medium consistency neither thick nor runny. It spreads easily and gets absorbed in no time without leaving any greasy/oily film on my skin. It doesn't feel heavy on skin even if I go overboard with this just needs few more seconds to get absorbed completely into the skin.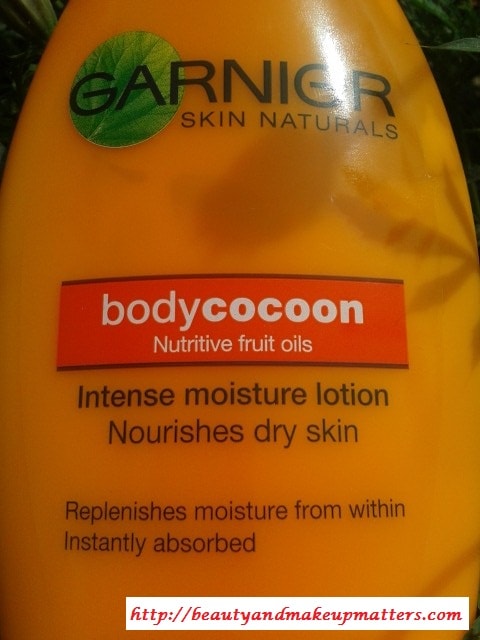 Fragrance:- It has fresh fruity fragrance which I totally love. The fragrance is mild and lingers on for few hours.
Results:-It leaves my skin soft and smooth and imparts healthy glow to the skin. The lotion is also enriched with the natural ingredients like nutritive fruit oils from apricots, olives, blackcurrants and avocados. It also contains Glycerin which also plays an important part in hydrating and moisturizing the skin.
My super dry skin looks hydrated and well moisturized for 5-6 hours in winters after which I feel the need to re-apply this lotion but for summers I needn't worry about reapplication till next day. So, according to me the lotion is best suited for hot summer season where we (super –dry skinned beauties) need to moisturize our skin but can't afford to slather it with thick or heavy lotions.
Don't Miss to Checkout:
Pros of Garnier Body Cocoon Intense Moisturizing Lotion:-
Dermatologists tested so suitable for sensitive skin also.
Gets absorbed quickly without leaving any greasy film
Keeps skin hydrated and moisturized for 5-6 hours (dry to very dry skin).
Imparts healthy glow to the skin.
Has a mild fruity fragrance which lingers on for a while.
Contains the goodness of natural ingredients
Quite affordable.
Easily available at stores and online websites.
Cons of Garnier Body Cocoon Intense Moisturizing Lotion:-
Doesn't contain SPF. I really wish if it comes with some sun protection too.
Not moisturizing enough for dry skin beauties especially in harsh winters of north when our skin starts screaming for moisture.
Contains Parabens. My search is still on for a good Paraben free moisturizer. 😉
Recommendation:- I like the texture and feel of this Garnier Body Cocoon Intense Moisturizing Lotion on my skin. It feels light and the pleasant fresh fruity smell is another plus. Orange is my new favorite these days and I love every thing painted orange including this. 😛

This lotion is a must try specially for those who are always in a hurry( like me ) and don't have time and patience to rub the lotion against the skin and wait till it gets completely absorbed (:yawn: ) as Garnier Cocoon gets absorbed within seconds.
Rating:- 3.8/5
Have you tried Garnier Body Cocoon Intense Moisturizing Lotion? Which is your current favorite body lotion?