Garnier Anti Dark Circle Eye Roll On-Light Review
Product Claims:-Dark circles make your look tired and darken your eye contour. Garnier introduces Light Anti-dark circles eye roll-on, its 1st refreshing roll-on with dual anti-dark circles action.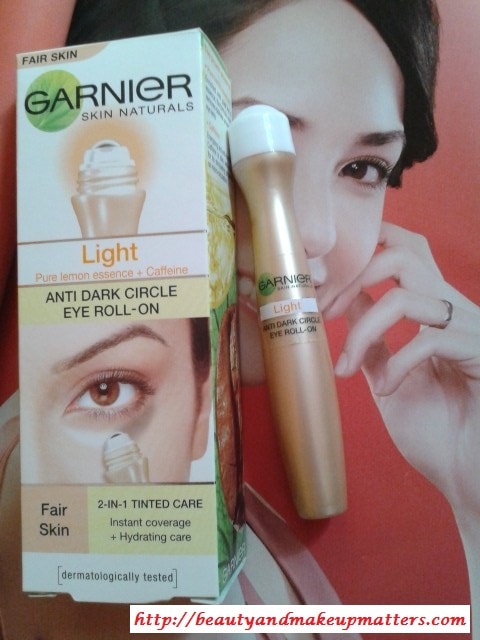 Instant Coverage:- Concentrated in mineral pigments, it covers dark circles in a flash. Soft, natural-looking finish, long lasting wear.
Anti-dark circles Hydrating care:- Enriched with caffine and pure lemon essence, known for its brightening properties, it combines a hydrating formula and the draining effect of a massage to effectively reduce dark circles and reveal a radiant and fresh look.
Fragrance free
Dermatologically tested
Ophthalmologically tested
Proven efficacy: Dark circles are perfectly covered and appear reduced. Eye contour is refreshed and brighter.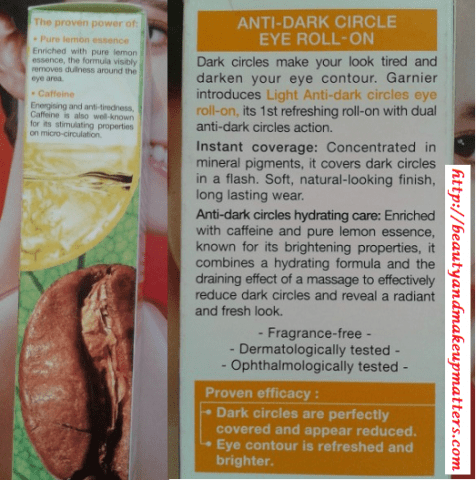 How do I use Garnier Light Anti dark circles eye roll-on?
Apply Garnier Light Anti dark circles eye roll-on to the eye contour area in light circular massaging movements. The liquid will be applied automatically via the roller ball. If necessary, use your finger tips to spread evenly
Recommended usage:- Twice a day, in the morning and in the evening.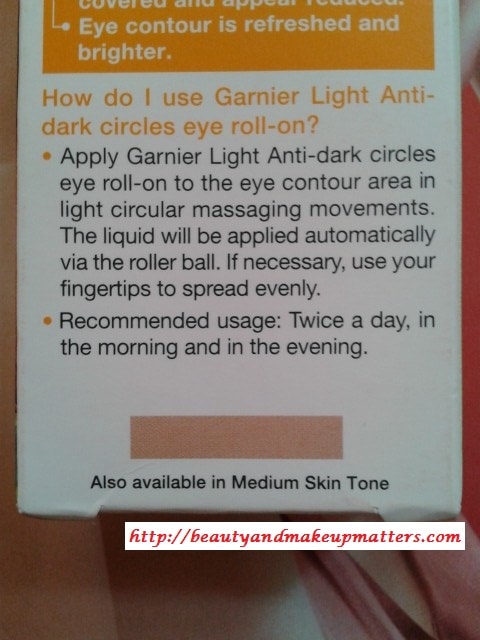 Benefits of key ingredients:- (From the Packaging)
Pure lemon essence:- Enriched with pure lemon essence, the formula visible removes dullness around the eye area
Caffeine:-Energizing and anti tiredness, Caffeine is also well-known for its stimulating properties on micro-circulation.
Ingredients:-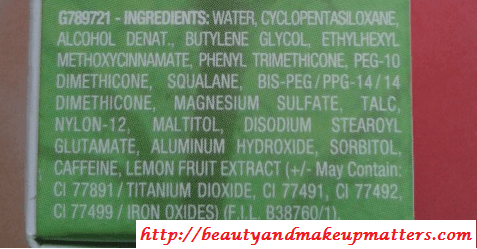 Price:- Rs.199 for 15ml. Also available in medium skin tone.
Shelf Life:-  36 months from the Mfg date.
Packaging:- The Roll On is packed safely in a cartoon box which is sealed with a cellophane(tamper-proof packaging). The actual product comes in a sleek pen form tube. The pen has a white colored screw cap. There is metal roller ball at the opening which lets the product out and applies it on the eye contour. The pen type packaging looks cool and stylish. The packaging is sturdy, convenient to use and can be easily carried in handbag.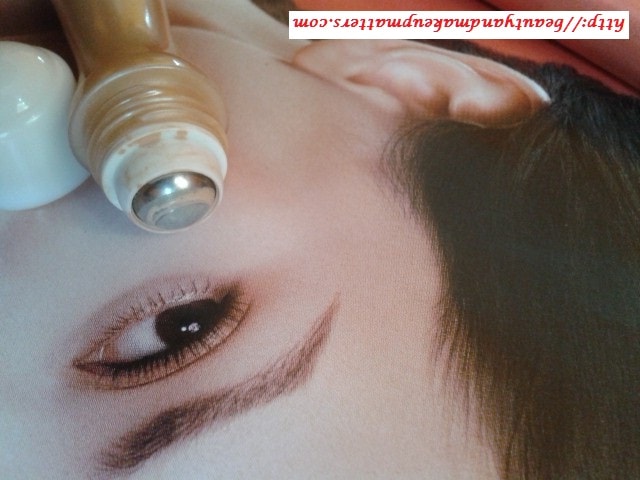 My experience with Garnier Light Anti dark circles eye roll-on:-
The Garnier Light Anti Dark Circle eye roll-on is a thin tinted liquid which has a runny consistency. It is applied by rolling the metal ball on the eye contour which dispenses the liquid. The liquid sets pretty quickly so you need to work up fast and blend it completely with the finger tips else it will look ashy.
Due to its light and thin texture it blends nicely into the skin. I may look ashy at first but given a few minutes time it adapts to the skin tone and brightens up the under-eye area. It works well as a light coverage every-day concealer but don't expect it to be effective in hiding heavy dark circles. It is more of an illuminator than a concealer.
It also works as an eye shadow base for me. Sometimes, (when I am in a hurry) I also use it as a concealer for concealing the light acne marks and blemishes. It sets as a matte finish and doesn't crease or settle into fine lines even hours after application. The metal ball gives a cooling sensation when rolled over the eye area. I love rolling it over my eyes and the most easy to use concealer that I have come across.
Don't Miss to Checkout:
Swatches/EOTD:-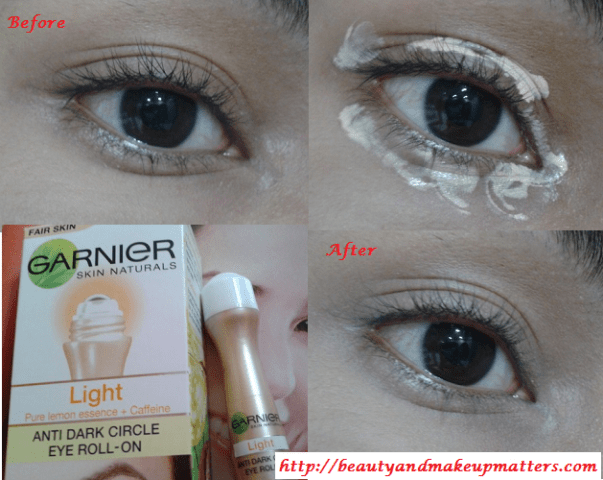 Pros of Garnier Anti Dark Circle Eye Roll On-Light:-
Thin liquidy texture that blends nicely into the skin
It gives slight cooling sensation on the eye contour due to the metal roll-on.
It sets to matte finish and doesn't feel heavy on skin
It gives light coverage and brightens up the under eye area giving a natural finish.
It stays for long without creasing or giving a cakey look.
It can be used as an eye shadow base and  for spot-concealing on face. It wont be as good as actual concealers/primers but still does an average job.
Sleek and travel friendly packaging. Quite different form the regular pot type packaging for concealers, super cute and convenient to use.
Dermatologically and Ophthamalogists tested.
Pocket friendly at just Rs 199.
Easily available
Cons of Garnier Anti Dark Circle Eye Roll On-Light:-
Won't be able conceal heavy dark circles effectively as it provides light coverage.
Need to work up fast as it dries fast after application and if not spread evenly it will create a whitish cast on the skin and might look ashy
Only available in 2 shades:- light and medium. So, you might find it difficult to choose a proper shade for your skin.
Claims to contain Pure lemon essence and caffeine but these are listed in the end of the ingredients list. It consists of lots of chemicals and not a natural product.
People with dry skin might need to moisturize the under eye area before applying this as it dries to a matte finish and might enhance the fine lines and wrinkles
Recommendation:-  Those who don't want to go for heavy concealers or foundation to hide their barely visible dark circles and are looking for an easy to use, pocket friendly daily wear concealer than go ahead and buy Garnier Anti Dark Circles Eye Roll-on.

It won't work on heavy dark circles as it gives light coverage only. It works best for working women who don't have much time to do makeup and want something non-messy and less time-consuming for daily use. It works fine for the price you pay and is definitely worth a try. I think the medium version will suit better on most of the skin tone (Indian ladies) unless you have that flashing fair skin.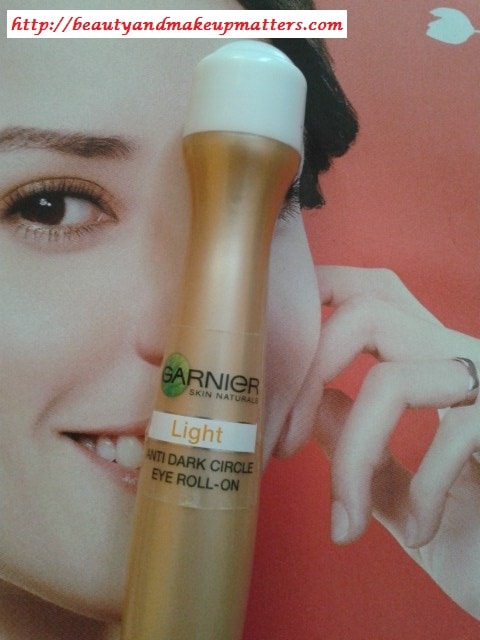 Rating:- 3.5/5
Have you tried Garnier Anti Dark Circle Eye Roll On? Which concealer do you use to hide dark-circles?