Gamma knife in Germany – focusing on precise and minimally invasive surgery
Gamma knife is the state-of-art medical equipment for radiosurgical interventions on the brain, nerves, and blood vessels. Actually, radiosurgery is a type of radiation therapy, not a surgical procedure. It is called "surgery" due to the treatment results – removal or destroying of the pathological formation that has the same effectiveness as the operation.
Radiosurgery is a good option for patients with tumors or vascular malformations in the functionally important brain areas, when cutting healthy cerebral tissue can cause serious neurological deficit. It is safer and connected with fewer side effects compared to the conventional neurosurgery. This treatment technique does not require skull opening or general anesthesia, a patient stays awake during the session.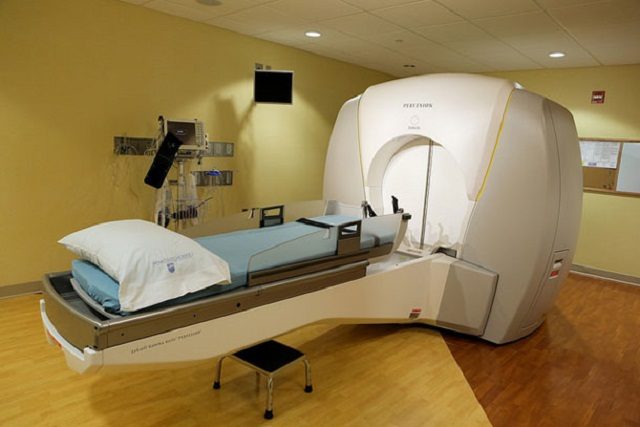 Gamma knife precisely directs radiation beam on the affected zone, avoiding irradiation of healthy tissues (this may be compared to action of a scalpel). High accuracy is achieved by careful pre-planning – high-resolution MRI and CT scan. The procedure itself is also carried out under the visual MR-guidance. Due to technical complexity of Gamma knife treatment, only specialized hospitals are authorized to perform it.
Advantages of the Gamma knife radiosurgery
Gamma knife radiosurgery is a relatively new technique. Before coming to clinical practice, it was investigated in multiple clinical trials. According to their impartial results, this treatment option has the following advantages:
Minimal trauma of the healthy tissues, avoiding complications of (neuro)surgical intervention and general anesthesia.
High precision, minimal irradiation of the surrounding normal brain; avoiding complications associated with the whole brain radiation therapy.
Lower general dose of irradiation is required, as it is focused directly on the target area.
Preserving nerve function in patients with nerve malformations, e.g. preserving hearing in patients with an acoustic neuroma.
No need in systemic treatment cessation, which is extremely important in patients with malignant tumors and severe concomitant conditions.
Treatment during the single session, often – without admission to a hospital. Planning of treatment may be performed in advance or the same day, based on the preliminary scans and previous medical information.
Pain-free post-procedure period.
Potentials risks and complications include transient nausea, hair loss at treatment site, swelling of the scalp, and headache.
Precise therapy of brain tumors and vascular malformations
Despite the obvious advantages, Gamma knife is not intended to replace all surgical interventions. The technique is considered to be the most effective in treatment of the following conditions:
Benign brain tumors (e.g. pituitary adenoma).
Malignant brain tumors (e.g. germinoma, glioblastoma and other glial tumors).
Metastases of other tumors in the brain.
Spinal neurinomas.
Acoustic and facial nerve neuromas.
Functional nerve disorders (e.g. trigeminal neuralgia).
Brain tumors of vascular origin.
Arteriovenous malformations located in the brain and spinal cord.
Metastases of other tumors in the head and neck region.
In addition, ongoing research is taking place to estimate Gamma knife safety and efficacy in the treatment of tremor. Radiofrequency thalamotomy (partial destruction of the brain part called "thalamus") has demonstrated favorable outcomes in a number of patients. It may be indicated in essential tremor, Parkinson's disease, tremor against the background of multiple sclerosis or the traumatic brain injury.
Specifics and benefits of treatment in Germany
Using Gamma knife has two the most serious possible limitations. The first is the high cost of the equipment. Only leading hospitals can afford the purchase and maintaining correct functioning of the device in the future. The second one is lack of qualified healthcare professionals in this sphere. Usual neurosurgeons or specialists in the radiation therapy are not authorized to work with Gamma knife.
When choosing the hospital where radiosurgical interventions are performed it is better to take into consideration number of performed procedures per year, success rates and qualification profiles of the healthcare providers. According to the independent international statistics, best medical institutions in this sphere are:
Gamma Knife and Radiotherapy Center Krefeld, Germany.
Gamma Knife and Radiotherapy Center Hannover, Germany.
University Hospital RWTH Aachen, Gamma Knife Center, Germany.
Currently there are 5 modifications of Gamma Knife. German centers are equipped with the latest ones – Models B, 4C, and Perfexion. New models contain adjusted software and hardware, providing patients with even more precise and comfortable radiation therapy.
Cost of treatment and admission to leading Gamma knife centers
Cost of treatment with Gamma knife in Germany varies depending on the diagnosis, age of a patient and level of the hospital. Approximate prices are represented below:
Facial nerve neuroma treatment – from 12,300 €.
Benign brain tumor treatment – from 11,500 €.
Spinal neurinoma treatment – from 10,580 €.
Arteriovenous malformation treatment – from 11,560 €.
Brain vascular tumor treatment – from 10,470 €.
International patients can apply for the treatment in leading German hospitals, but only in case of correct documents preparation and being on the waiting list for the foreigners. To make this process more fast and convenient, it is better to use help of Booking Health.
Booking Health is the only world medical tourism operator with the international quality control certificate ISO 9001:2015. We guarantee our patients:
Choosing the best Gamma knife center.
Arranging the procedure on the necessary date, without any delay.
Assistance in receiving visa and preparing papers for the trip.
Translating medical reports from your native language into German and vice versa.
Arranging additional examinations, if necessary.
Arranging further communication with your treating physician, if necessary.
Financial control, avoiding additional fees for the foreigners.
Booking plane tickets, selecting the most appropriate accommodation, interpreter services.
Confidence and comfort during staying abroad.