Freshen up with Wikka Jasmine Body Freshener
Hello Everyone,
Today I am going to introduce you all to a new brand "Wikka" by Rupal Tyagi. Wikka offers exquisite aromatherapy based beauty and wellness potions.
As you all know, I am bringing myself close to nature by substituting my skin care will all natural products and when these landed in my hands I was super excited to try them out. I love natural facial mists to add a dose of freshness to my face in summers with just few spritz. Lets see if this Wikka Jasmine Body Freshener does that for me.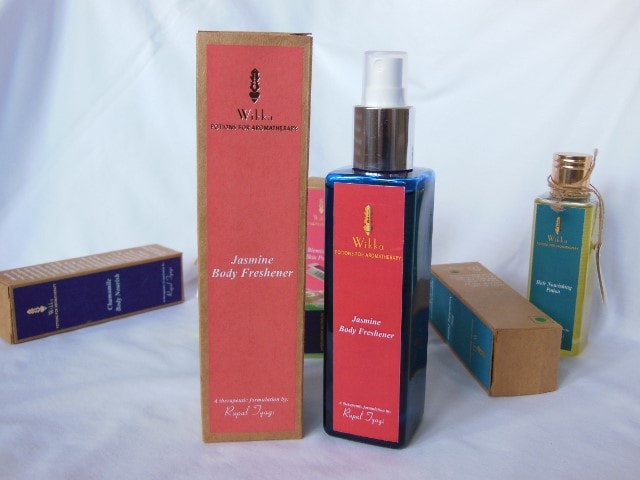 Product Claims: Natural Jasmine floral water produced during the steam distillation process of Jasmine flowers, Jasmine Body Freshener has a beautiful delicate aroma that refreshes the senses. Enjoy the relaxing soothing benefit of Jasmine with this Jasmine Body Freshener as a body splash. Ideal for dry or mature skin. Can also be added to the face packs for a radiant glow.
Key Ingredients: Jasmine Floral Water
Directions for Use: Spray in face and body can be used as floral water for face packs
Price: Rs.600 for 200ml
Shelf Life: 24 months from the Mfg date.
My experience with Wikka Jasmine Body Freshener:-
Wikka Jasmine Body Freshener comes in a long rectangular shaped see through plastic bottle with a pump dispenser that is easy to use and sprays just the right amount of water on face. It has a transparent cap to keep the dispensing nozzle dirt-free.
Wikka Jasmine Facial mist contains only the jasmine floral water and no other ingredients, so be assured you are using a 100% natural product. As it is pure Jasmine water it has a strong Jasmine fragrance which I absolutely love. I just wish it had lasted a bit longer because the fragrance fades away within seconds of application.
Don't Miss to Checkout:
The freshener or the face mist you can say does a good job of refreshing my face and giving it a hydrated look when I don't want to dab on any moisturizer.  I will suggest keep it in refrigerator for more cooling effect. I use it with my home face masks as well. This Jasmine Facial mist can be anytime anywhere for that instant freshness!
I am happy that it makes no tall claims but just refreshing the skin which definitely it does 🙂
Recommendation:- Wikka Jasmine Body Freshener has a pleasing natural jasmine scent which calms down my senses while its droplets freshen up my face. It is a pure Jasmine water which can your best friend in summers when even the lightest of the moisturizer feels heavy but skin looks dull and dehydrated and you need something to save your face. Spray it all over your face and tada you are done …! I love this Jasmine freshener and I am sure you will too, do give it a try. Recommended!
Rating:- 4.8/5  2/5
Have you tried Wikka Jasmine Body Freshener? Which is your favorite facial mist?
PS: Product sent by brand for consideration
Update: Sorry guys but I kinda changed my mind towards this product because lately  have experience that it gives me bumps all over my face whenever I use it. Though they are not like acnes or cystic acne sorts but i dont like the added texture to my skin because of those Red bumps. Either it could be the formula or my skin being senstive to Jasmine water. I will try other Jasmine based skincare to find that but for now.. the face mist is not for me!