Freeman Feeling Beautiful Toning White Grape Body Lotion Review
Freeman Feeling Beautiful Toning White Grape Body Lotion was a random pick during on of my online shopping binge. I hadn't tried any of the Freeman's products yet but when I saw some of them running under 50% off, such a tempting offer were hard to resist for me and I had to buy something so got this for myself. I was looking to get some face packs too but none of them were included in the offer 🙁 , so they had to wait for me a little long. 😛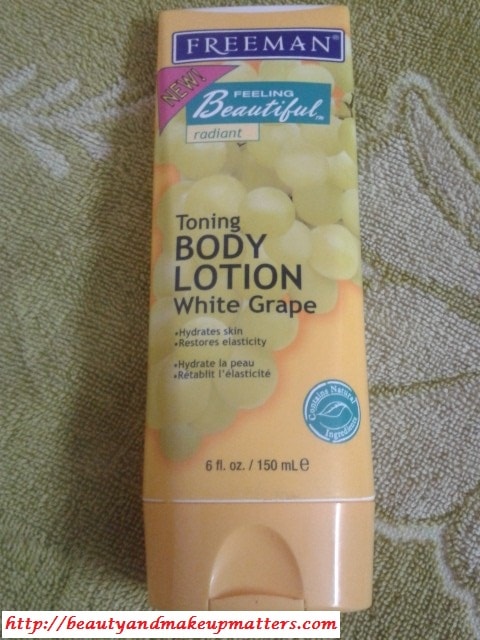 Product Claims: Made with natural, botanical ingredients, new Freeman Feeling Beautiful is a full range f kin and body care products to help you look and feel your best
The toning body lotion, enriched with White Grape and Vitamin C, absorbs quickly and lightly moisturizes, leaving skin hydrated and smooth.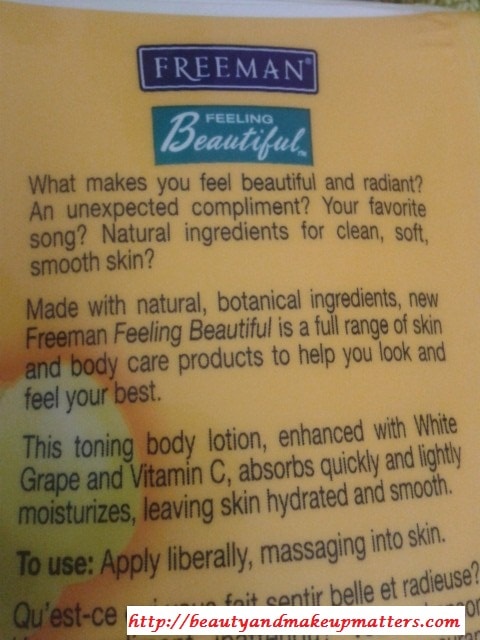 Direction for Use:-Apply liberally, massaging into skin
Ingredients:-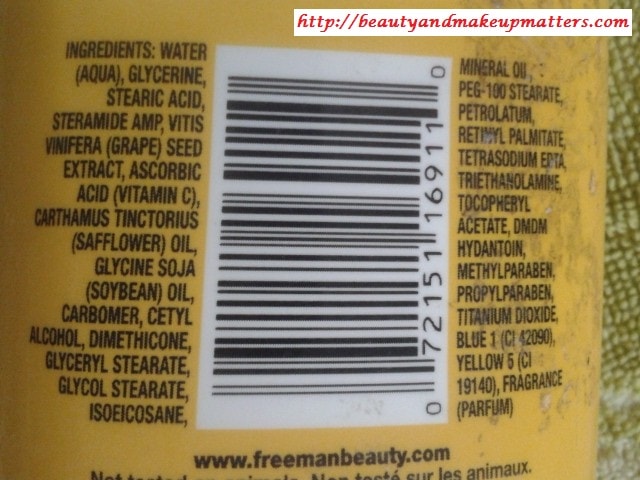 Price:- Rs.220 for 150 gm but I got for 50% discount 🙂
Packaging:- I was expecting it to be a squeeze tube but to my amazement the body lotion is packed in a plastic bottle shaped like a squeeze tube. The bottle is designed to be kept upside down only.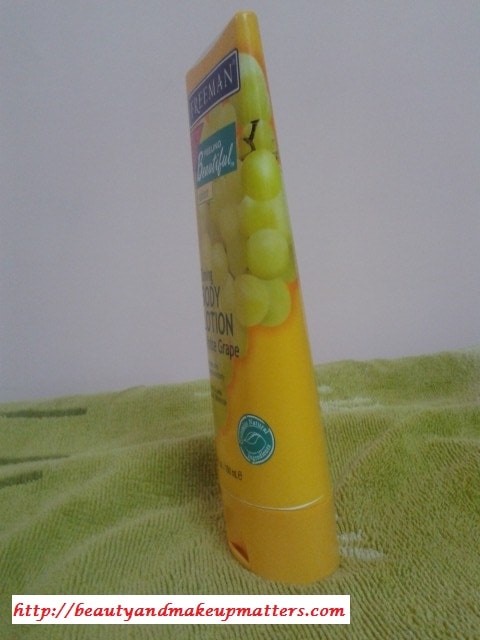 The bottle is mustard-yellow in color and contains a mouth-watering image of a bunch of grapes which looks so yummy.(drooling). It also has a sturdy flip top cap. The bottle is opaque and won't let u see the quantity left in the bottle but overall the packaging is nice and easy to use.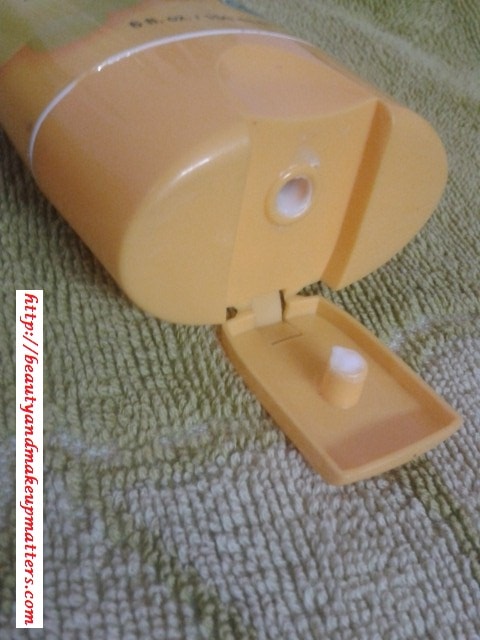 My experience with Freeman Feeling Beautiful Toning White Grape Body Lotion:-
I bought this lotion without any expectations and I am glad that I did give it a try. The lotion has a soft creamy texture which is neither runny nor thick. It feels velvety soft to touch but when I spread it, the lotion melts quickly to a watery consistency. It doesn't go streaky or give any whitish layer on the skin.
It sinks beautifully into the skin and that too really fast without leaving any traces behind.  Normal moisturizers might leave a slight oily film on the skin but this one was an exception which gives a matte finish to my skin and doesn't leave any slippery or sticky layer. Matte doesn't mean rough here but a very well moisturized and hydrated skin without feeling slippery.
Swatch:-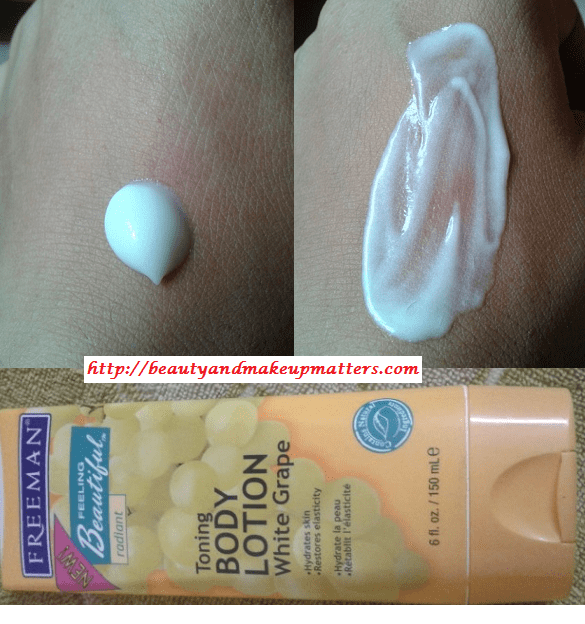 The body lotion has a faint smell of grapes. The scent is mild but pleasant which won't bother sensitive noses. The smell doesn't stay for long and disappears after few minutes of application. It is a light moisturizer which suits my dry skin well in summers as well as in sweaty monsoons but for winters, I don't think it is not going to suffice the moisturizing needs of my dry skin. The Ingredients list of full of natural ingredients which helps in nourishing the skin in a natural way.
Don't Miss to Checkout:
Pros of Freeman White Grape Body Lotion:-
Medium consistency which spreads easily.
Gets absorbed really fast into the skin
Gives a matte, non-sticky finish to the skin
Keeps my skin moisturized throughout the day.
Enriched with the Glycerin, Grape Seed Extract, Vitamin C, Safflower Oil, Soyabean Oil, which retains the moisture of the skin
Pleasant scent
Decently priced
Sturdy and hygienic tube type packaging.
Cons of Freeman White Grape Body Lotion:-
It is not highly moisturizing so might not be suitable for dry and harsh winters and would require frequent reapplication
Contains Mineral oil and Parabens in the ingredients list
Freeman products are not easily available
Recommendation:- Freeman White Grape Body Lotion has made smooth entry into of my Best Body Lotion For Dry Skin In Summers list. The light texture, quick absorption, no slippery feels and well moisturized skin post-application all with the goodness of natural and herbal ingredients which are beneficial for skin takes this lotion to one of the best in category. The light but wonderful grapes smell is another plus.

The lotion has become a definite repurchase for me but in next summers as for this I have more than enough stock to finish. It is really a good moisturizer for summers and I recommend it.
Rating:- 4.3/5
Have you tried Freeman Feeling Beautiful Toning White Grape Body Lotion?