Foretaste of Paradise: Robert Cavalli Paradiso EDP
Hello Everyone,
I usually don't review Perfumes on the blog because I feel I am incapable of describing fragrances. Also, fragrance are such a personal thing that you cant say what works for you will work for everyone else too but, I am taking a chance here while trying to explain and share this gorgeous scent by Robert Cavalli which was launched few months back, Robert Cavalli Paradiso.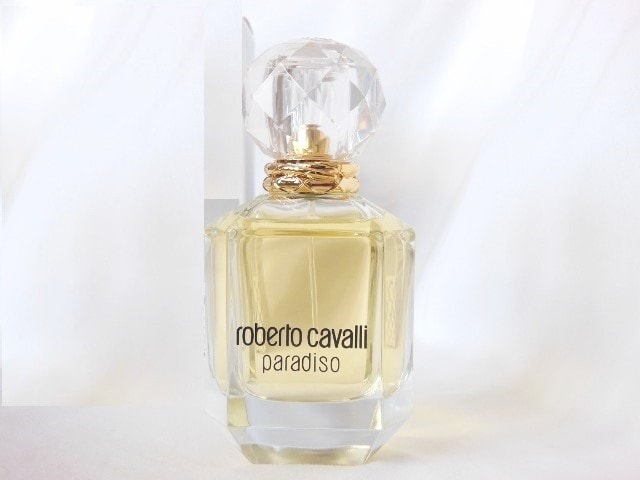 Price: Rs.6150 for 75ml, Rs. 4850 for 50ml, Rs 3300 for 30ml
Stores: Available at all Shoppers stop outlets and Sephora
Online:  At Nykaa, Amazon and Shoppers Stop Ecom
Packaging: Robert Cavalli Paradiso is packaged in a luxurious glass bottle which is artistically chiselled in the shape of a diamond. Its heavy transparent glass reveals the golden depths of the fragrance. The facetted crystal-like cap captures the light, creating glittering reflections. This jewel is signed by Roberto Cavalli's monogram on the top which is an unmistakable token of panache and elegance. A ring of metallic scales sensually coils itself around the neck of the bottle, reminiscent of the designer's fascination for animal skin patterns.
I got the sample version but in original packaging the outer box offers a striking gradation from green to yellow, alluding to the reflection of sunlight on the sea and the luxuriant vegetation. The embossed scales mirror the bottle's neck ornament and the golden hue of the label pays homage to the beauty of the Italian sunlight.
The bottle looks super luxurious and looks like a diamond crafted just for me.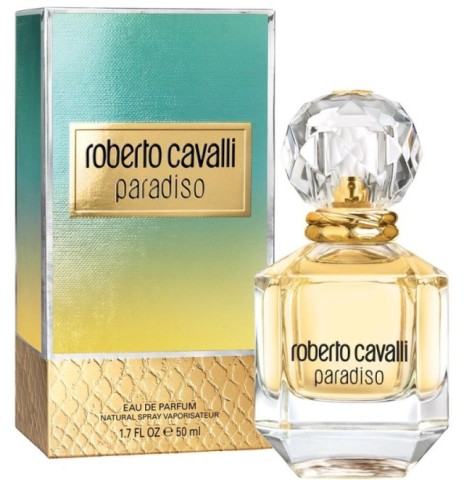 Robert Cavalli Paradiso Eau De Parfum: 
Roberto Cavalli Paradiso was conceived by master perfumer Louise Turner (Givaudan). An exquisite woody floral, it is a symphony of sun-filled notes inspired by the Italian landscapes
 "Paradiso is about a moment of happiness. I wanted to give a feeling of that instant when you feel totally at ease," Roberto Cavalli.
Robert Cavalli Paradiso is a floral woody scent which starts off as a citrusy-floral where the floral notes are surely dominating but is followed by the woody notes which makes it even more appealing to me.
Top notes: Citrus, mandarin orange and bergamot
Middle notes:  Jasmine
Base notes: Pine tree, cypress and laurels.
The scent is essentially feminine but is not like the regular floral scents you might have had in the past. If you like warm complicated scents it is not the one but if you are looking for a fresh but a sensual mix of floral notes you will love it! The best part of any perfume for me is its staying power and I can smell the fragrance of this Robert Cavalli Paradiso for 7-8 hours on me which is pretty good.
It is a fragrance that I would love anytime of the year but especially spring and summer. It would be my perfect companion on a Vacation where I will just relax and let myself loose on the shores of a beach.
Have you tried Robert Cavalli Paradiso? Which is your favorite Summer Scent?
PS: Product sent by brand for consideration