Forest Essentials Intensive Under eye cream With Anise Review
Hello Chicas :),
What is the first thing you see when you look into the mirror, I see the never fading acne marks, uneven skin tone and the stubborn dark circles under the eyes. And I promise myself to reduce the number of hours spent before laptop and give some rest to my eyes but after so many unsuccessful attempts I dont think thats going to work so better depend on somebody else to take care of the delicate under eye area and hence invested in Forest Essentials Under Eye Cream with Anise, my first ever product from Forest essentials.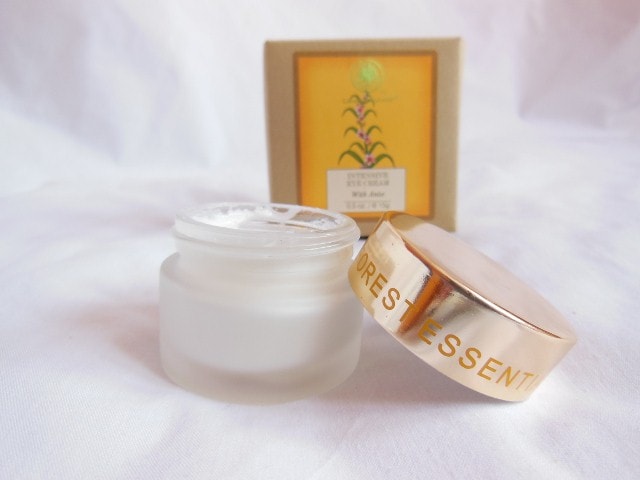 Product Claims:
Its extracts include Anise which reduces fine lines, moisturizes and tones the skin in Ayurvedic texts, and includes pure vitamin A and E extracts which assist in the elimination of fine lines and free radicals while firming and toning the under-eye area.
Making of the Product:Delicate yet effective herbs are infused in natural oils followed by traditional method of product making.
Product Benefits:Forest Essentials Eye Cream is an innovative formula specially designed for the delicate eye area. It reduces dark circles, diminishes puffiness, and firms and tones area around the eyes. Actives extracts of herbs like Papaya and Potato help deliver hydration and moisture to the delicate eye area. Aloe Vera and Cucumber provide necessary moisture and help to smooth skin, reducing the appearance of dry, dehydrated lines. Anise and Chakshushya reduce the ill effects of free radicals making the eye area clearer and brighter.
USP:• Delicate herbs are used for delicate area near eyes • Oils are Cold Pressed by hand • These are 100 % natural and are free from petrochemicals, animal products, PEGs, synthetic colours, alcohol and parabens – See more at:
Directions for Use: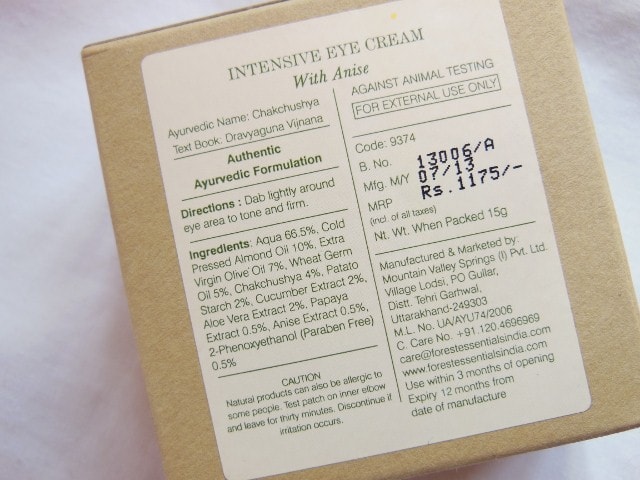 Price:- Rs. 1175 for 15 ml
Shelf Life:-  12 months from the Mfg date.
Packaging:- The eye cream comes is sturdy brown colored cardboard box which secures the tiny but heavy glass pot containing the eye cream. The tiny round glass pot has a metallic golden screw cap and a plastic lid under the cap for extra protection and keeping the cap mess free. The outer box carries all the information regarding the under eye cream and ingredients list is also pasted at the bottom of the pot. I like the classic packaging of the under eye cream but have to be careful not to drop it on to the floor.
My Experience with Forest Essentials Intensive Under Eye Cream With Anise:
Forest essential Eye cream is a milky white colored cream with a thin consistency, similar to a lotion but isn't that runny . The lightweight creamy texture goes on smoothly and spreads evenly on the under eye area. I dip my ring finger lightly in the pot to pick just a tiny dot and then swipe it or pat it in gentle strokes around the eyes.  The cream doesn't get absorbed immediately and need to be massaged for at least 1-2 minutes to sink in completely into the skin but if you are short of time just leave it like that and it will get absorbed on it own. It has non-greasy texture which intensively moisturizes the under eye area without leaving behind any oily residue. The formula is enriched with natural ingredients like Almond Oil, Olive Oil, Potato Starch and much more which  smoothens, nourishes, rejuvenates and  make the under eye area look brighter  and healthier.
I have been religiously applying this eye cream twice a day for a month now and after almost 20 days of regular application  i can see slight lightening in the under area with reduced appearance of dark circles. It might take longer to show results on intense dark circles but it definitely works and restores the health of dull, dark under eye area. I like the way it makes my under eyes soft, smooth and supple. Due to its non-greasy texture it can be used under the concealer for smooth application and effortless blending.
However, I found this Eye cream quite ineffective for fine lines reduction as it didn't noticed even a slight  of difference. The few lines i have haven't shown any improvement  yet!
One cannot get rid of dark circles with the help of an eye cream only and need to improve on the diet with more and more intake of fresh veggies, fruits, water and indulge in  relaxing activities, distressing with regular exercises ,  and some home made eye packs for better and faster results.
Pros of Forest Essentials Intensive Under Eye Cream With Anise:
Light creamy texture
Gets applied smoothly
Gentle formula
Non – greasy texture
Doesn't leave any oily/sticky residue
Can be used under concealer
Keeps the under eye area moisturized whole day
Effectively reduces the under eye darkness with regular use
Makes it look smoother, brighter and healthier
Enriched with natural ingredients
Small amount is required for each application
Last easily for 2-3 months (used twice daily)
Elegant packaging
Free from Chemicals and preservatives
Cons of Forest Essentials Intensive Under Eye Cream With Anise:
Expensive
Doesn't work on fine lines and wrinkles
Takes time to get absorbed completely
Improvement in dark circles isn't immediate
Recommendation: Forest Essentials Intensive Under Eye Cream With Anise has  thin consistency which gets applied smoothly  and  instantly moisturizes the skin around the eyes making it soft and supple. It takes time to get absorbed completely but never feels heavy or leaves any greasy residue behind which makes it apt for day time usage and also a good option for oily skinned beauties. It  leaves the under eye area nourished, smooth and  reduces the intensity of dark circles a bit with continuous usage.It is effective in diminishing the appearance of dark circles but doesn't reduces fine lines. It is a 100% natural cream with exotic herbal ingredient list which helps in replenishing the the under eye area health. Highly recommended!

The eye cream is heavy on pocket and if you are not willing to spend so much on an eye cream, try using purest form of almond oil on the under eye area before going to sleep which I am going to try that next once i am done with this.
Rating: 4/5
Have you tried Forest Essentials Intensive Under Eye Cream With Anise? Which is your favorite Eye cream?