Food For Skin: APS Cosmetofood Products Review
I love trying new skincare products and if they happen to be natural with less amount of chemicals, I get really excited. And the same happened when I got introduced to APS cosmetofood last month. APS cosmetofood has a large range of products for different skin types and I must tell you that all of them looks really delicious especially their face scrubs and mask. The brand claim to provide goodness of kitchen ingredients through these products without having us to mess with fruits and veggies. So, lets see what APS Cosmetofood has to offer!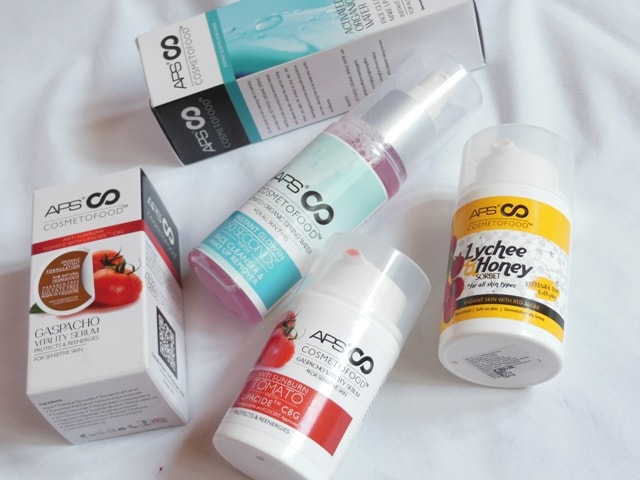 Products I Got to Try:
APS Cosmetofood Gaspacho Vitality Serum – Rs 450 for 50ml
APS Cosmetofood Activated Spring Water – Rs 540 for 100ml
APS Cosmetofood Lychee Honey Sorbet – Rs 540 for 50 ml
Packaging: APS Cosmetofood products come in really uniquely designed bottles. These chubby pump dispensers looks cute and they indeed work well which makes the experience so much better. I personally love the pump dispensers of Serum and the Sorbet here.
My experience with APS Cosmetofood Skincare Products:
APS Cosmetofood Gaspacho Vitality Serum:
It is tomato red colored serum with squishy puree kind texture. It spreads beautifully and feels light weight, almost watery on skin. The Serum gets absorbed quickly into the skin but it gives a strong tingling sensation when it is sinking into the skin. I know it is symbol that active ingredients in the products are penetrating into the skin but this almost burn like sensation is a little bothersome. It gives an instant plump to the skin and enough hydration to survive without moisturizer in summers. It has a strong scent which can be issue with people with sensitive nose. Overall, a good natural serum to be added in your skincare Routine.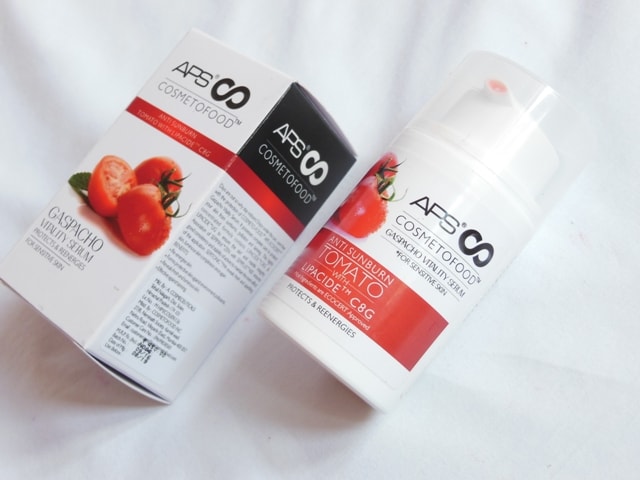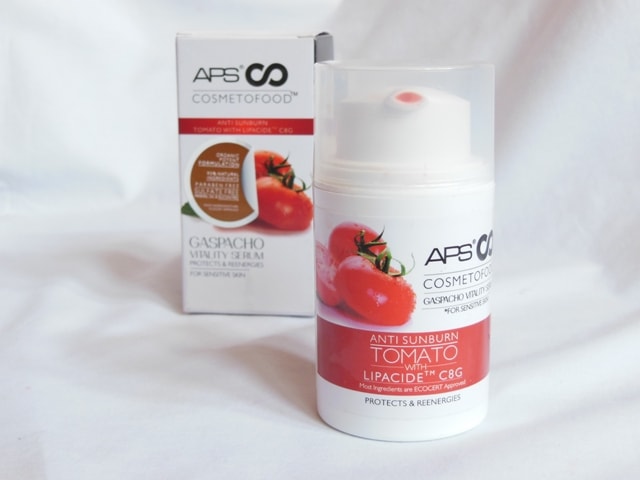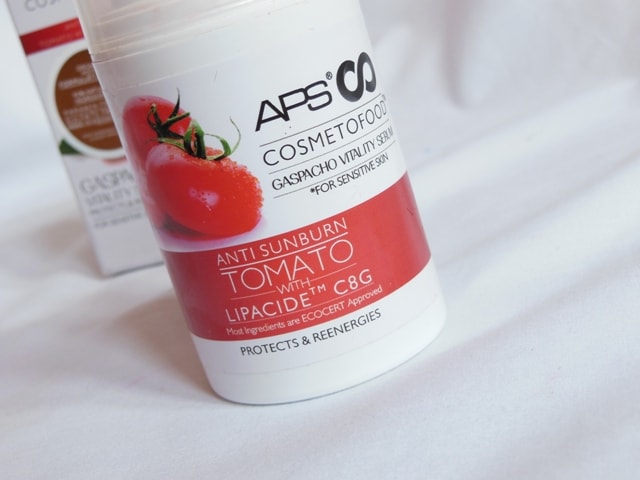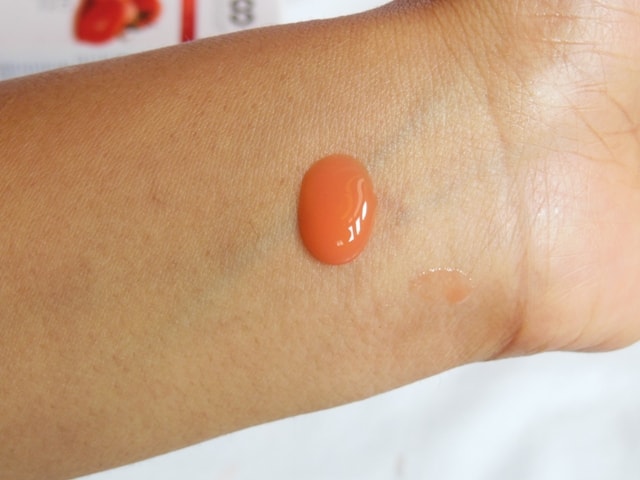 APS Cosmetofood Activated Spring Water:
It is a light pink colored liquid that comes in a clear spray bottle. I was quite intrigued by this product because it is claimed to be spring water only but can be used for removing makeup. I was apprehensive about its performance as makeup remover but I tell you that it did a fabulous job and took off everything in a jiffy even the water-proof liner and mascara too. The best part is it is not an oil based remover so I don't feel any residue on my skin and I can very well skip cleansing my face with a face wash after using this. It leaves skin clean and fresh. I like to use it as a face toner as well, to let its ingredients work on my skin. Clearly, my favorite product of all!
The only issue is, it causes slight irritation if gets into the eyes. So, just be careful to close your eyes while spraying it.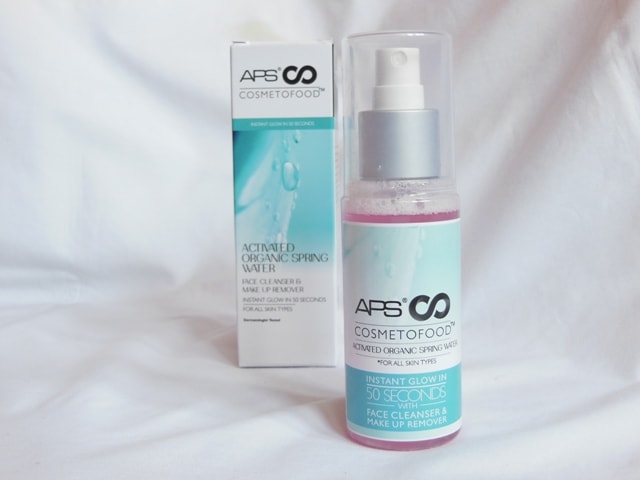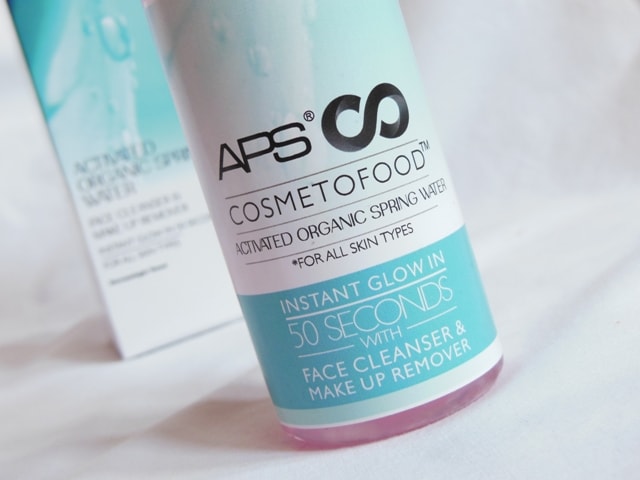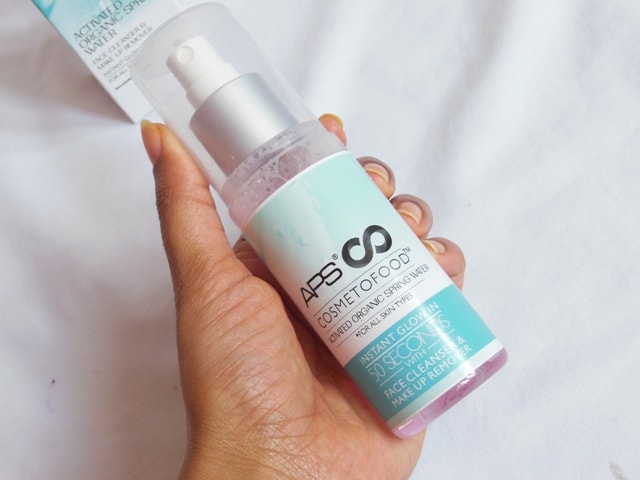 APS Cosmetofood Lychee Honey Sorbet
It is essentially a moisturizer with a light weight creamy texture. I love that fact that it contains shea Butter as a main ingredient along with Glycerin, lychee and honey extracts, sunflower seed oil which acts as natural moisturizers. This Lychee Honey Sorbet applies easily and gets absorbed into the skin without feeling greasy or heavy. I feel it is perfect for people with dry skin in summers for that added nourishment without any heavy feeling. It has a fairly strong sweet lychee scent which I actually quite enjoy.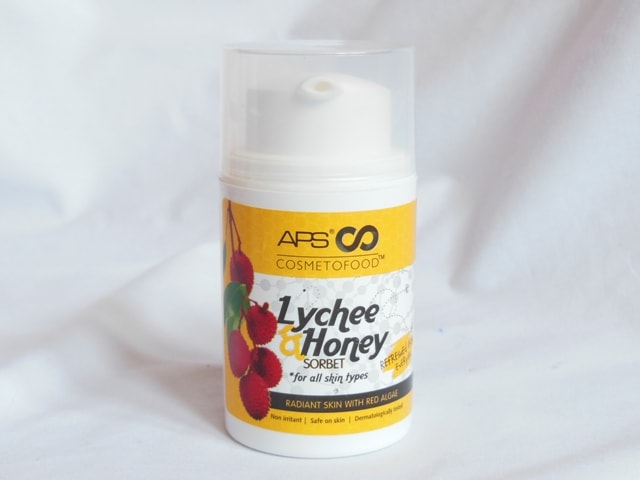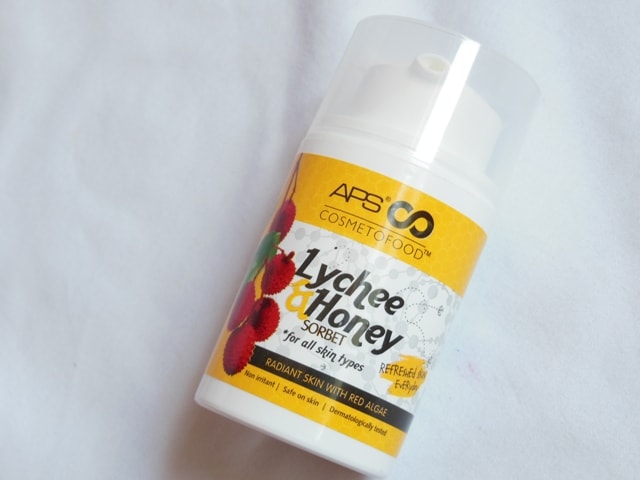 Overall: I have been using these products for quite some time now but I am yet to see any major difference in my skin. Though, I can surely say that they have never irritated my skin or caused breakouts. Also, all the products are made with 95% natural ingredients and are free from all the harmful chemicals like Sulphates, Parabens, Silicon, Mineral Oil etc. Though, the price is on the higher side but if you prefer to be served with good natural products and want to avoid the pain of DIY home remedies, give APS Cosmetofood Skincare a try! Recommended!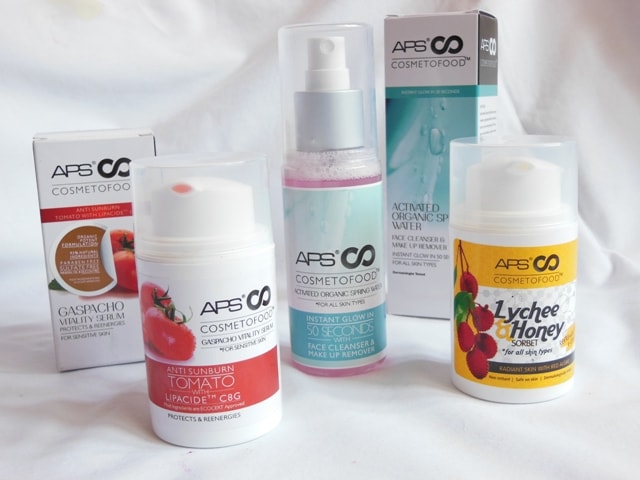 Rating: 4/5
Don't Miss to Checkout:
Have you tried APS Cosmetofood Skincare? Which is your favorite skincare brand?
PS: Product provided by brand but honest and unbiased opinion!