Flirty Lip Care: Island Kiss Lip Moisturizers
Hey Gorgeous ,
Today, I will be introducing you to a sassy lip care brand "Island Kiss". And by the packaging if you think its an International brand then you are wrong sweetie because its a 100% Indian brand based out in GOA.. ( Happiest place in India). Island Kiss have recently come up with 3 variants of organic lip moisturizers. So, lets see if they are any better than the rest.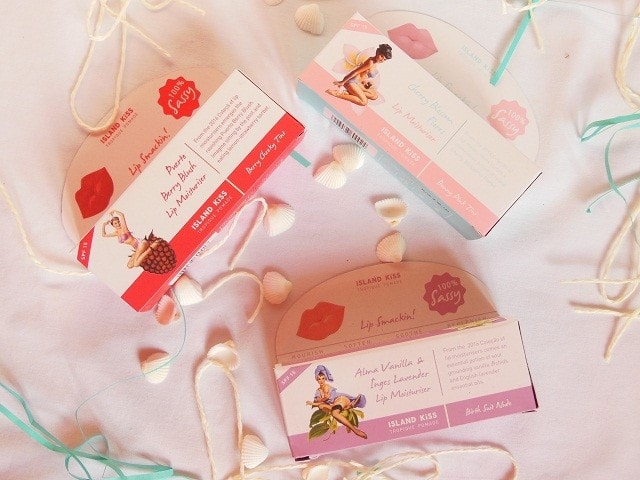 Price : Rs 399 / Rs 499 for 14 g ( Buy from IslandKiss website)
Packaging: These Island Kiss Lip Moisturizers have a very fun, colorful packaging which reminds me of the beautiful beaches of GOA instantly. The outer packaging is so very pretty and the motifs on each of the tube indicate the fragrance and flavor of the lip balm. The actual lip balm is housed in a plastic tube with a slanted tip applicator which makes the application quick and easy and no need to bring in fingers for the same.
My experience with Island Kiss Lip Moisturizers:
Puerto Berry Blush: This is undoubtedly my favorite of all 3 lip moisturizers. As you can make out from the name it is a berry tinted lip balm which gives lips a beautiful reddish tint. It has a citrusy, berry fruity scent which is really nice and refreshing. I wont mind using it as a blush on cheeks in winters for a hint of color, faking blushing cheeks ;). The tint wont survive meals but without that it easily lasts 2-3 hours on me and if a lip balm is that pretty I wont mind reapplication
Alma Vanilla & Inges Lavender: This is my another favorite from the brand. It has a very light lavender tint to it but it goes absolutely colorless on my lips. It has a subtle vanilla and lavender scent which feels quite soothing to senses. A must have for those dry lip days!
Cherry Blossom Flores : I so wanted to love this because of its minty green packaging but this is my least favorite. It has a pale pinkish tint to it which doesn't look flattering on application. Though the formula is indeed moisturizing and its beautiful sweet cherry scent catches all my attention but my warm skin tone and pigmented lips doesn't go well with the color. If your are pale and have fairer complexion with unpigmented lips.. You will love it!
The lip balms have a very thin texture which applies nicely on lips and doesn't give any heavy, waxy or sticky feel to them. They are quite slippery and feels oily so wont under lipsticks as is and you need to dab off the excess which I don't mind because they are super nourishing.
The formula is infused with incredible natural moisturizers like Mango Butter, Kokum Butter, Avocado Butter, Carrot seed Oil, Castor Oil, Vitamin E Oil, Macadamia Nut Oil and the list goes on, so you can make out that these are super moisturizing and keep lips soft and supple even in the driest of weather. Also, they are petroleum-free which is awesome because petroleum jellies tend to dry out my lips even further.
If you habit of licking your lips, you are surely gonna enjoy it and get even more addictive with these lipbalms as these lip moisturizers have a sweet taste. Above all, they come with SPF 15 sun protection so apart from nourishing lips they protect them from harmful sun rays too.
Recommendation: Island Kiss Lip Moisturizers are definitely one of the best lip moisturizers I have ever tried. If you are game for natural, organic lip moisturizers with lots of natural butters and oils then these are for you. But organic doesn't have to be boring and their sassy, colorful packaging totally proves that point. Say no to dry cracked lips and enjoy soft, smooth and kissable lips with these Island Kiss Moisturizers. Highly Recommended!
Rating: 5/5
Have your tried these Island Kiss Lip Moisturizers? Which one is your favorite?
PS: Product sent by brand for consideration. Honest Opinion.