Fix Fake lashes with Essence Frame4Fame Lash Glue
Hello Everyone,
I love fake eye lashes and the drama they add to the eyes. I go "Aaww so pretty.." everytime I saw those gorgeous transformations and eye makeup looks on instagram with fluttery lashes on the eyes but I can tell you that I suck at Eye Lash application. I would say that is the trickiest part in whole makeup process. It is hard ( at least for me) to get it right in first attempt and because of all the effort it involves I keep on skipping it altogether. But recently I got some Essence stuff which included Essence Frame4Fame Lash Glue and lashes, so yeah I finally made up my mind and got these on my eyes!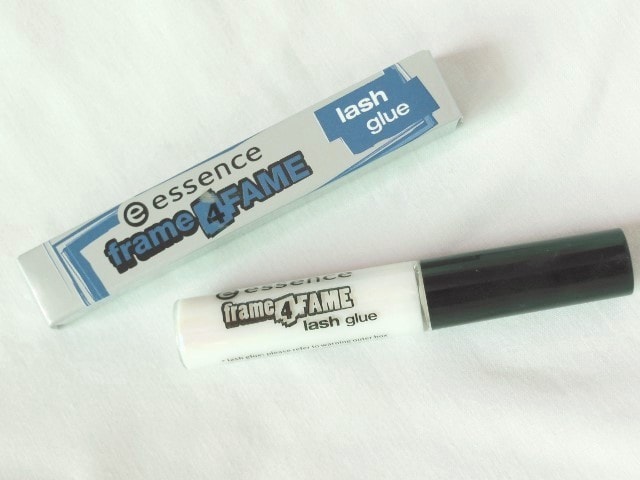 Product Claims: : The ideal helper to achieve the fame-look!
The glue with a slanted plastic applicator is easy to apply and extremely accurate.
Its milky-blue texture turns transparent as soon as it dries and is suitable for use with false lashes as well as the stick on eyeliner. includes detailed instructions for use.
Direction for Use:
Apply a small amount of the enclosed lash glue onto the ends of the lashes and wait approx 30. seconds until sticky. position directly above your natural lashes and press gently.
For removal gently pull lashes off and remove eyelash glue with fingers.
If glue gets into eyes, rinse immediately with cold water.
Ingredients: 2-ETHYLHEXYL ACRYLATE, AQUA (WATER),METHYL METHACRYLATE, ETHYL ACRYLATE,METHACRYLIC ACID.
Warning:
Do not use glue on irritated or sensitive skin.
Avoid contact with inner eye. if glue gets into your eyes,
Rinse immediately with cold water.
Keep glue out of reach of children.'
Price: Rs. 299
My experience with Essence Frame4Fame Lashes Natural Effect:
Essence Frame4Fame Lash Glue comes in a sleek see-through round plastic tube with a black applicator handle. I loved its stiff slanted applicator tip which makes it easy to apply glue on the lash band without getting it on the lashes.
Essence Frame4Fame Lash Glue is milky white colored liquid medium-thick consistency. It looks bluish white on application but I am happy that it dries absolutely clear which is a major plus as I don't have to worry about the glue getting on the lids (at unwanted places) because it will invisible soon. The lash glue take a little bit of time (a round 10-20 seconds) to get sticky, just dry enough to be applied on lids.
Lash glue doesn't get tacky and I find it quite easy to work with. The right formula of the lash glue makes a lot of difference to the fake lashes application and it does that for me. The lashes stays put for almost 7-8 hours after which I noticed slight pulling in the corners.
Don't Miss to Checkout:
Removing false eye lashes is also super duper easy, just pull out lashes form the inner eye corner and they come out like magic. I don't need to apply unnecessary pressure and my lids are unhurt during the process. Use any of the eye makeup removers to take of the rest from the lids and wipe with a wet cloth.
I have not tried many Eye Lash Glues, just the one from Bornprettystore so I am not able to compare it with other eye glues in the market but it does a fairly good job on me.
Recommendation: Essence Frame4Fame Lash Glue is a good pick for beginners like me who are starting with false eye lash application. The stiff slanted tip allows a controlled application and the best thing is the glue dries clear so one doesn't have to worry making mistakes during lash application and getting the glue all over the lids. The glue takes a little bit of time to dry out so let it get a bit sticky on lashes before applying them or you have to a lot of adjustment while placing the lashes close to the lash line. One of the most affordable glue that is easy to use and remove. Recommended!
Rating: 3.5/5
Have you tried Essence Frame4Fame Lash Glue? Which is your favorite Eye Lash Glue?