My Fit Fuel Whey Protein 80 German Chocolate Delight
I have been struggling to loose post pregnancy weight for quite a long time now. And when everything seemed to stop working I retorted to the most trusted methods for Weightloss – Workout and Diet Control! I have been gymming for a month now and I feel exhausted post workout and the obvious muscle pain kills me to death. I have heard a lot about protein powders like how they can help in post workout recovery and increase muscle strength. So, I added one to my daily fitness routine "My Fit Fuel Whey Protein 80 German Chocolate Delight". Let's see how well it works.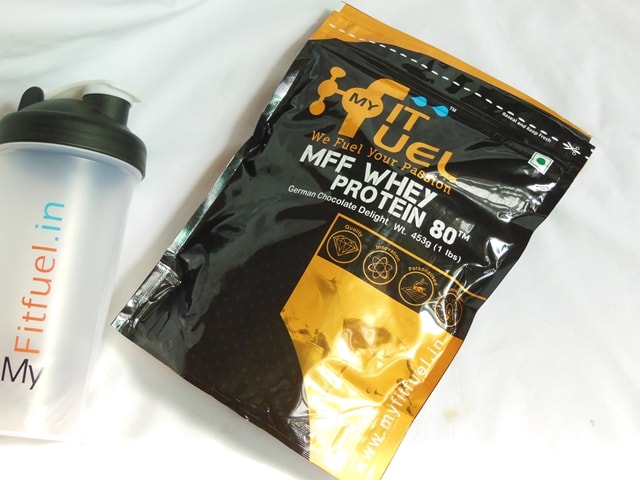 Product Description: MFF Whey Protein 80™ is made up of a very high quality imported & tested Instantized whey protein concentrate 80% available in the market. There are no fillers, thickeners or cheap amino acids added to reduce the quality of the product. After many quality checks and research only mouthwatering & approved flavors are added for taste during formulation.
Claims:
6 gm protein in every 32 gm serving in Unflavoured
25 gm protein in every 32 gm serving in Swiss Vanilla Flavour
23g of protein in every 32 gm serving in German chocolate Delight Flavour
Ultra-pure Imported protein & ideal for lean growth
BCAA & Glutamine rich, low in fat & carbs
Aspartame Free
Suggested Use:
Pour 200-250ml of water in good blender like MFF™ Blender and add 1 scoop of MFF Whey Protein 80™. Shake it for 15-20 seconds and consume immediately. Use less liquid for stronger and thicker tasting taste.
We recommend 2-5 servings daily to complete your protein intake.
Consumption Directions:
To promote lean muscles, expert suggest 1g of protein per pound body weight everyday (2.2g per kg of body weight everyday) consumed during different time of the day.
Some train in morning and some in evening but we recommend following important serving times of MFF whey protein 80.
Immediately upon walking up.
30-45 minutes pre workout
Immediately after you work out.
Any other time during the day or in between meals when you require additional protein intake.
MFF Whey Protein 80 Benefits:
Benefits of taking with Water– Taking MFF Whey Protein 80™ with water helps you to get better Lean Muscles and reduces the overall calorie intake from your protein shake. Protein shake in water is also recommended to any individual following the weight loss programme with restricted calories intake.
Benefits of taking with toned or double toned milk- Adding milk with protein helps to make the shake creamier and thicker. But 250 ml of toned milk will also add almost 150 extra calories in every shake. So, if you are looking to bulk up or to increase weight then taking protein shake with milk will always be recommended.
Price:  Rs 1249 for 453 gms ( Buy MyFitFuel Whey Protein)
Packaging:
The My Fit Fuel Whey Protein 80 comes packed in a sturdy cardboard box with content sheet listing the details of the package. Also, there were fillers to safeguard the package from transportation damage. The box comes with the Protein powder in a resealable bag and protein shaker. I must say that My Fit Fuel packaged the products really well.
My Experience with My Fit Fuel Whey Protein 80 German Chocolate Delight
My Fit Fuel Whey Protein 80 German Chocolate Delight is a Whey Protein and is made from pure milk which is considered as a vegetarian source of protein. I have taken protein during pregnancy and I know that the protein powders taste disgusting but to my surprise this German Chocolate Delight version is absolutely delicious. It tastes just like chocolate ( a luxurious one!) .. so Yumm!
This My Fit Fuel Whey Protein 80 is a finely milled powder which gets dissolved in water very easily. It doesn't form lumps when mixed nor does it leave any residue at the bottom. The texture is very smooth and consistent. It can be prepared with water or milk for a better taste. The lesser the liquid, the thicker it will be.
My Fit Fuel Whey Protein 80 German Chocolate Delight is a perfect combination of protein, and other important nutrients with a delightful flavor which helps our muscles to recover better specially during post workout period.
It can also be consumed by Sports person as it will help athletes, bodybuilders and other sports players to improve recovery time, repair and grow their broken muscles tissues post workout. Results vary on every individual depending on individual body type, diet, nutrition and training.
I am sure there will be questions popping in your head and one of them must be  "can I trust this Supplement", " is it safe to consume Protein powders" ??. let me answer a few for you!
How to make a Perfect Protein Shake?
Protein shake is very easy to make, Just pour in the liquid ( milk or water) in the shaker, add one scoop of protein powder and shake it for 15-20 seconds.. you are done! Easy peasy .. right! You can add more liquid or powder depending on the consistency you like, thick or thin.
I also like the fact that the Protein shaker is made of good quality plastic and is BPA free.
Nutritional facts of MFF Whey Protein 80
1.80% Protein:
Every scoop of MFF whey protein 80 (concentrate) contains 80% protein quantity by volume which is derived from very high quality ingredients.
2. Rest 20%:
Contains lactose, small quantity of Fat and other vitamins and minerals which fulfills the lost nutrients during workout.
Why should I trust My Fit Fuel?
Well, My Fit Fuel is an Indian Company and they are making excellent quality products in India. All of their products are FSSAI approved. So now you can be sure of the quality of the supplement.
Is it worth the price?
My Fit Fuel Whey Protein are quite affordable. It costs Rs 1249 for 1lbs (453 gms) of product which is quite less compared to any imported brands.
The product comes in a resealable bag,which reduces the cost of plastic tub.
They ship directly from their Factory which reduces the stores cost
You don't have to pay extra money for import duties and other import taxes because its a made in India product
Overall:
MyFitFuel has really impressed me with the quality of the product at such an affordable price. The product is made from high quality sources and is completely vegetarian. The Whey protein comes in 3 variants and this German Chocolate delight is absolutely delicious. If you are planning to add protein supplement in your diet, do try this out!
PS: Please consult your doctor before consuming any kind of whey protein, if you are allergic to dairy proteins.
Don't Miss to Checkout:
Have you tried any Protein Powders? Which is your favorite Protein powder supplement brand?