First Impression: Wella Professionals Elements Renewing Hair Care Range
Hello Dolls,
I have a brand new product to share with you today and its Wella Professionals Elements Hair Care Range which is introduced in India few days back and I am excited to tell you that it is the first Wella Professionals range of care products which are free of sulfates, parabens and artificial colorants.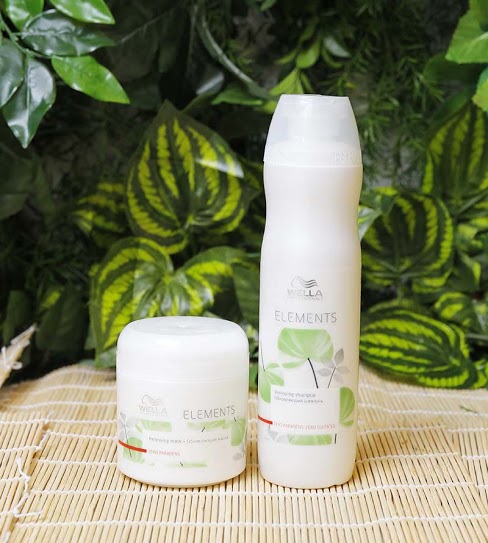 Product Description: Wella Professionals Elements is inspired by nature to provide up to ten times more strength against breakage* for renewed hair vitality.
Wella Professionals Elements protects the integral keratin structure, keeping your hair shiny and healthy, but without some of the chemicals usually associated with hair care products. Keratin is the principal component of hair – a protein which acts as the building blocks of the hair. If the keratin is degenerated, the hair will become weak and will lose its shine.
Sulfates, parabens and artificial colorants are commonly used, safe ingredients in hair care and have been extensively tested but some people wish to avoid them, so the scientists at Wella Professionals have developed the exclusive NuTREE complex. The NuTree complex is enriched with natural tree extract – a powerful antioxidant which helps reduce free radical damage. Sustainably sourced in Germany, the natural tree extract also has anti-irritant properties to balance and calm the scalp.
The natural tree extract is joined by panthenol, also known as pro-vitamin B5, which penetrates deeply into the hair to repair the inner keratin cell structure and bind moisture in the hair. The result is hair which looks smooth, healthy and is nourished from the roots to the tips.
Price:
Shampoo: Rs.975 for 250 ml
Hair Mask: 1075 for 150 ml
Packaging: Wella Professionals Elements range has a nice frost white colored packaging with leaf motifs on the the front. Wella Professionals Elements Renewing Shampoo comes a sleek plastic bottle with a curved neck a flip top packaging while te Wella Professionals Elements Renewing Mask  comes in a simple plastic jar with a screw cap.
My experience with Wella Professionals Elements Renewing Hair Care Range:
I have tried this range only once so this is just the first impressions of the products. Will do a detailed review in sometime and share how it performs in the long run.
I will start with the best part of this range "Fragrance"- Wella Professionals have specially created a new fragrance, inspired by the green wood's of the Amazon forest and trust me it is the most beautiful scent ever in a Hair care range. It smells almost like a luxurious perfume. It has a strong woody-fruity scent initially but them it fades on to an enchanting fresh leafy scent which lingers on for hours.
Wella Professionals Elements Renewing Shampoo: It is a clear gel with a medium thin consistency which is neither too runny nor too thick so it spreads on nicely onto the scalp. The formula is quite gentle but it does give a good lather when worked up on wet hair. It cleanses hair thoroughly and leave them super smooth..I absolutely loved how hair felt after first wash silky soft and smooth.
On oily hair, it does leave some oily residue behind so I guess I need to go twice with it on oiled hair but on unoiled hair just one wash was enough to enjoy satin smooth hair. I didn't notice much of volume but it does add a lustrous shine to hair which is awesome.
Wella Professionals Elements Renewing Mask: It is a white colored creamy mask with a medium thick consistency which spreads really easily covering each hair strand. It is intense nourishment for dry and dull hair but at the same time it doesn't weigh them down. I use it along the length of hair and it instantly smoothens them out, tames the flyways and add a beautiful shine. I like to use it when I haven't oiled my hair before wash to enjoy extra smooth and shiny hair.
Recommendation: Wella Professionals Elements Renewing Hair care range has totally impressed me with its awesome ingredients list with no sulfates and parabens and its gorgeous scent which just bowls me over every time I sniff the bottle. The shampoo is quite gentle yet effective in pulling all the dirt from the scalp leaving hair smooth and shiny and I can make them smoother and shinier by doubling up with the Renewing hair mask. If you are looking for more natural alternatives which contain fewer chemicals, but do not compromise on performance try this Wella Professionals Elements range.
Have you tried Wella Professionals Elements Renewing Hair Care? Would you lke to replace your current hair care regime with this?
PS: Product sent by brand for Consideration