Finally Finished This Month: November@ 2013
Hello Everyone, Due to Diwali engagements, I was unable to do this post last moth but this time I will be doing it collectively for both November and October 2013. As the winters have started sucking moisture from my skin, I am compelled  love to drench it under a heavy layer of moisturizers for ample nourishment and keep it soft & smooth as ever.  Let's get started and have a look at what all I managed to finish this month…quite happy with the long list of empties this month 😀 😀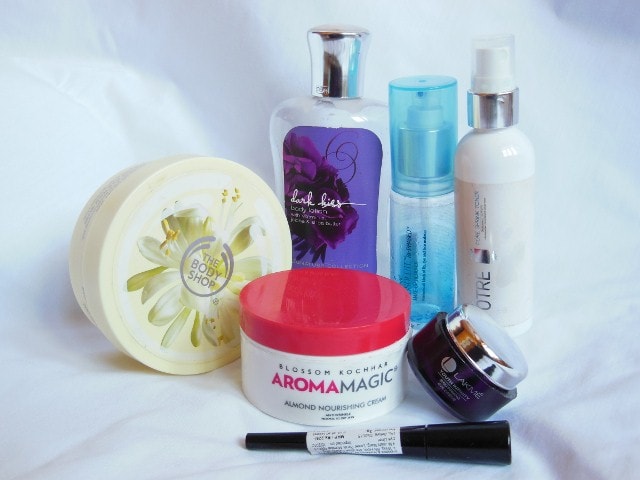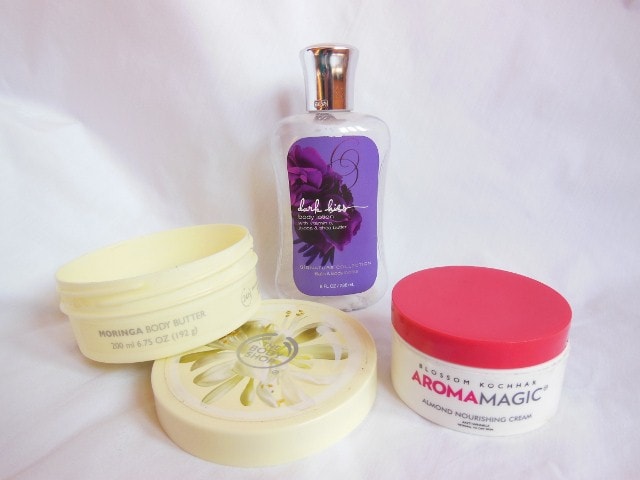 1.  The Body Shop Moringa Body Butter – This is one of my favorite fragrances from TBS body butters. Its exotic floral aroma lasts for hours and the extremely nourishing formula not only moisturizes my dry skin but gives a healthy glowing looking skin whole day, no need for reapplication at the end of the day. 🙂
2. Bath & Body Works Dark Kiss Body Lotion –  Dark Kiss has rich spicy fragrance with a light blend of berries and a hint of musk. Some may find it a bit overwhelming but I just love it and once, the fragrance starts to settle down it fades to a softer one with berry hint without losing the spicy touch. It is decent moisturizer but not enough for my dry skin in winters.
3. Aroma Magic Almond Nourishing Cream – It has a thick creamy texture and can easily makes my skin look like an oil factory, so have to be applied in moderation but what I didn't like hated about it, is its strong bitter almond scent. So, using it as a facial cream was out of scope and ended using it up as a hand cream. 🙂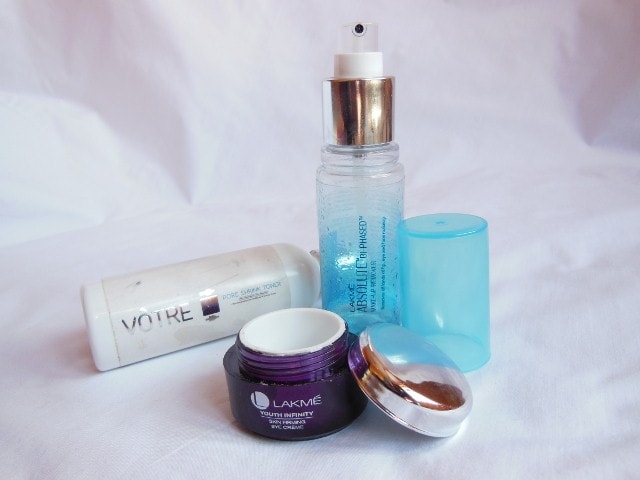 4. Lakme Youth Infinity Skin Firming Eye Cream –Lakme Youth Infinity was a major bummer for me. Other thanthe Serum, I didnt quite liked any of the product from it. The eye cream was a complete failure as it takes an eternity to get absorbed, not enough moistursing and leaves fine shimmer specks post -application. It absolutely did nothing to improve my under eye area. Never repurchase!
5. Lakme 9 to 5 Absolute Bi-phase Makeup Remover – This has been my favorite makeup remover especially eye makeup. It doesn't sting eyes unlike creamy cleansers, I have used the Lakme Pore cleanser(Review Here) and it stings like hell. As a lot of it is required for full face so I prefer a creamy cleanser for this job. Overall, I liked it a lot and might repurchase as an eye makeup remover. Keep the cotton swab dipped in remover liquid for few seconds over the lids and all the makeup will come off easily with few gentle swipes, no rubbing required.
6. Votre Pore Shrink Toner -Toners is staple in my skin care routine and as I have dry skin I opt for Alcohol free toners only. Votre has performed really well on my dry skin,giving a firm look and providing light hydration and absolutely no sticky/oily feel.  I have Lush toner next in my list but I might comeback to this one. 🙂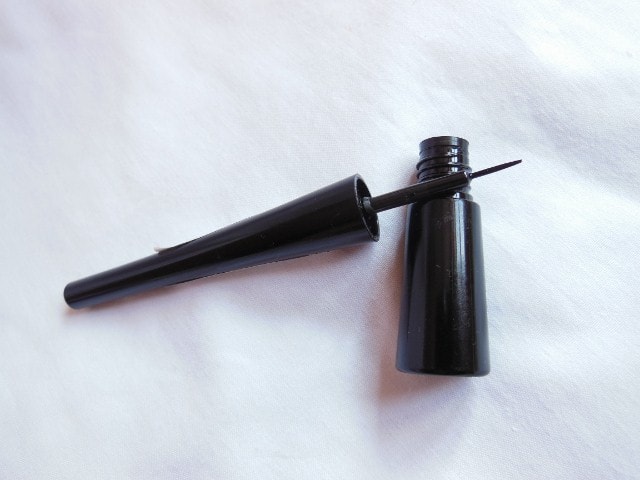 I hate finishing up my makeup stuff but this time I made it with Maybelline liquid liner.
7. Mayelline Hyperglossy liquid Eye liner Black– The liner had intensely pigmented formula and imparted a supreme glossy finish on the lids . It dries up really quick and I didn't had to worry about smudging or transfer, though sometimes it starts peeling off after 6-7 hours of wear but not heavily. I loved it super-thin brush which helps me in getting the precise application and its formula never stung my eyes unlike Lakme 9 to 5 liquid liners. Maybelline Hypersharp liner is next on my list.
This is my list of empties of the month..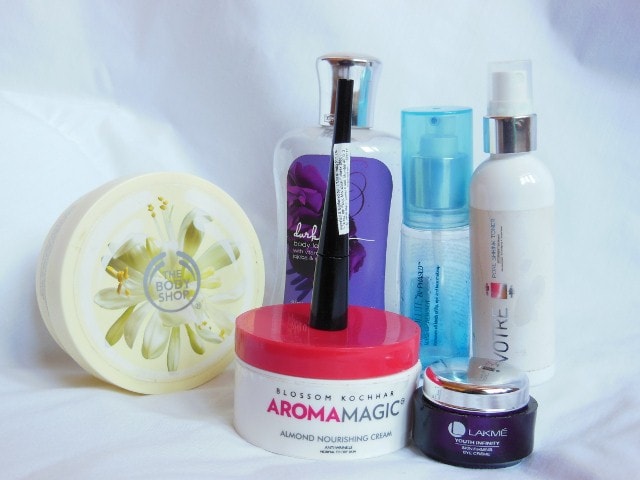 So what all you finished this month? Have you ever finished any makeup product Eyeliner/lipsticks/Eyeshaodws?