Finally Finished – March
It's 31st  and time to reveal what I finished this month. As I started with lots of new products this month which will take time to hit the bottom, the list of empties this month is really short, here is the list.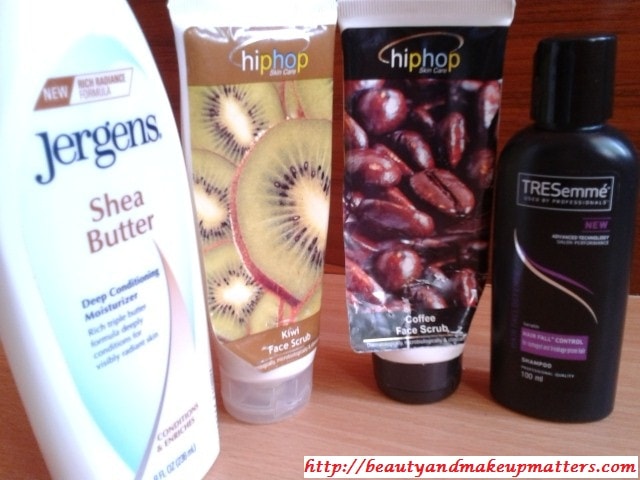 Hip Hop Face Scrub – Kiwi
Hip Hop Face Scrub – Coffee
Jergens Shea Butter Body Lotion (Review Here)
Tresemme Hair Fall Shampoo (Review Here)

1) Hip Hop Kiwi Face Scrub & Hip Hop Coffee Face Scrub – I have been using body scrubs religiously from past 6-7 months. Wasn't aware or knew about body scrubbing as the terms like Scrubbing/ Exfoliation has always been in reference to facial skin. But we need to exfoliate our body skin just like our face and get rid of dead skin cells. I was thinking of getting Lotus Herbals Body Polishes but found them a bit expensive as a body scrub and I was sure I will be finishing up soon then imagined. So, dropped the idea and looked for budget-friendly options for body scrub.
Hip Hop immediately gained the popularity with its inexpensive face scrubs. I didn't had the courage to try these in face but made a good option as affordable body scrub. I have reviewed Hip Hop Face Scrub Strawberry (Here) and bought its Kiwi and coffee variant too. Out of these 3 Kiwi is my favorite with it subtle fragrance and lovely Kiwi-green colored granules. Both of them efficiently remove the dead skin cells leaving behind clean, smooth and slightly nourished skin. I may not repurchase these as there are lot many options that I want to try but if you are looking for pocket friendly body scrubs than these are best in class.
2) Jergens Shea Butter Body Lotion – One of my favorite Body lotion for winters. It has a lovely warm buttery fragrance and its rich moisturizing formula makes my dry skin happy. I think I will be re-purchasing it again next winters.
3) Tresemme Hair Fall Shampoo –Tresemme makes really affordable range of shampoos. It did help in reducing the hair fall to some extent but I am not going gaga over this shampoo. It leaves my hair a bit dry and I need to use a heavy conditioner to smoothen them out. Also, I didn't like the facr that my hair weighs down by 2nd day due oily scalp issues. I am looking for a good Volumizing which can take care of rest of my hair concerns too.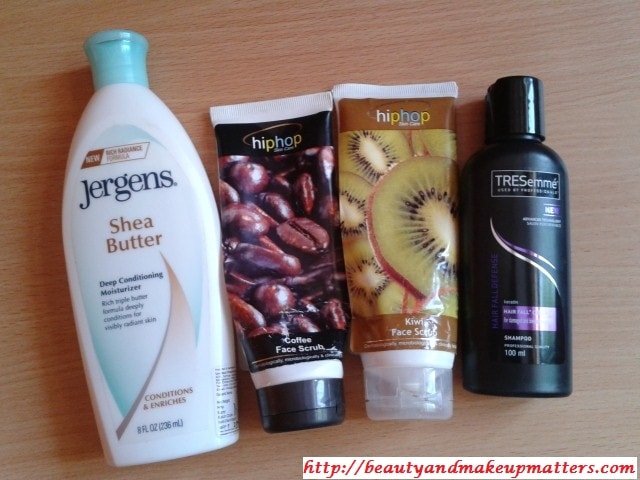 What all you managed to finish this month?