Finally Finished this Month – February!!
I have shared with you My Skin Care haul (Here)  earlier this month which contains essentials for my skin care routine which was possible only because of hard-work and patience 😛 . I was able to finish some skin care stuff so and hence can splurge to include new items. I have been a little late but here is the big list  of empties of the month.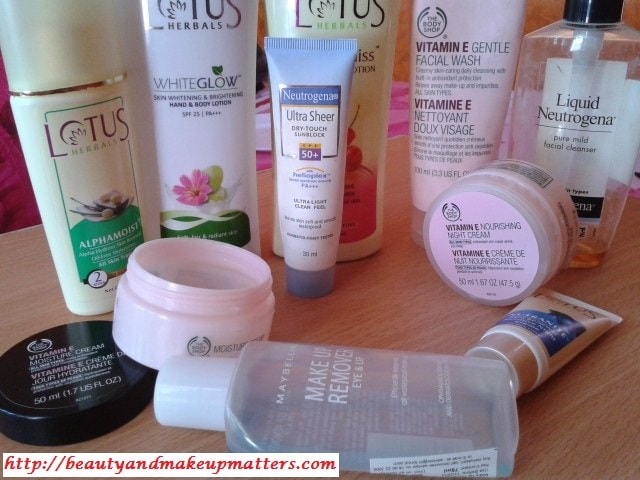 Bath & Body:-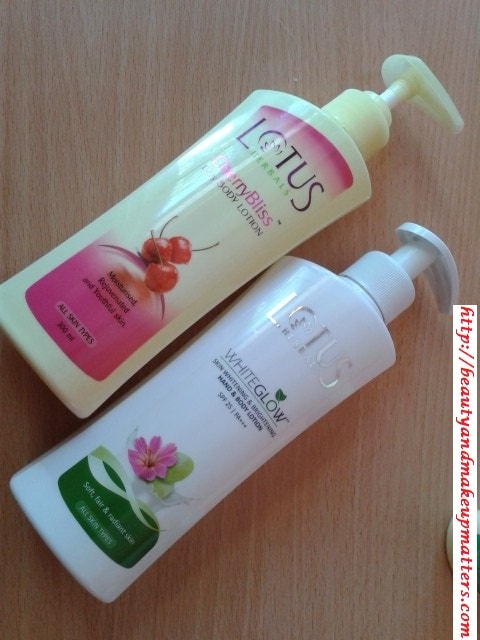 Lotus Herbals Cherry Bliss Body Lotion –

I didn't enjoyed

its overwhelming bubblegum fragrance

and wasn't intensely moisturizing for dry skin in winters. The thick texture is heavy for summers. So won't be re-purchasing for sure!

Lotus Herbals White Glow Whitening & brightening Hand & body Lotion –

Again the same issue, not enough moistursing for winters and heavy for summers plus it takes ages to sink completely into the skin. Though I liked its sweet fruity fragrance but won't repurchase.
Skin Care:-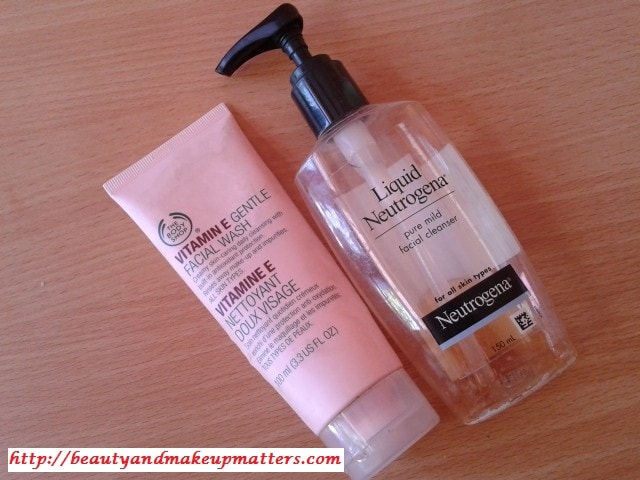 The Body Shop Vitamin E Gentle Face Wash – 

Has rich creamy texture which doesn't lather much due to its gentle formula but cleanses up my skin pretty well and also removes the removes the make-up just like any creamy cleanser. It doesn't dry out my skin which makes it a great option for winters. Definitely a repurchase item!

Neutrogena Pure Mild facial Cleanser – It has 

awful detergent smell, doesn't lather much, stings my eyes, dries out my skin. The formula is terrible and is for sure not a mild one. Won't be purchasing it ever.. Hate it .. 🙁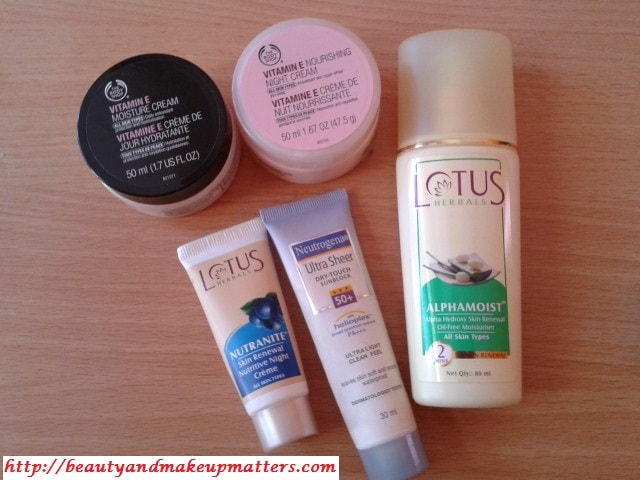 Neutrogena Ultra-sheer Sunblock SPF 50+ –

This is an effective sun block which protects the skin from tanning but its has a terrible rubbery smell though mild. The sun block is great for winters but it feels sticky in summers. I am already looking for its alternative and bought Cetaphil Sunscreen which is tad expensive comparatively and perform similarly. Will be repurchasing in winters but not in summers!

Lotus Herbals Alpha Moist Moisturizer –

Again, another bottle of this beautiful moisturizer gulped into my skin. I am love with its oil free formula which moisturizes skin and never turns it shiny or oily. I will be repurchasing it till I find its substitute!

The Body Shop Vitamin E Moisture Cream –

Has velvety soft texture which takes a little long to penetrate in to the skin but it is decently moisturizing and keeps my skin hydrated for long. It doesn't feel heavy on skin nor does it leave any slippery film. Another great day time moisturizer for my dry skin.

The Body Shop Vitamin E Nourishing Night Cream –

It's a thick cream and has pleasant fragrance with natural ingredients in the list. I love the way it gets absorbed into the skin and leaves it nourished and super soft. My best night cream for winters, when my dry skin craves for extra moisture.

Lotus Herbals Nutranite Night Cream – It has a runny texture with

delicious smell of ripen berries and grapes but it doesn't immerse completely and leaves a thin oily layer on skin. Decently moistursing but doesn't really made any difference to my skin texture.
Makeup –
Maybelline Makeup Remover:-

It is an inexpensive but effective

Makeup remover which takes off all

the makeup with a gentle swipe. It's mild formula is gentle on skin and doesn't sting eyes but removes makeup nicely. Total value for money!
The sight of empty bottles is so beautifulll…..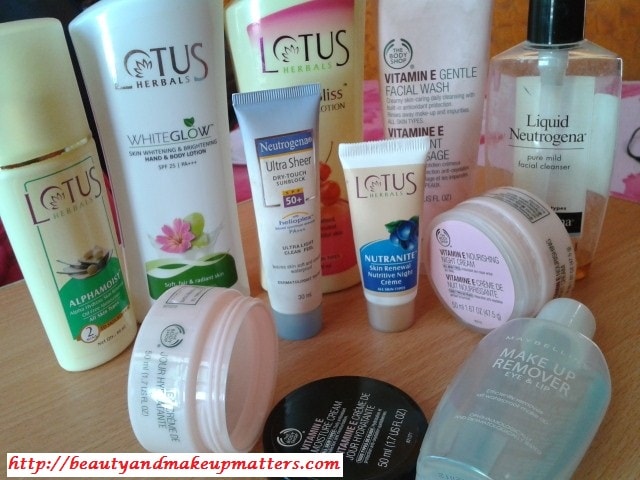 What all you managed to finish this month?