Finally Finished This Month: February @ 2014
The "Love Month" has quickly wrapped up and before I could settle in myself, it has already walked off. But I am happy, as the next is the "Month of Colors" .. March. I am sure not many of you like HOLI "Festival of Colors" and have apprehensions about colors damaging skin, rashes and many more but i still love to celebrate it in full form. I love to play with colors, so HOLI must be my favorite Festival ;). Also, to add on to this, the yummylicious "Gujjian" are seen everywhere… I am going to indulge in them leaving behind my Dieting plans for next month. 😛 :Drool: :drool: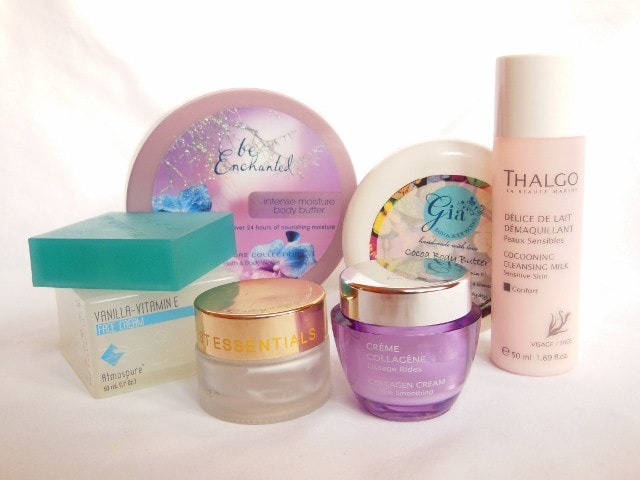 But before I get myself virtually involved in HOLI .. let's talk about the products that I finished up this month. I have bought a lot of makeup this month and to balance out the things, decided to make some space by finishing up skin care products. Considering the amount of makeup I own, it's next to impossible to finish up any, other than Eye Liners and Compact so I stick to Skin Care and Bath & Body stuff.
Have a look at the products I finished in February 2014:
Thalgo Anti Collagen Cream
Thalgo Cocooning Cleansing Milk
Forest Essentials Intensive Under Eye Cream With Anise: It is wonderful eye cream with fully natural ingredients list sans any preservatives or chemcials. It took good care of my under eye area and kept it nourished. It has light-weight texture which doesn't leave any residue behind. My first purchase from FE and I am super happy with the results. Will Repurchase!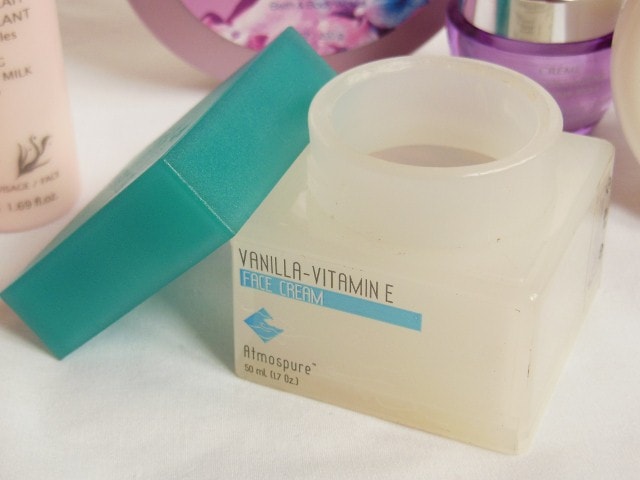 The Nature's Co- Vanilla and Vitamin E Face cream – This has been a savior for my super dry skin in winters but it rich creamy texture makes it unusable during summers and will feel heavier on oily skinned beauties. The cream did nothing more than keeping my skin moisturized and maintaining its elasticity.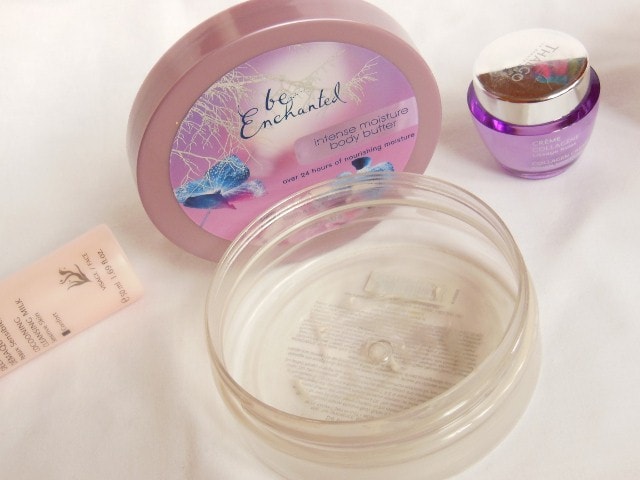 Bath & Body Works Be Enchanted Body Butter – Out of my huge stock of Bath and Body Works Body Butter, this is the first lucky jar that I managed to finish up. Texture wise I like The Body Shop Body Vutters better as BBW Body Butter takes time to get absorbed completely. If you are already a fan of TBS body Butters you might not like it thick buttery texture.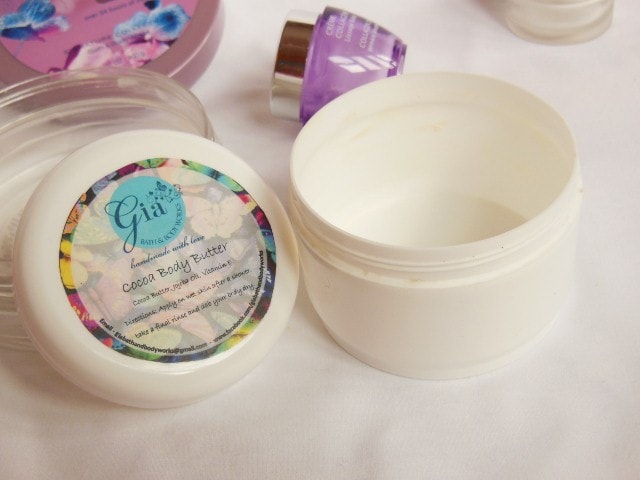 Gia Bath and Body Works Shea Body Butter – This has been the best ever Body Butter I have used till date. It melts between palms and gets applied effortlessly. My skin soaks it in really quick and stays happy and nourished whole day. It has a pleasant warm shea fragrance which I love to the core and the best part is it is free from all sorts of chemicals and preservatives. I have already stocked up two more jars of this body butter. 😀
Gia Bath and Body Works Mocha Cream Soap: This soap smells like freshly brewed coffee and is infused with tiny Coffee grits to exfoliate and buff away the dead skin cells. I like everything about the soap which is composed of with only natural nourishers and oils but it was slightly drying on me. It may work better on oily skin but dry skin can skip this.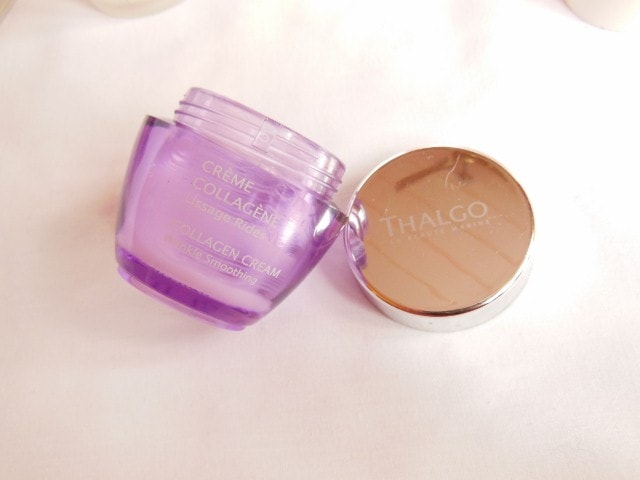 Thalgo Anti Collagen Cream – I started using this after finishing up The Nature's Co- Vanilla and Vitamin E Face cream and the first thing that I noticed is it light texture which goes on easily and gets absiorbed super fast in the skin. It is decently moisturizing and can be used as day time moisturizer but for night I need something more moisturizing for satiate my dry skin requirements.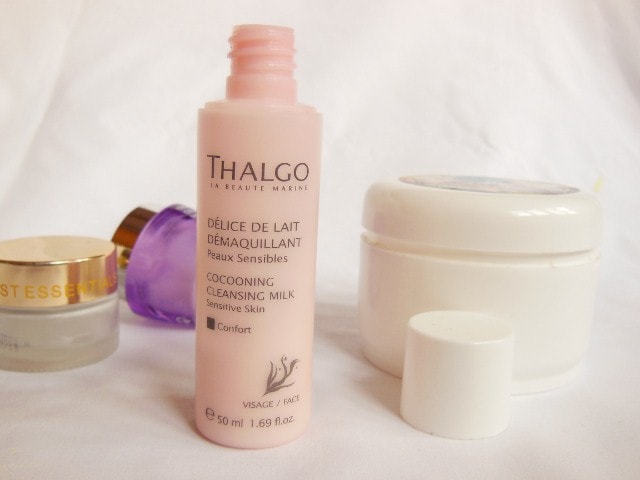 Thalgo Cocooning Cleansing Milk: It a white creamy liquid which takes off the makeup in single swipe but you need to be cautious while using it around eyes as it may sting very badly if gets into the eyes, It is like any regular creamy cleanser and didn't noticed much of a difference in my skin's health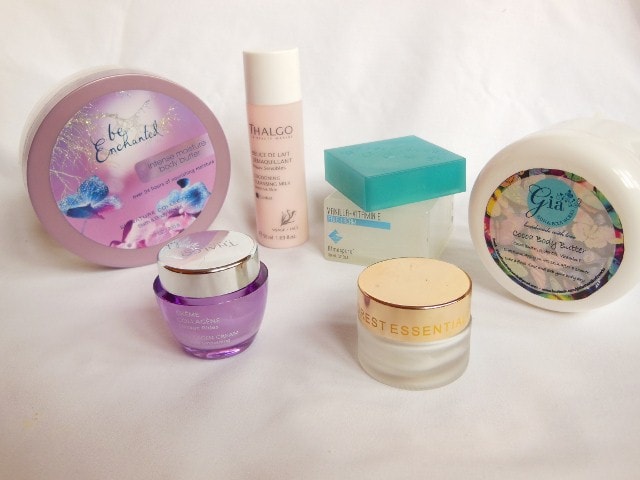 What is on your Finally Finished List this Month? What do you finish up fast Skincare or Makeup? Have you tried any of the products above. Share your thoughts through comments!