Finally Finished: October 2015 
Hello Everyone,
Its already November but I can't help but share the list of products I emptied in the month of October. I have been on a usage spree and have been using each and every product lying with me religiously, in the hopes of finishing them up and make space for the new ones that I would love to try,
Winters are the best time to use maximum products especially moisturizers because a thirsty dry skin will drink it up all and I can go for as heavy application as possible to keep my skin soft and smooth.
Lets see what all made it to the trash last month!!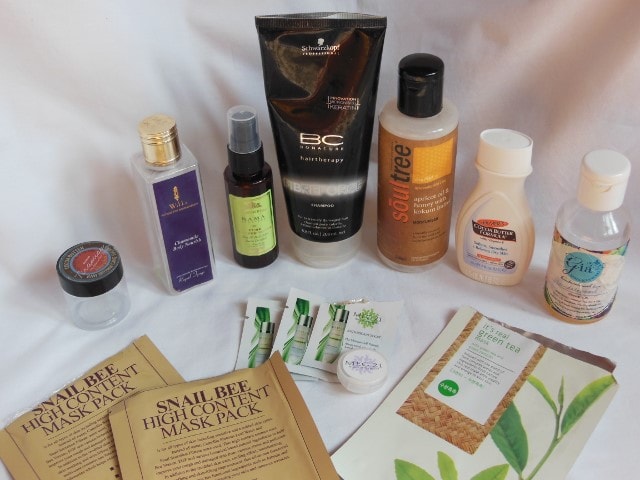 Products Finished:
Face Mask sheets: Yup, they are again on my finished list and this month it's a few Benton Snail Bee High Content Mask Pack and a Innisfree Green tea mask Sheet. I see myself using more of these this month!
Soultree Apricot Oil and Honey Moisturizer: Soultree Apricot Oil and Honey Moisturizer is good moisturizer with natural butters like Kokum, Shea and is quite nourishing but scent is just okay and not amazing.
Gia Bath and Body Works Sandalwood Shower Gel: I had it for quite a while and I find the scent a bit strong for my liking but I can work with such scents in winters and I have been using it for past month and I managed finishing it up. It lathers well and doesn't feel drying , so its good!!
Palmers Cocoa Butter Body Lotion: I got this sample in October Fab Bag and I just fell in love with it since first application. this tiny bottle lasted me 6-7 days of application and I am totally into it. I am surely going ahead to buy a full size of it. It has a such a gorgeous warm cocoa scent.. absolute love!! Must have in winters 🙂
Schwarzkopf Fibre Force Shampoo: I quite liked this Schwarzkopf Fibre Force Shampoo as it does a good job at cleansing hair and adding shine and volume to my hair but it is quite pricy and I need a lot of amount to cleanse hair :P. Might repurchase but not sure!
Wikka Chamomile Body Nourish: Wikka Chamomile Body Nourish is sort of a body Oil made of all the natural oils and isnt greasy as you expect an oil to be. It gets absorbed quickly into the skin but again scent is just okay.
Kama Ayurveda Pure Vetiver Water Face Mist: I have been crazy for face mists and this Kama Ayurveda Pure Vetiver Water Face Mist one probably kicked up my love for them. It is pure and comes in a handy pump packaging. It refreshes skin well but not nourishing at all. Good for summers though
Tiramisu Raw Brown Can Sugar Body Scrub: Again a sample from October Fab Bag, and it is a body scrub made of finely grated cane sugar and has a lovely warn scent too but it is quite pricey for whatever it does. I would term it as a body polish than a body scrub.
MEG 21 Skincare Samples: Actually I got a whole skin care range of this brand but somehow it failed to work me and kind of cause some allergic reaction. I so wanted this to work for me but after using it for 10-15 days I just gave up.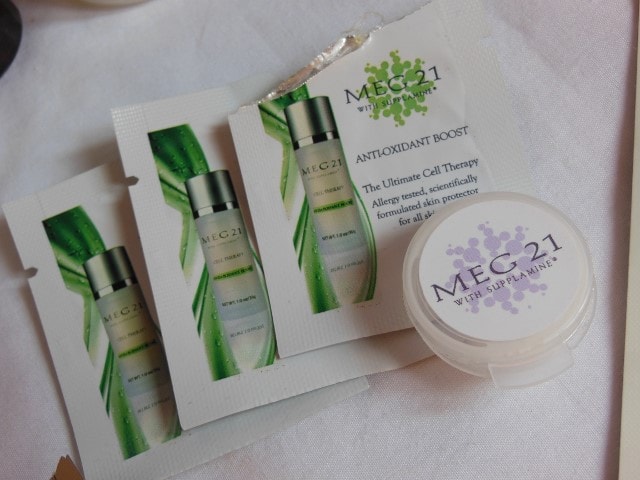 So, that's pretty much all from the month of October and I am already planning to make it bigger and better for November but lets see how it turns out 😀
What products have you finished up in October?  Have you tried any of these?