Finally Finished: November 2015
Hello Everyone,
Cant believe that 2015 is going to be over soon.. only 1 month to 2016. surely time flies!! Coming back to today's topic.. lets see what all I used up this month 🙂
I must tell you that I am on a rampage to finish up the stuff I have accumulated over months. I am regular with my skincare routine again and have been trying my best to use each and everything that I can in a day.. so that I could make a large number of products to the finished list.. I wont say I conquered that but I am very much there.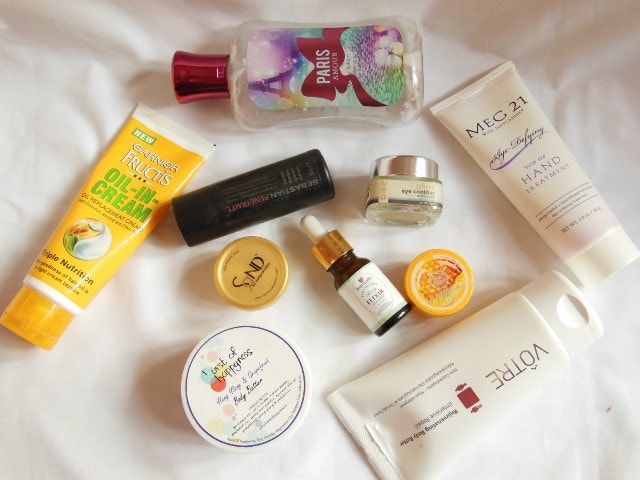 Let's see what all made it to the trash last month!!
Products Finished:
Sebastian Penetraitt Shampoo: I had 2 samples of this shampoo. I have already finished one in September and this month I used up the other one. I love this Sebastian Penetraitt Shampoo, it infuses life in my hair..making them smooth, shiny and volume. It does contain a ton of chemcials but I love how it makes my hair feel!
Bath and Body Works Paris Amour Body Lotion: I hoarded Bath and Body Works Body lotions like crazy and now I am having a hard time finishing them up. The body lotion has a nice creamy texture which feels moisturizing to my dry skin. I might have to reapply in full winters but it worked beautifully in the starting. It has a lovely floral- sweet scent but not one of my favorite from the brand
Votre Rejuvenating Body Butter: I really wanted to like this Votre Rejuvenating Body Butter because it comes in a tube packaging plus it is from a French skincare brand but even after trying very hard it is not something I enjoyed. It has a thick texture which takes time to see into skin and has a strong fragrance too which isnt quite likeable. Moisturization wise it does a good job but nothing extra ordinary.
Garnier Fructis Oil In Cream: I used this Garnier Fructis Oil In Cream as a conditioner but frankly speaking I didn't actually love it. It didn't do anything great for my hair nor do I felt my hair were smoother or softer than usual. It is sort of a miss for me, and I would better pick up some good conditioner for my hair and speaking of replacing of oil with Cream.. no way!! I still heavily oil my hair every time before washing.
MEG 21 Hand Cream: I got whole skin care range of this brand but somehow it failed to work me and the facial products caused some allergic reaction, so I had to discontinue them and give up but this hand cream was a safe choice. It does a good job at nourishing hands and keeping them soft and smooth but the effect lasts as long as I wash my hands
Just Herbs Facial Elixir Serum: I used this Just Herbs Facial Elixir Serum almost every day after toning my face. It does a pretty good job at providing moisturization to my dry skin but I didn't notice any major improvement in my skin health. It makes a great day tim moisturizer for all skin types for its light weight texture but for the price I expect more.
The Body Shop HoneyMania Lip Balm: I had this The Body Shop HoneyMania Lip Balm for more than a year now. It fared pretty well initially but lately when I started using it again, I didn't think it worked the same way because my lips felt drier than before. Not sure if it is my lips doing the trick but I am going to toss this lip balm away.
Omved Eye Contour Gel: I used this Omved Eye Contour Gel quite religiously but sadly it didn't worked even a bit on me plus the tingling sensation it has always freaks me out.It is all natural formula which might help in de-puffiness of the eye bags but other than that it does nothing!
Mini Reviews:
I have been using these products and somehow I managed to finish them in less than a months time. The Body butter from Burst of Happyness was great but I couldn't do a full review on it so sharing my experience in the form of Mini Review here. I have reviewed some of the Burst of Happyness Stuff already on the blog so you can check that out.
Burst of Happyness Ylang Ylang & Grapefruit Body Butter: It is a butter and oil heaven with a mix of amazing natural oils and butters. Though it is butter, it gets absorbed fast and doesn't feel heavy on skin. It melts so quickly without leaving any greasy feeling but a smooth silky skin. I just wish it has a better scent may be something warm cocoa sorts. I love to use it on my abdomen area, hoping it will help in reducing the appearance of Stretch marks. Overall, It is a great body moisturizer and even with all the natural oils and butters it doesn't feel slick or heavy like regular oils. I love it for that and being an all natural formula..it does good thing to my skin!
Sand for Soapoholics Forever Twenty Hair Mask: I got a tiny sample of this Hair Mask from Sand For Soapholics. The sample lasted me 2 usages so you know why I can't do a full review. It is dark green color thin hair paste which melts in heat. I could see the oil and cream separation in the jar. It applied fairly easily and was as greasy as regular oils but it has quite a string scent owing to some of its ingredient. On hair I didn't see much of a difference in texture may be a bit softer but with 1-2 washes I can't say for sure. If it had lasted me a bit more I could have shared more about its effect on dandruff, hairfall and itchy scalp. It's good that it has all the natural oil and ingredients so you know that you are applying only good things to your hair.
Sand for Soapaholics Nutty Gritty Soap: I got a tiny sample of this of soap as well and I fell in love with it in first sniff… it smells so delicious. Mix of coconut, vanilla and warm cocoa to me. If you know me, you must be aware that handmade soaps are usually drying on me but this one for a surprise wasn't drying at all rather left my skin soft and hydrated. It contains grits to exfoliate skin while bathing and has grated coconut things which is great. Not sure of the price for full sized but if you wanna try one hand made soap, this one would be a perfect pick!
I am not sure if I can do such list for December but if that's the case I will be doing a major empties post in January next year!! Excittteedddd…… 🙂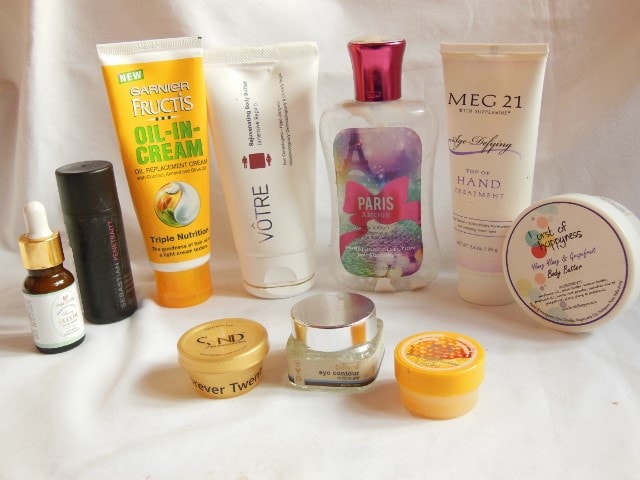 What products have you finished up in November?  Have you tried any of these?