Finally Finished – August 2015
Hello Everyone,
It has been months that I have shared with you the list of products that I finish every month. It's not always easy for me to finish up products because I get bored in the middle of them and most of the times something new lands up in my stash and they take the center stage kicking out the old ones but to create some space in my already overflowing stash I have been particular about finishing up stuff before starting with new ones. So, today I am sharing the products finished over the span of last few months 🙂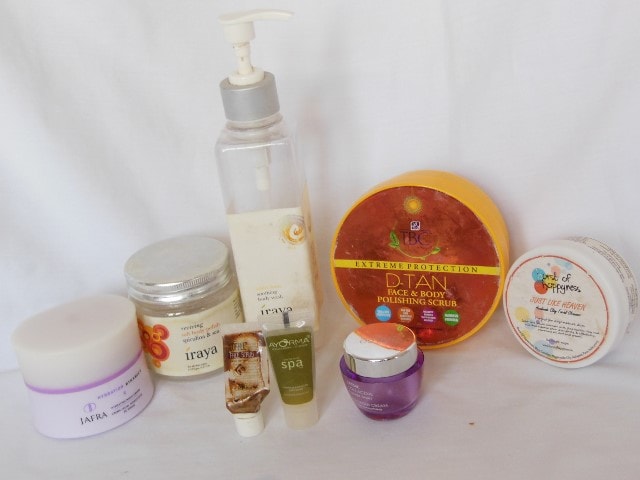 Products finished This Month:
Iraya White Lotus Soothing Body Wash: This was my first stint with Iraya Body Wash and I am in love with them. I have tried many shower gels like The Body Shop Ones, Shea Moisture, L'Occitane, Kama Ayurveda etc but nothing won me like this. The mousse creamy texture, opulent floral scent and hydrating formula worked beautifully for me. I am definitely gonna add more variants of these shower gels. Must try!
Iraya Reviving Spirulina & Sea Salt Salt Body Polish: I am still in double minded about this Iraya Sea Salt Body Polish. The polish was indeed good with all good stuff like sea algae without even a single trace of chemicals. It has tiny salt like granules that were meant to buff dead skin cells but I feel they dissolve fast to do ay job. I enjoyed it scent and formula but might not repurchase because of the ineffectiveness as a body polish.
Burst of Happiness Just Like Heaven Facial Cleanser: Burst of Happiness Facial Cleanser has been my favorite of all the cleansers I have used till date. There were days when I didn't have time to even apply a moisturizer or do my weekly skincare routine but this cleanser saved my skin. It was little bit hydrating that was enough for my dry skin in summers and the microscopic granules did exfoliated my skin keep blackheads at bay. I seriously liked how smooth and clear my nose look which used to be covered with blackheads all over :P. Biy Yayy!! I am planning to repurchase it
TBC By Nature De-Tan Face and Body Polishing Scrub :TBC By Nature De-Tan Face and Body Scrub is I guess my least favorite product of the month because of its sugary sweet artificial scent. The formula was creamy with scrubbing beads that were soft enough to be used on face but I preferred to use it as a body scrub and finished it off just to put something new in my shower area that I actually enjoy :P.
Jafra Hydration Dynamics Night Cream: I got this Jafra Night cream along with other Jafra products. This one is meant for dry to normal skin type. I haven't reviewed it on the blog so it is a short review of the same. It is purple colored cream with thick creamy texture which blends in pretty nicely but felt like any other heavy night cream and didn't do anything magical for mine. Won't repurchase.
Thalgo Wrinkle Smoothening Collagen Cream: This Thalgo Wrinkle Smoothening Collagen Cream is a sample sized version which won in a giveaway. It is a white colored cream with medium-thin texture. It applies nicely and doesn't feel heavy but I didn't notice any difference in my skin. It is priced quite heavily and doesn't feel worth to me!
Ayorma Fairness & Anti-Tan Face Wash : I received the sample of this Ayorma Fairness Face Wash in July Fab Bag and was tempted to give it a try as it is a spa range. I am not a sample girl but as the packaging was easy to use, I ended up using it. I wasn't expecting much from this but was amazed how beautiful it smells something citrusy like fresh lemons with tart effect. Also, it lathers really well and I just needed a tiny drop for each application. It left my skin smooth and hydrated with a refreshing cooling sensation that I loved to the bits in summers. I might buy its full version next summers. Do try!! 🙂
The Nature's Co Coffee Face Scrub: I have read raving reviews about this coffee scrub but I wasn't impressed with this. It has gritty granules that might damage skin if rubbed aggressively. Also, I find the scent a little bit overwhelming with a artificial touch.
Don't Miss to Checkout:
There was also a Innisfree mask sheet in Green Tea but I accidently threw it in dustbin 😛 before clicking pictures for this post:P
Which products did you managed to finish last month? Any favorites from the list above?