Fiama Di Wills Gel Bathing Bar-Mild Dew Review
Today I am going to tell you about my longest loved product the "Fiama Di Wills Gel Bathing Bar". I started using these soaps 2-3 years back in 2009 or 2010. The sensual advertisement of "Fiama Di Wills" gel soaps featuring Deepika Padukone was more than convincing to give them a shot. Since then, I have become an ardent fan of these soaps.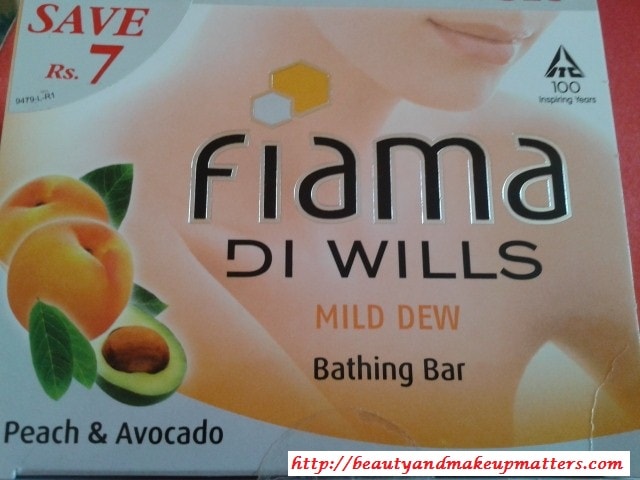 I have tried various other soaps in between to break the monotony but Fiama Di Wills Gel soaps have come up as a winner.
Product Claims: (From the Website) –Fiama Di Wills Shower Gels & Shower Gel Bars product range includes the Exotic Dream, the Clear Springs and the Mild Dew. They all have natural ingredients and scientific beads that make the skin beautiful and soft. The ITC Research and Development has found a revolutionary method – the Liquid Crystal Freezing technology to freeze the goodness of these shower gels in soap. Now one can actually experience the beauty of a shower gel in soap.
Ingredients:- Aqua, Sodium Lauryl Ether Sulphate, Glycerine, PEG/PPG-8/3 Diisostearate, PEG – 40 Hydrogenated Castor Oil, Acrylates Copolymer, Cocoamidopropylbetaine, Decyl Glucoside, Perfume, Triethanolamine, Tetra Sodium EDTA, Benzophenone – 4, CI 14700, CI 19140, DMDM Hydantoin, Lactose, Cellulose, Tocopheryl Acetate, CI 77491. Hydroxy Propyl Methyl Cellulose, Pentaerythritol Tetrakis (3 – (3, 5-di-tert-butyl-4-hydroxyphenyl) propionate), Natural extracts of Fruitapone, Natural extract of Avocado.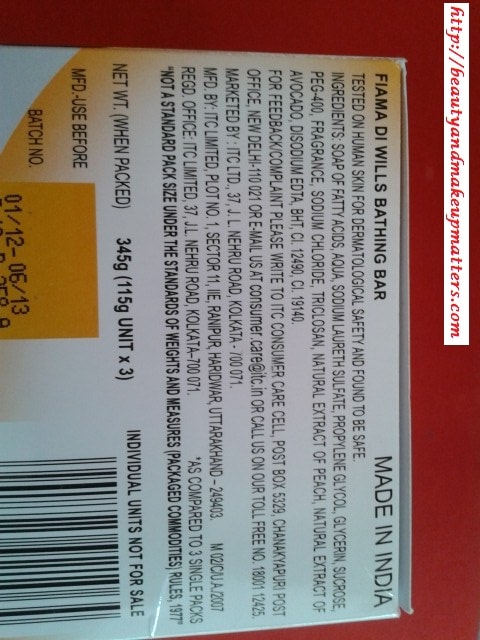 Price:- Rs.35 for 150 gm (A revamped version has been launched with a price hike but I am still to try that)
Shelf Life:- 2 years from the Mfg date.
Packaging:- The bathing bar comes in orange colored cardboard box type packaging which carries details about the soap. The box carries picture of peach and avocados and the name of the brand is printed (in bold letters) in the center. The soap is not sealed in some cheap or see through plastic wrapping but in a good quality opaque silver plastic wrapper which has the brand name "Fiama Di Wills" printed all over it.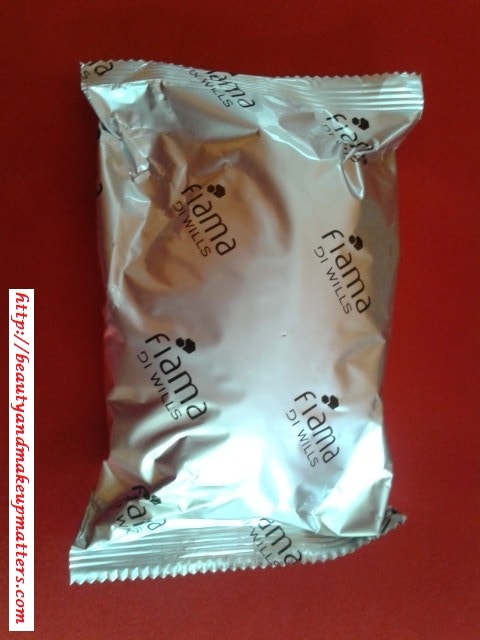 I was impressed to see the exquisite packaging of the soaps.
Available in 2 variants:-
Clear Springs
Mild Dew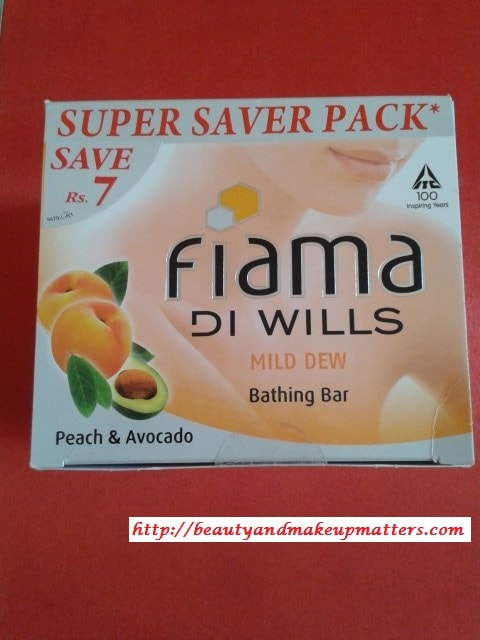 My experience with Fiama Di Wills Gel Bathing Bar-Mild Dew:-
I have a dry skin and regular colorful soaps always make the situation worse. I have tried myriad bathing soaps from drugstore brands that claim to retain the skin-moisturiser and have exotic fragrance but in reality they turned out to be a Dud and full of harsh chemicals. I have to battle everyday with the moisturizing needs of my skin and to find a good non-drying soap for my skin was really a difficult task. Then 'Fiama Di Wills" Gel Bathing Bars came to picture.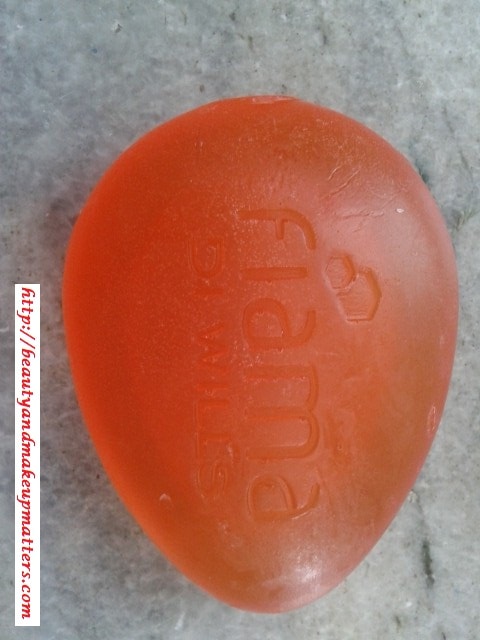 The soap is shaped in the form of a drop kind of oval which is quite unique. The soap has the Brand name "Fiama Di Wills" and it logo engraved over the soap. It is an orange colored trasluscent soap which claims to have the goodness of a shower gel.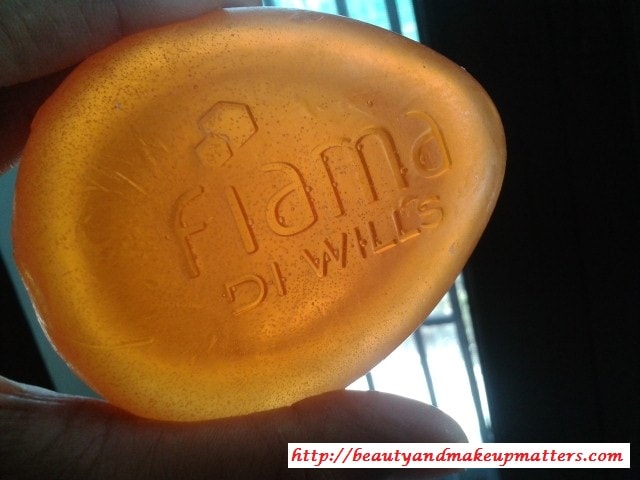 You only need to swipe this soap once all over the body and then use a wet loofah. The soap gives a rich lather with a loofah. It has a refreshing floral scent which gives the feel of a shower gel. It leaves my skin soft and smooth and with a mild and pleasant scent of fresh flowers which is soothing to the nerves. The smell lingers on for few minutes even after the bath and fills the bathroom with its refreshing scent. This soap never made my skin dry or stretchy. Sometimes, I even skip on body moisturizer and still my skin doesn't feel tight as it doesn't with regular soaps.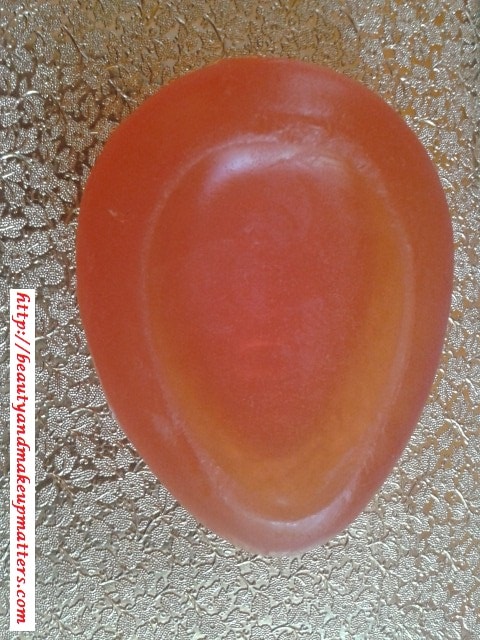 If the soap is left with a slight foam or moisture over it, you will find fine crystals all over the soap the next morning which looks like dew drops.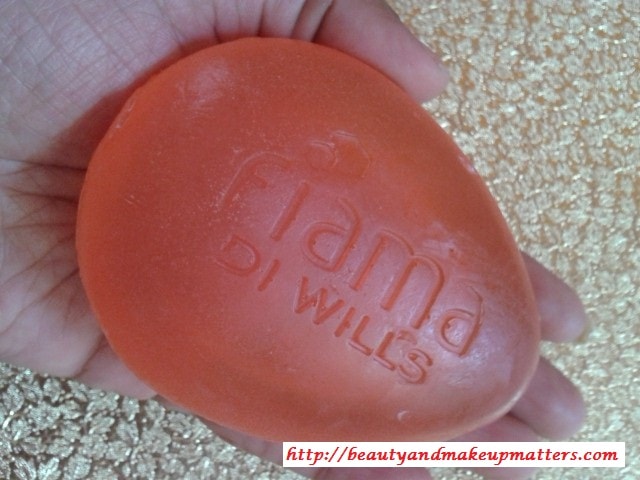 Pros of Fiama Di Wills Gel Bathing Bar-Mild Dew:-
Drop shape of the soap is quite attractive.
Mild refreshing scent makes the whole bathing experience a luxury
The fragrance lingers on even after you come out of the shower.
Gives rich lather with a loofah
Enjoy the shower gel feel in the price of a soap. Highly affordable.
Never made my skin dry or stretchy unlike normal soaps.
Easily available everywhere
Doesn't rip off the skin-moisture as it has slightly moisturizing properties which make my skin soft and supple
Contains natural extracts of peach and avocado and Vitamin E.
Make true claims to have shower gel crystallized to a soap form
Cons of Fiama Di Wills Gel Bathing Bar-Mild Dew:-
Not a herbal soap and contains many chemicals
Recommendation:- I have been using Fiama Di Wills Gel Bathing Bars for years and never thought of replacing it with any other soap. Nowadays, I have been using Khadi Herabal Soaps which are also good. You can check their review but still I prefer Fiama Di Wills over Khadi soap for its rich lather, non-drying and mesmerizing fragrance.

Overall, I am in love with Fiama Di Wills Mild Dew gel bathing bar and recommend it anyone who wants to enjoy and get lost in its amazing aroma.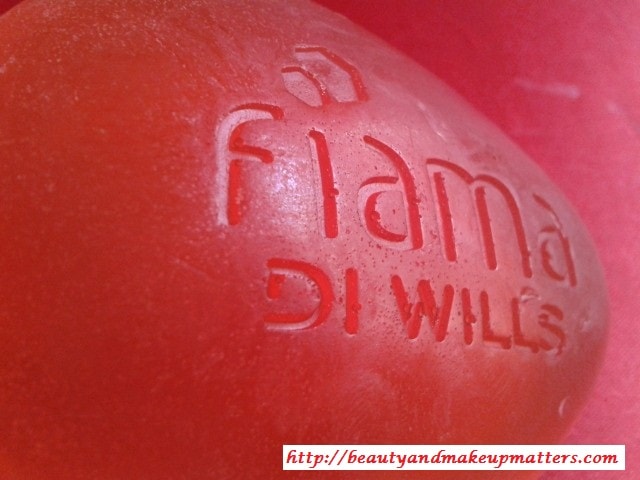 Rating:- 4.8/5
Have you tried Fiama Di Wills Gel Bathing Bars? Which is your favorite Gel Bathing Bar?