February Drugstore Haul: Maybelline, L'Oreal Paris and more!
Don't kill me if you see an overdose of Maybelline makeup here but all blame to the brand for coming up with amazing products one after the other. I have been resisting purchases over so many months but I am glad I am back to my favorite drugstore brand "Maybelline".
Also, I have also ventured into "L'Oreal Paris" and trying out more of its makeup collection to pick up the best products for me! :D. So, lets see what all made an entry in my Makeup Stash this month! 🙂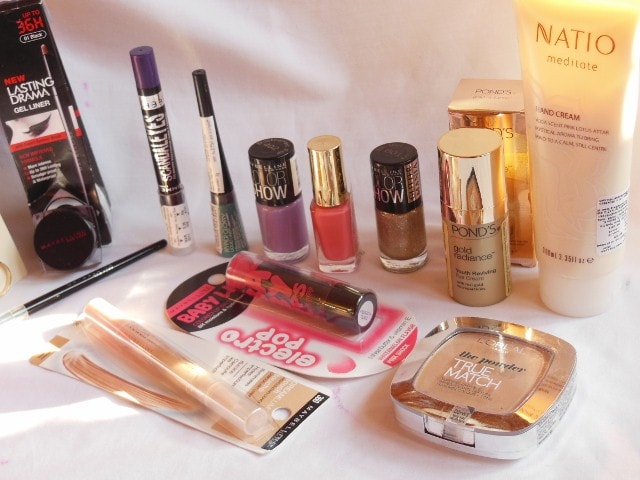 February Drugstore Haul
Maybelline Gel Eye Liner – Black : I have finished up my L'Oreal Gel liner or shall I say it has passed out its life and has dried out making it difficult to get a smooth line. I have been debating for months to invest in a high-end eye liner like Bobbi Brown or Smashbox but I couldn't resist the new launched Maybelline Gel Liner formula. So, got hold on to this Gel eye liner before buying anything else!
Maybelline Hyperglossy Electric eye Liner – Glazed Green: Another amazing product from Maybelline. I have loved Maybelline Hyperglossy Gold eye liner and the range have so many awesome shades that one just wont be enough so, I got this pretty metallic peacock blue eye liner Maybelline Hyperglossy Electric eye Liner in Glazed Green
Rimmel ScandalEyes Eye shadow Stick – Paranoid Purple: Since I have shared that "Best Creamy Eye Shadow / Crayon" post with you few weeks back I have been lusting over these creamy eye shadow sticks. I bought Sephora Jumbo Eye Shadow Crayon in Green last month and after that I had to get this Rimmel ScandalEyes Eye shadow Stick in Purple. I think I should get them all 🙂 
Maybelline Baby Lips – Pink Shock : These new electro pop have been so much everywhere that I had to get one of them. Its Maybelline Electro Pop in Pink shock for me but I am not sure for how long I would be able to resist the rest of the shades! 😛
Maybelline Lumi Touch Highlighting Concealer – Honey : I have actually been looking for a concealer to fade off the acne marks and the mild under eye circles but the one I wanted to try was out of stock everywhere :-/ . But that gave me a chance to try this highlighting concealer from Maybelline which I have been eying for long.
L'Oreal True Match Powder – W3 Golden Beige: There are lots of option for face powder and compacts for Oily/ combination skin but when it comes to dry skin there are just a few. I have to be extra careful while picking up a face powder as I don't want it to enhance dry patches on my skin or make it look powdery all over. So, finally I zeroed upon this L'Oreal True Match Face Powder and I am glad I did 😉
Maybelline Colorshow Nail Paint – Black Current Pop: This is actually a free gift along with Maybeline Gel Liner. I don't have such a soft purple shade in my nail paint collection, so it makes a nice addition.
Maybelline Glitterati Color Show Nail Paint – All That Glitters : I wanted to have this shade long before but it went Out of Stock so I got hold of it this time. I already have that Dazzling Diva from this Glitterati range and I don't need to mention that I am loving it!
L'Oreal Color Riche Nail Paint Ingenious Rose: This pretty powder pink shade is love at first sight. I was browsing through the L'Oreal Color Riche Nail Paints when I saw this shade in that tiny square box and I knew I had to get it! 😀
Pond's Youth Reviving Eye Cream: I finished up my Clinique RepairWear Laser Focus Under Eye Cream and was looking for another weapon to fight the under eye circles, so gave this Pond's Youth Reviving Eye Cream a shot.
Natio Meditate Lotus Hand Cream: I have already shared my review on this hand crem with you. I had high hoped from this Natio Meditate Lotus Hand Cream but sadly it didn't fulfill my requirements: P.
Don't Miss to Checkout: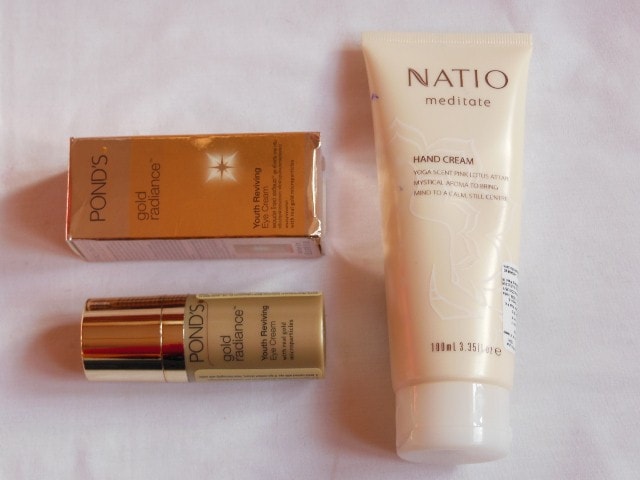 Also, I won this cutest jewellery chair and those Forever21 rings shown above on Heena's blog "VanityCaseBox" giveaway held last month. <3 <3 .. That calls for a jewellery haul next 😉 😀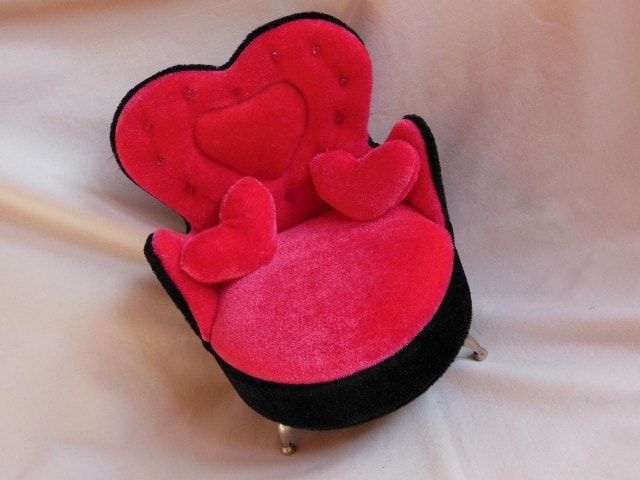 Have you tried any of the above mentioned products? Did you do any Makeup Haul lately?