Favorites of 2013 : Bath and Body / Hair Care
Hello Everyone, how's the first day of the year 2014 going.. mine is super-lazy and feeling damn sleepy. I have to keep up with my resolutions of the year :P, its just a start!
So, lets move on to my list my favorite bath and body products that kept me my skin nourished, healthy and happy all through the year in 2013. It includes a major chunk of my recent found love "Gia Bath and Body Works" with their mesmerizing aroma and moisturizing properties. Also some of the best shower gels that I got to try this year and a shampoo that actually worked and helped me with hairfall.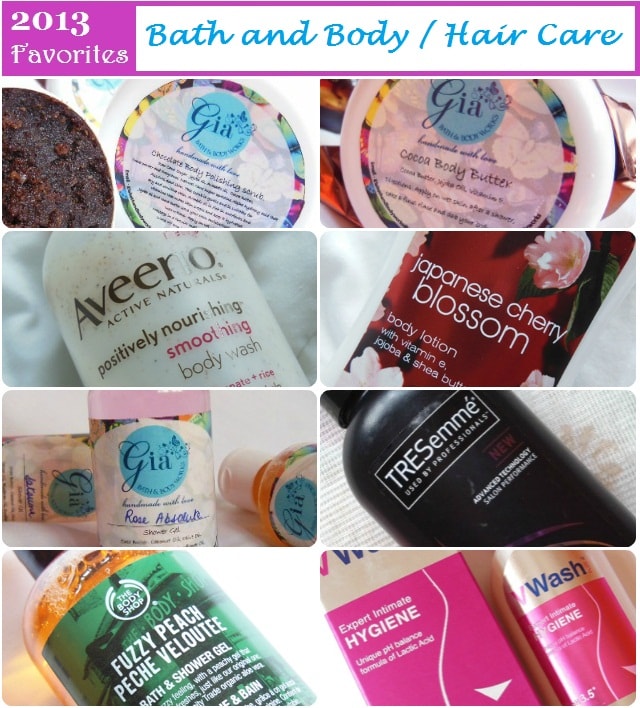 Gia Bath and Body Works Chocolate Body Polishing Scrub: treat to my skin with mesmerizing fragrance lingering on for hours post–shower
Gia Bath and Body Works Rose Absolute Shower Gel: It is a pretty pink colored liquid exotic floral aroma, not exactly of roses but very feminine.
The Body Shop Shower & Bath Gel Fuzzy Peach  – has a refreshingly fresh peach fruity fragrance  and  doesn't leave skin dry
Aveeno Positively Nourishing Smoothing Body Wash: It is creamy, it lathers, has exfoliating action and with all this it has a pleasant scent. One of my favorite body wash ever
Gia Bath and Body Works Cocoa Body Butter: Has a lovely warm cocoa scent and deeply moisturizing for my dry skin. (Reviewing soon!)
Bath and Body Works Japanese Cherry Blossom Body Lotion: It has an exotic floral aroma and nourishing formula
Tresemme Hair Fall Defense Shampoo: Effectively reduces hair fall and leaves mt hair soft and smooth. I already re purchased it!
V Wash Plus Expert Intimate Hygiene: Mild formula which gently cleanses away all the impurities and helps in maintaining the pH.
What were your favorites of 2013 in Bath and Body &  Hair Care?