Fall Favorite Vampy Lips with Revlon Superlustrous Blackberry Lipstick
Hello Everyone,
Its that time of the year again.. 😀 .. Yup I am talking about "FALL".. well we don't have that much of a FALL following in India but when you follow a ton of foreign bloggers you got to be inspired by them and fell in for the FALL thing. I have a bunch of Revlon Superlustrous Lipsticks and this Revlon Superlustrous Blackberry Lipstick is definitely one of my favorite for the upcoming winter season.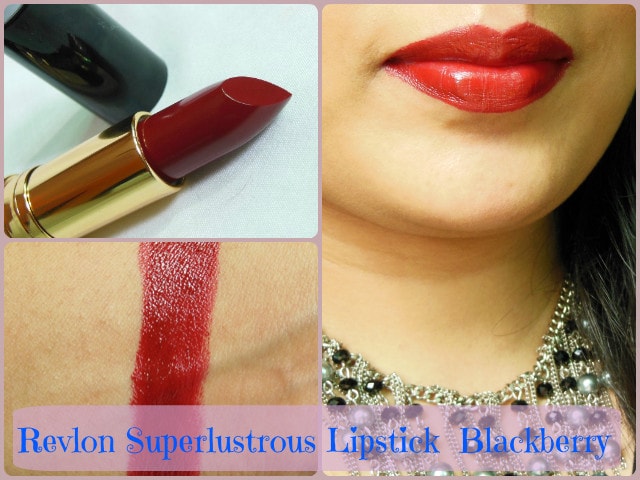 Product Claims: Infused with mega-moisturizers to seal in colour and softness. Find your lip colour amongst a dazzling array of 82 fabulous, fashionable shades!
Price:- Rs.550 – Rs 600 for 4.2 gms
Shelf Life: 3 years from the Mfg date.
Packaging: Revlon Superlustrous Blackberry Lipstick comes in the signature glossy black packaging with golden rim in the middle and a clear top which lets you peek through the shade of the lipstick. The shade details are also sticked to the base of the packaging as well. Pretty nice and simple packaging 🙂
My experience with Revlon Superlustrous Blackberry Lipstick:-
Shade: Black Cherry is a deep burgundy Red with satin creamy shine. It looks pretty dark in the bullet and it transfers slightly less vampy on lips but still very dark. It is not a shade for the weak hearted so be sure you are into wearing such dark shades just skip this but if you really like the shade but don't have the heart to wear it full on.. dab off the color and wear it as a stain. It will give a nice deep red color on lips which you can top off with a gloss… in case you want glossy lips 😀
Formula: This Revlon Super Lustrous lipstick has a creamy smooth texture which glides smoothly on lips. The bullet goes on evenly and distributes the color equally on lips hence no patchiness. It feels quite hydrating to lips and has a little slip but it wears comfortably.
Pigmentation: The color pigments in the formula are Bang On.. The lipstick is super duper pigmented and in one swipe it gives an almost opaque finish. Though, I like to gor a 2-3 swipes for that full on gothic glam look and that extra satiny shine.
Staying:  The formula stays for as long as 4-5 hours on me with meals in between. It doesn't settle in fine lines or looks cakey and that's why I love it even more. It also fades away pretty nicely without going patchy and giving an awkward look to lips. It leaves a lovely rich red stain on the lips which can further enhance the longetivity for 1 hours or so. It wears comfortably on lips and I don't feel any dryness even after the color is long gone.
Application Tip:
It's best to wear a lip liner before going for the lipstick application so as to bring more definition to the lips and avoid the color from bleeding
Dab it with a translucent powder to get a matte finish
Recommendation: Revlon Superlustrous Lipstick in Blackberry is a dark berry red shade which falls into vampy, gothic lip color category. The texture is light and creamy which can be layered without looking cakey but you might want to pat off excess to avoid slipping of color outside lip borders. If you would kike to ape the red carpet looks of our bollywood queens like Deepika, Priyanka and alike in gothic lips this could be a perfect pick.

PS: It is close dupe of MAC Dubonnet
Rating: 4.5/5
Have you tried Revlon Superlustrous Blackberry Lipstick? Which is your favorite Fall Lipstick?