Facial Oil: Wikka Blemished Skin Potion

Hello Everyone,
Facial oils are kind of trending these days and I totally love trying them out because they have all natural and safe ingredients which do only good things to my dry skin. I have tried some lovely oils from Wikka for Hair and Body, Wikka Potions of Aromatherapy and today I will be sharing the one meant for face, Wikka Blemished Skin Potion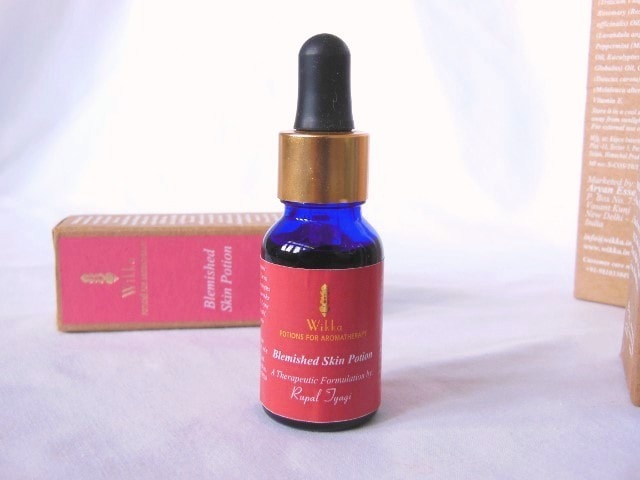 Shelf life: 24 months from the Mfg. Date
Product Claims: Spots, blemishes and imperfections are a thing of the past with WIKKAs Blemished Skin Potion. Carrot Seed Oil with its soft earthy smell not only helps to relieve stress but is a powerful detoxifier that rejuvenates the skin. Thyme Linalool take cares of unpleasant whiteheads virtually overnight while you sleep. Lavender, Jojoba, Vitamin E coupled with Chamomile German have antibacterial, anti-fungal properties that keep acne and blemishes at bay.
Price: Rs. 400 for 15 ml
Key Ingredients: Carrot seed Oil, Avocado Oil, Jojoba Oil and Vitamin E.
Essential Oils: Eucalyptus Citrodora, Lavender, Thyme Linalool and Chamomile German.
Directions for Use: Take about 5 drops of the blend on your palm. Apply evenly on the face and neck at bedtime. Keep it on overnight. Rinse off with Wikka Nourishing Face Cleanser the following morning. Use every night for the first 2 weeks. From the third week onwards, use on alternate nights.
IMP INSTRUCTIONS: Dab off the excess oil with a face tissue after about 15 minutes of application.
My Experience with Wikka Blemished Skin Potion:
Wikka Blemished Skin Potion is a facial oil which comes in small tinted glass bottle with a dropper. What I loved about its packaging is that the dropper is not the usual pastic one but a classy glass which looks oh so luxurious..
Wikka Blemished Skin Potion is a blend of natural oils and essentials oils that will do only good things to your skin. The Blemished skin potion has thin consistency which spreads nicely. As directed I pour 5-6 drops in my hands, rub between palms and then apply it all over face in small circular motions. It doesn't have the sticky or greasy feel that is common with oils, though it is still an oil, so skin looks a bit shiny initially but in next 5-10 minutes the oil gets absorbed completely and leaving with a smooth and nicely moisturized skin.
Don't Miss to Checkout:
I have used it for 2 weeks continuously after which I used it on alternate days, I must say that my skin appears smoother and softer in the morning but I won't credit everything to this oil as my current skincare regime is also working nicely for me :). I haven't experienced any clogged pores or break out issues.. so yayy!! But if you have sensitive skin, do a patch test beforehand and have a look at the ingredients list.
Overall, I am happy with this facial oil which is free from all sorts of chemicals and preservatives and works nicely on me. But for me aromatherapy means a beautiful scented product and contrarily this oil doesn't have a nice fragrance. It has some scent owing to the mix of essential oils but its smells enticing to me.
Recommendation: Wikka Blemished Skin Potion is a lovely blend of natural and essential oils that nourishes my skin and I love the fact that it isn't as oily or greasy like other natural oils. It feels quite comfortable on skin and the initial oiliness goes away after few minutes of application. Oily skin might not feel like trying this out in summers but dry and normal skinned beauties will love it for what it is. I just wish this had a lovely scent too but all in the name of good ingredients :P. If you want to give the chemical laden products a break and want some thin with no silicones, parabens or other harmful stuff, give this Wikka Blemished Skin Potion a try!
Rating: 3.8/5
Have you tried Wikka Blemished Skin Potion? Do you prefer skin oils over natural moisturizers?
PS: Product sent by brand for consideration