Facial Mist or Setting Spray: Za Total Hydration Energy Mist
Hello Everyone,
Today, I am going to review my first ever skincare stuff from Za. I know I have been pretty late to join the bandwagon of this awesome Japanese brand but better late than never. I love using facial mists to give a little hydration to my skin and make it looks fresh and awake. "Za" has recently came up their "Total hydration" range and I am sharing a facial mist from the same, Za Total Hydration Energy Mist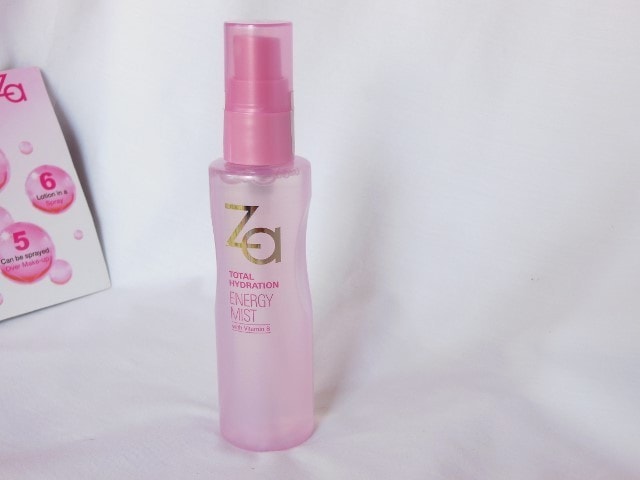 Product Claims: Za Total Hydration Energy Mist instantly relieves dryness and helps restore skin's moisture. It reduces excess Oil and makes the skin instantly smooth and supple. It can be used even over Make-up.
Direction for Use:
Hold 15cm from the face and spray a few times to apply an appropriate amount over the entire face,
Smooth it out with the palm of the hand.
It can also be used over makeup.
Ingredients: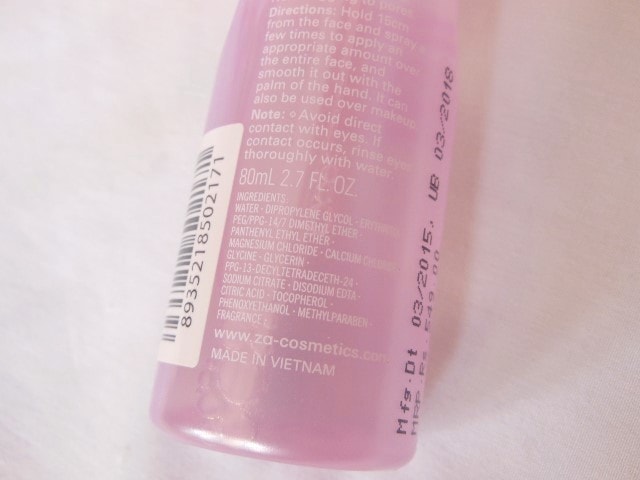 Price: Rs.549 for 80ml
Shelf Life: 3 years from the Mfg date.
Packaging: Za Total Hydration Energy Mist comes in a sleek baby pink colored tinted plastic bottle with a pump dispenser and a plastic cap to keep the nozzle away from dirt. There are curves near the neck which adds to the beauty of bottle while making it easier to hold. I loved how smooth the nozzle is which dispenses the mist in a fine spray distributing it all over the face.
My experience with Za Total Hydration Energy Mist:-
Za Total Hydration Energy Mist is a clear liquid with a light weight, alcohol-free formula which gets absorbed quickly into the skin. It doesn't leave any sticky residue behind but hydtares skin pretty well.
Used as a Facial Mist:
I sprintz around 5-6 pumps of this facial mist all over my face and then let it dry on my face.
It nourishes my skin beautifully and I don't feel the need of following up with a moisturizer during day time. ( I have a dry skin)
Skin feels soft and hydrated throughout the day
Used a Finishing Spray:
If your finished look appears a bit powdery, sprintz around 2-3 pumps of this mist and let it set.
I also use this to wet my foundation brush for a smoother application
The mist takes away the powdery look but it wont help much with the prolonging the stay of makeup
It gives a lovely semi-dewy finish to the skin
I have used Kama Ayurveda Vetiver Facial Mist, FabIndia Rose Water but it is definitely more moisturising than these. Skin looks visibly soft, hydrated and radiant.
I feel this will work for all skin types as the formula is light, non-sticky and has hydrating texture which doesn't make skin oily or greasy. The only thing I dislike about this product is that it contains Parabens.
Results: I have a dry skin and it works nicely as a day time hydration for me. I don't feel the need to layer it up with another moisturizer. I spray it once during the day and my skin feels soft and hydrated throughout the day. It doesn't make any tall claims like reducing fine lines or pores but just nourishing and controlling oil.. so I guess it pretty much does that
Recommendation: Za Total Hydration Energy Mist is a great mist to hydrate skin the best way and freshen it up with no sticky or oily feel. It doubles up as finishing spray to take away that powdery look or sprintz some on foundation brush or an easy application. It has a lovely fragrance which is good. The formula will work for all skin types because it feels very light on skin. It does a good job at everything it claims, Recommended!
Rating: 4.5/5
Have you tried Za Total Hydration Energy Mist? Which is your favorite Face Mist?
PS:Product sent by brand for Consideration