Faces Neon Matte Nail Enamel Electric Review
I am sure all of you would have been touched by the Neon trend like me be it Clothes, Shoes or Accessories and latest in the roll is Neon Nails. I know its winters and should be doing some deep wine red nails but on the contrary I am flaunting Neon Nails. Lets checkout this ultra bright shade, Faces Neon Matte Nail Enamel in Electric.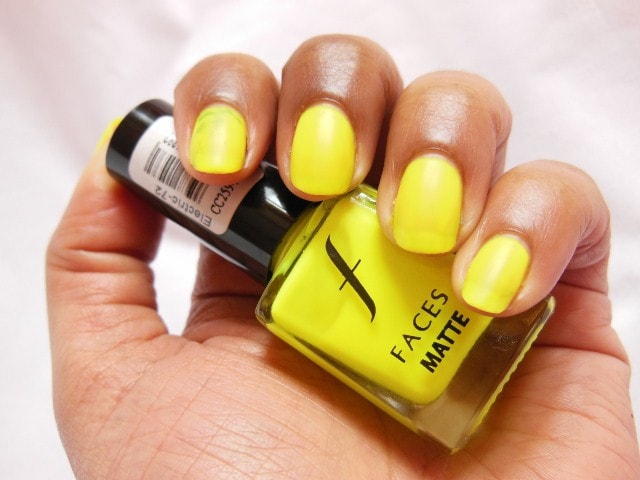 Product Claims: Flaunt your bright side with FACES Neon shades…
Price:- Rs. 229 Rs for 9 ml
Shelf Life:- 2 years from the Mfg date.
Packaging:- The nail paint comes in a regular rectangles shaped glass bottle with round black applicator handle. The bottle is slimmer and taller compared to Colobar ones.
Available in 5 shades:
Greed
Electric
Fire Stick
Bubble Pop
Ibiza
My Experience with Faces Neon Matte Nail Enamel – Electric:-
Electric is a bright lemony yellow shade, absolutely Neon which dries to a matte finish. It looks like tinted yellow in single coat but builds up to a bright electric yellow shade with few more coats (I used 4 thin coats here).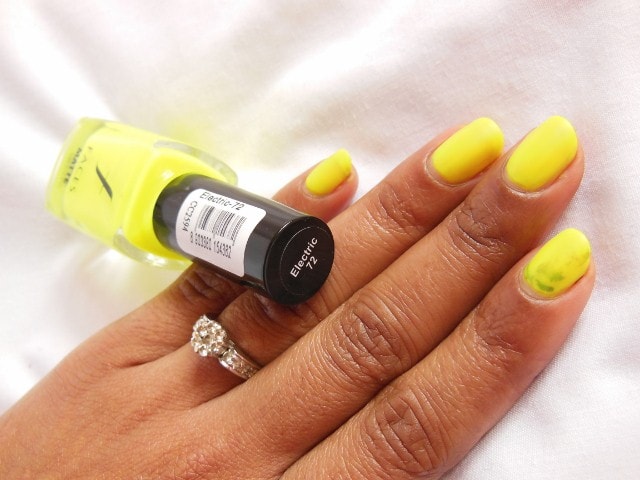 It gives an almost opaque finish in 2 coats but it will take  life time to dry, trust me it will takes hours and more to settle down completely, so better go for 3-4 thin coats an your patience will pay off and it will dry faster. The formula gives even coverage and I didn't noticed any spooling or bubbling developing on the nail when it dries.
Recommendation:- Faces Neon Matte Nail Enamel-Electric is vibrant neon yellow shade which quickly turns from glossy to matte but takes a while to settle down completely. Formula is non streaky and goes on smoothly but beware of thick coats or you will end up with impressioned nails.

If fan of sporting such daring bright shades then this is one shade you should definitely check out!
Rating:- 3.5/5
Have you tried Faces Neon Matte Nail Paints? Do you like to wear the Neon trend?