Faces Moisture Rich Lipstick – Absolute Plum Review, Swatches, EOTD
Faces brand has gained popularity for their colored and superior quality Faces Eye pencils. I have all the good things to say about these pencils and already own 3 of them (more are on my list).  I so wanted to explore more from this brand and decided to start with its large range of lipsticks- Moisture Rich, Satin Matte, Go Chic and mineral. I randomly picked this "Faces Moisture Rich Lipstick – Absolute Plum" from an online shopping store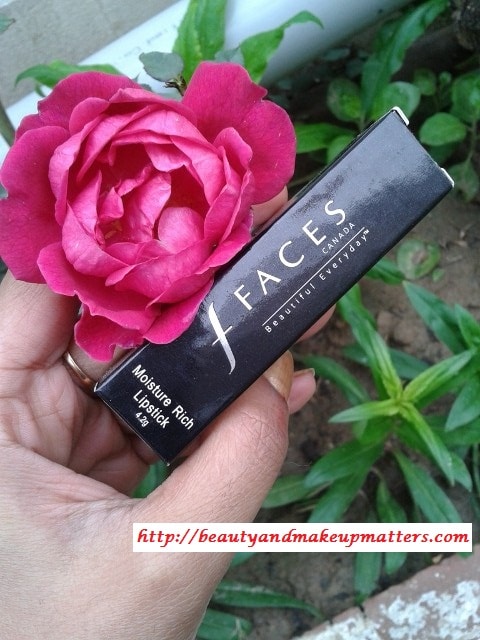 Product Claims: Colored shades to enhance the lips. Infused with Vitamin E to protect and moisturize with each beautifying application. FACES' lipsticks come in over 180 shades in matte, sheer, cream and shimmer finishes
Vitamin E and Jojoba Oil enriched
Long stay, extra-shine lip colors
Lanoline and perfume free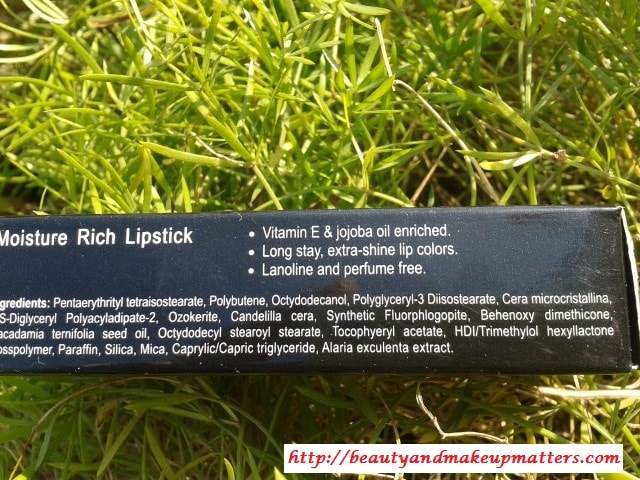 Ingredients:-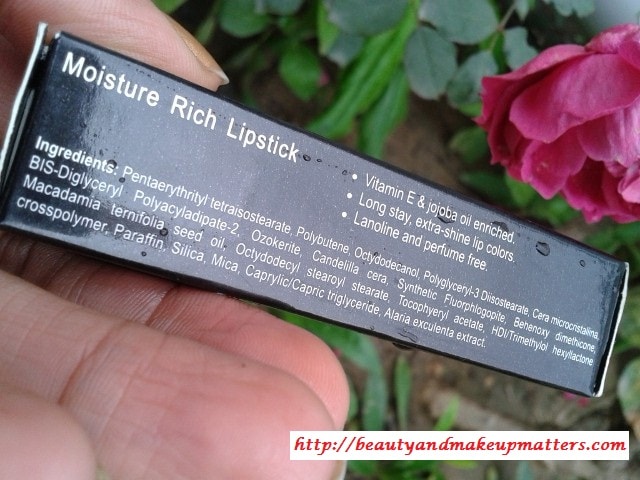 Price:- Rs.349 for 4.2gm
Shelf Life:- 3 years from the Mfg date.
Packaging:- The lipstick comes in a sturdy black packaging with a transparent bottom which enables you to see the actual shade of the lipstick. The lipstick case is enveloped in a black box which carries information about the lipstick. The cap locks with a satisfactory click sound and keeps it safe in your purse.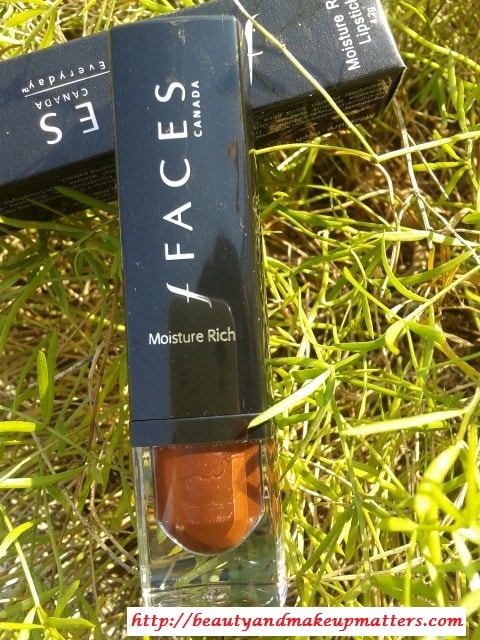 My experience with Faces Moisture Rich Lipstick – Absolute Plum:-
I was all excited for my first online purchase of a lippy but bam I ordered a Plum shade lipstick "Absolute Plum" but the bottom which shows the color was displaying a totally different color with all the shimmers. There was nothing hidden in that see-through base but still I was convincing myself to get a better shade in the bullet. When I saw the true color of the lipstick in the bullet I so disappointed to that it is exactly the same shade as shown in the bottom.
Ohh damn I should have a chosen a safer shade (may be one of the pink lipsticks) but going out of the way and picking up a different color can result in a hopeless lipstick shade as in my case.
Shade:- The lipstick appears more copperish brown in bullet with finely milled golden-green shimmers. However, in actual it is rich dark brown colored lipstick with deep plum tones. I have a medium fair complexion but it made me look darker by at least 4-5 tones. It looked horrible on me. Generally, I don't prefer wearing dark lipstick shades and for me this is one of the worst lip shades I have ever tried. Now, check out how it fared on the other fronts
Texture:-The lipstick has a thick-creamy texture actually more thick than creamy which is quite cumbersome. It doesn't glide smoothly on the lips and gives and uneven application. It feels sticky which is very unlike for creamy lipsticks and feels heavy on the lips. It doesn't accentuate the fine line and good for dry-chapped lips girls.
Swatches:-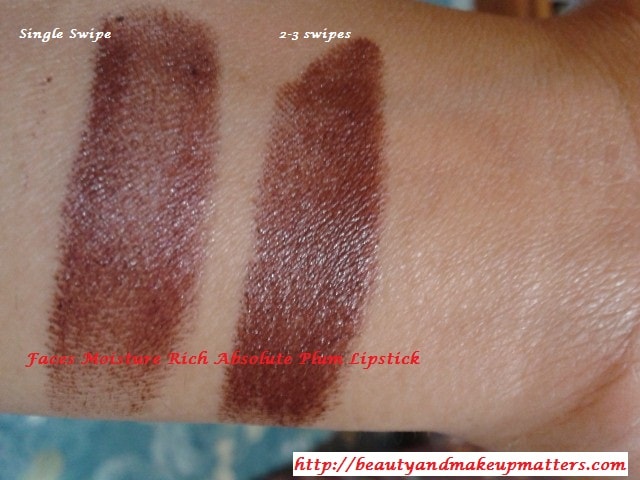 Pigmentation:- It is highly pigmented which goes opaque and provide full coverage to lips only in a single swipe. So, you have to go easy with them while application. Apply with light hands or just dab it on the lips. You can also use a lip brush for easy application. Go for a tissue to pat down the excess color and get a lighter and better shade on the lips.
Staying Power:-It doesn't have a great staying power and due to its creamy and sticky texture it transfers easily and fades away with in 2-3 hours. It leaves behind a hint of color on the lips. I feel the lipstick smears easily due to its rich creamy texture.
Don't Miss to Checkout:
Pros of Faces Moisture Rich Lipstick – Absolute Plum:-
Sturdy classic black packaging
Enriched with Vitamin E which protects and moisturizes lips
Highly pigmented
Transparent bottom which indicates the shade of the lipstick
Available in various shades and finishes
Cons of Faces Moisture Rich Lipstick – Absolute Plum:-
Name doesn't match the shade. It says "Absolute Plum" and delivers a dark-brown lipstick with shimmers.
Thick creamy texture makes it difficult to apply.
Gothic shade which wouldn't suit medium or dusky skin tones at all
Enhances the facial imperfection and make you look darker.
Faces counters are not easily available in stores and malls but can be located on various online websites.
Recommendation:- I have definitely made a wrong decision of buying Faces Moisture Rich Lipstick – Absolute Plum online without seeing it in real and trusting the lipstick name "Absolute-Plum" and online swatches.

I don't recommend this shade to anyone unless you have ultra fair complexion but If you have such dud shades in your collection and have spent a fortune on them try dab and tissue method and follow up with a sheer gloss to tone down the shade a bit. Not to forget proper concealing of blemishes and dark circles to give a neat and polished look to your face. I adore Rekhaji for carrying dark shades with elegance and look sassy.

However, other lipsticks from this range can be given a try if you are okay with their thick creamy texture.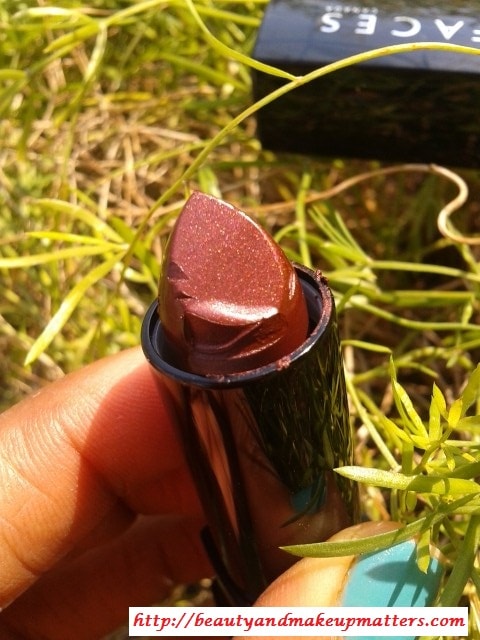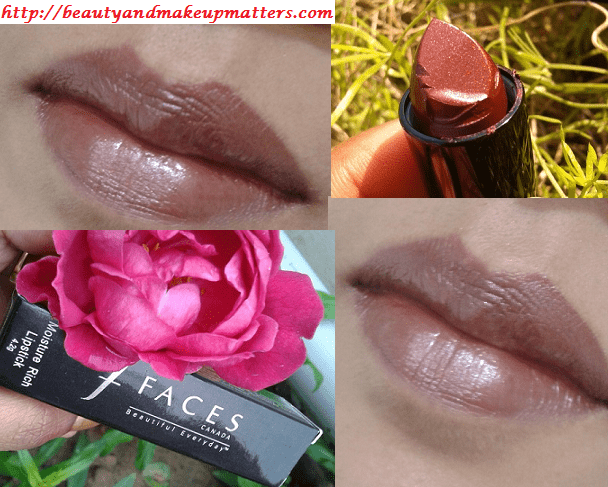 Rating:- 2/5
Have you tried Faces Moisture Rich Lipsticks? Which shade do you like more?