Faces Long Wear Eye Pencil – Aqua Blue Review, Swatches, EOTD
Product Claims:-
• Soft gentle pencils in a rainbow of shades.
• Use them to enhance your natural eye color for dramatic effect or give you that bright-eyed glow.
• Gentle and safe for sensitive eyes.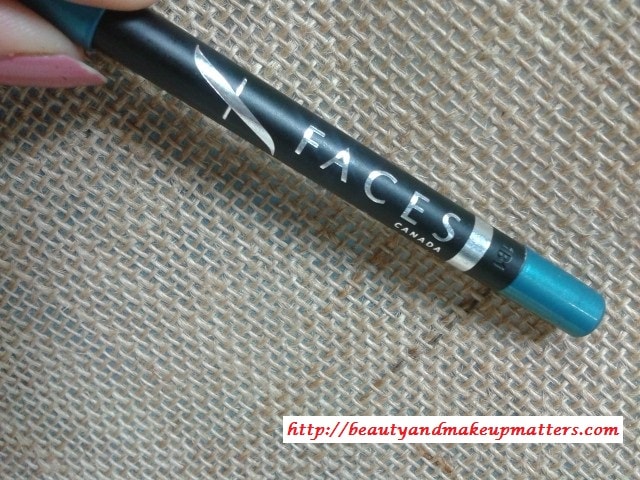 Price:- Rs.249 for 1.15 gm
Shelf Life:- 30 months from the Mfg date.
Available in 11 shades:
Solid Black- Matte
Purple – Matte
Gray- Matte
Forest Green- Shimmer
Dark green- Shimmer
Turquoise Blue
Navy Blue
Aqua Blue
Metallic brown -shimmer
Solid Brown- Matte
Black Sparkle- Shimmer
Packaging:- The liner comes wrapped in a tamper-proof cellophane paper packaging . The pencil is colored black outside with a plastic cap which carries the shade of the liner, the color of the liner is also shown as a band at the pencil's bottom. I am somehow biased towards mechanical (retractable) pencil packaging and find it easy to use compared to sharpenable ones as I don't need to carry a sharpener along.
What I liked in Faces Long Wear Eye Pencil-Aqua Blue:-
The pencil is soft and creamy and glides like a dream on eyes.
It is a beautiful blue shade which can be worn on eyes without a second thought. It is not a matte liner but has fine blue shimmers which give subtle sheen to eyes. My favorite blue so far that I love wearing on my eyes.
The pencil is amazingly pigmented and shows its true color in a single swipe
Despite being creamy it has a long staying power. The liner stayed intact for 8-9 hours on my eyes without any primer.
The liner sets in a few seconds of application and once set it sets for the day. It becomes smudge-proof (until rubbed really hard) and won't budge
Doesn't sting/irritate my eyes so can be safely used on lower lash line.
Easy to find in liners stash as it carries the liner shade at pencil's bottom as well as on the cap.
Reasonably priced. As similar liner pencil from Lakme, Chambor, Colorbar are pricey.
Available in various beautiful shades
What I disliked in Faces Long Wear Eye Pencil-Aqua Blue:-
Sharpenable pencil that leads to product wastage.
Being soft and creamy they tend to finished up fast
Doesn't get removed completely with face-wash so you need a good oil based makeup remover or cleanser to remove it completely.
Not easily available in stores as there are few faces counters but can be easily bought from online websites with some discount.
Don't Miss to Checkout: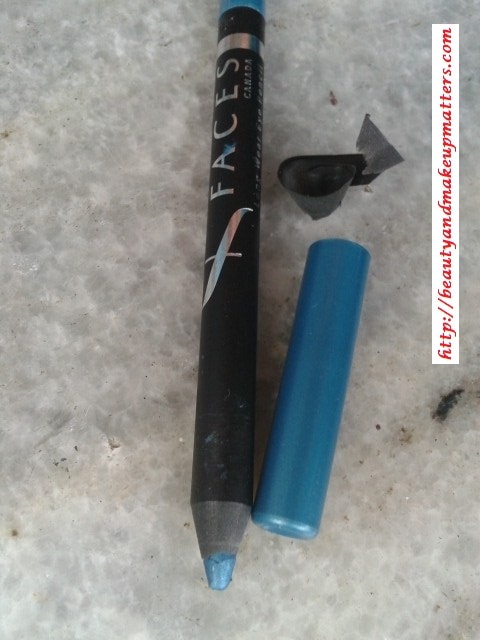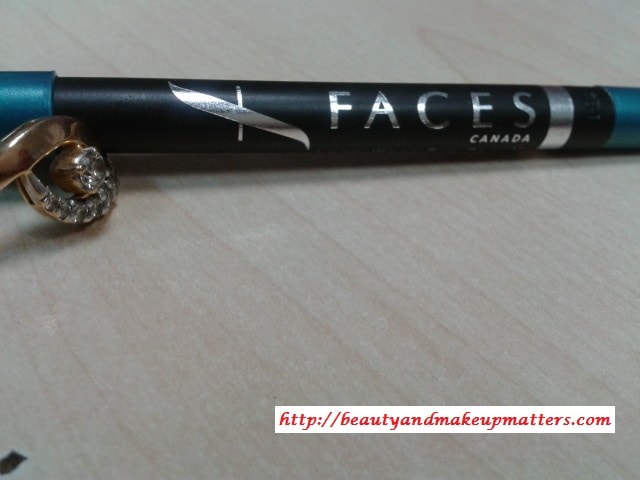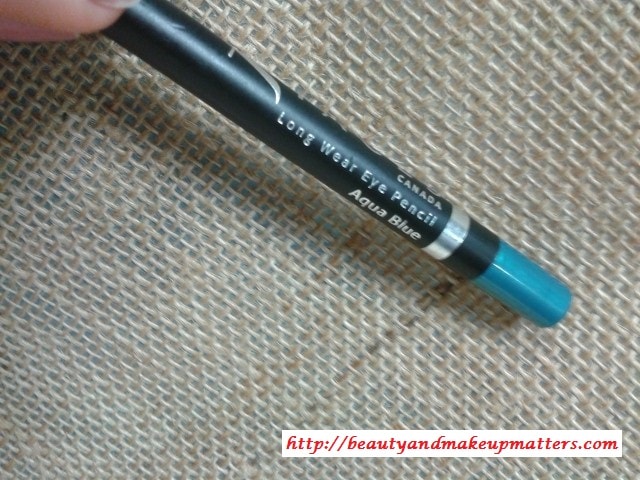 Swatches:-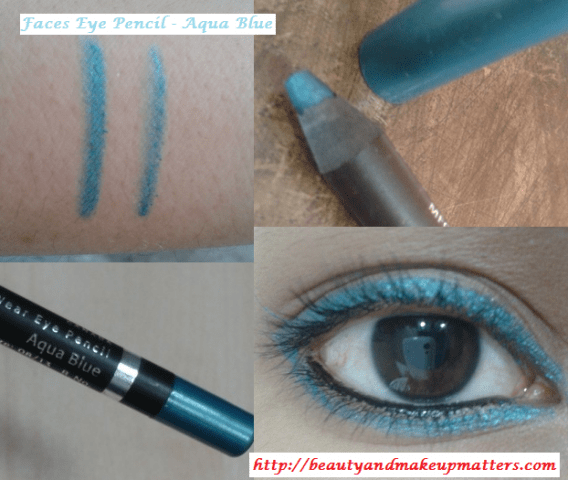 Recommendation:- If you like colored liners then don't miss this Faces Long Wear Eye Pencil Aqua Blue. It is soft and creamy which glides smoothly on eye lids giving intense color in a single wipe and long staying power. It is a must have eyeliner shade in your make up stash. Highly recommended!
EOTD using Faces Eye liner- Aqua Blue:-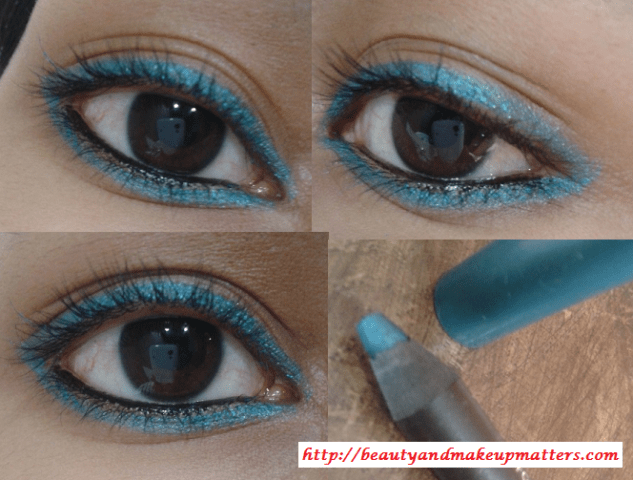 Rating:- 4.5/5
Have you tried Faces Canada Long Wear Eye Pencil Aqua Blue?