Faces Cosmetics Neon Matte Nail Enamel – Greed 73 Review, NOTD
Faces have been launching some amazing nail paints in s*xy finishes back to back latest being the "Sand Finish" ones, so till I lay my hands on those lets take a look at this bright Neon Matte shade from Faces launched few months back, Faces Cosmetics Neon Matte Nail Paint in Greed.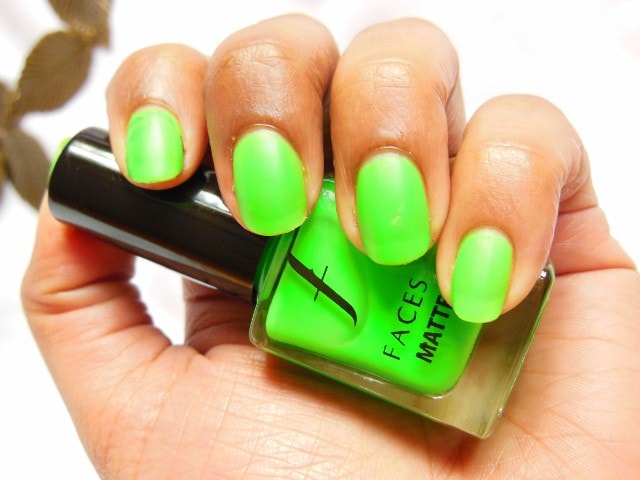 Product Claims: Flaunt your bright side with FACES Neon shades…
Price:- Rs. 229 Rs for 9 ml
Shelf Life:- 2 years from the Mfg date.
Packaging:- The nail paint comes in a regular rectangles shaped glass bottle with round black applicator handle. The bottle is slimmer and taller compared to Colobar ones.
Available in 5 shades:
Greed
Electric
Fire Stick
Bubble Pop
Ibiza 
My experience with Faces Neon Matte Nail Enamel- Greed:-
Greed is a bright Electric Green Shade which reminds me of the glowing radium watches in the dark. It looks like it is going to glow too in the dark thanks to its Neon finish but it doesn't 😛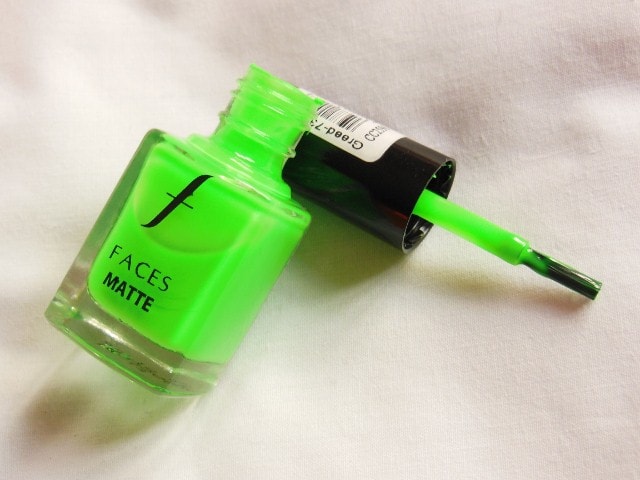 It has a thin gel like consistency which is easy to apply but has slight stickiness which tempts me for thicker coats but *warn you* it will take a lifetime to dry that ways, so better stick to thinner coats. The formula is on the sheerer side and doesn't give that completely opaque converge even after multiple coats and natural nail color still peeks through the layers of it.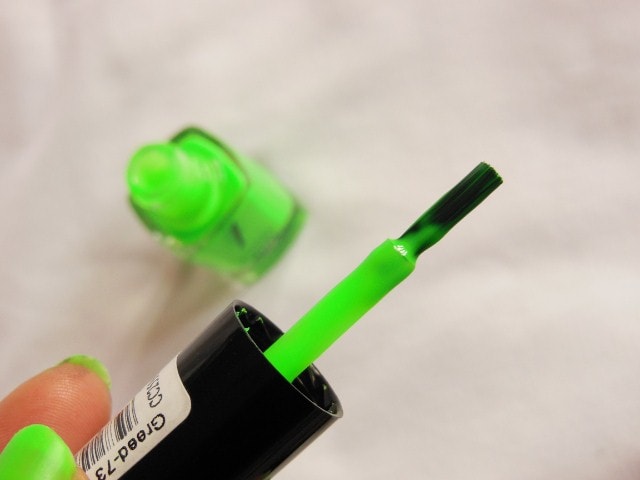 It applies like any glossy nail paint with the same glossy shine and I wasn't expecting it to turn Matte actually but it did J . It turns completely matte within minutes of application but takes a bit longer to dry as I have to layer it and more the number of coats more is the dry time which also makes it prone to impressions. It has an average wear time and starts chipping from Nail tips within 3 days of wear.
Recommendation:- Faces Neon Matte Nail Enamel in Greed is super bright Neon Green shade in matte finish. These Neon nails paints are perfect to brighten up dull days and you will find yourself staring at your nails, unknowingly :P. It will look brilliant on fair and well manicured hands but irrespective of your skin color if you like to play with such fun shades do try. It can be paired with somber shades with a pop of color on single nail or some funky nail art..the way you want to use it!

Faces Neon Matte is available in many Poppy Neon Bright shades and I think Bubble Pop (Bright Pink)  Or Fire Stick (Tangy Orange) would have been much more wearable.
Rating:- 3.5/5
Have you tried Faces Neon Matte Nail Paints? Do you like to falunt the Neon Trend?