Faces Canada Nail Enamel-Teal 03 Review, NOTD
I have been trying to get out of the Pink and Red nail color phase to give a chance to other colors too. I have not worn any Green nail paint since long and to give a fresh start so, this time I tried Faces Nail Enamel-Teal 03.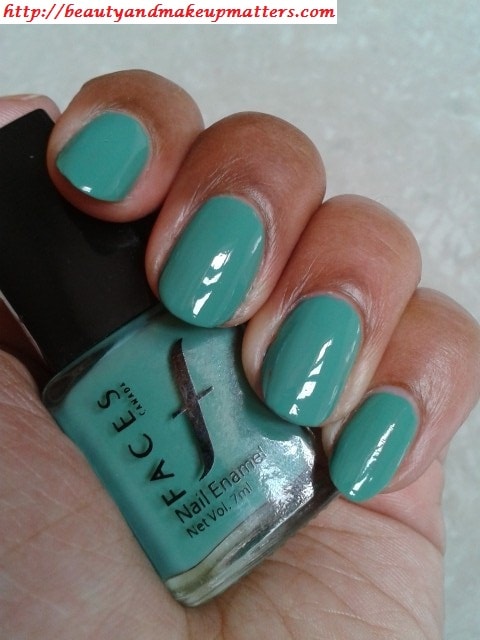 Product Claims:
Faces Nail Enamel is a long lasting and chip resistant nail polish.
It comes in a high shine finish formula that applies smoothly and lasts longer.
Trendy colors brighten up your mood and keep up with the fashion mania.
Flat brush delivers shiny smooth color for a streak free professional finish.
Direction for Use:-Shake well. Apply two coats.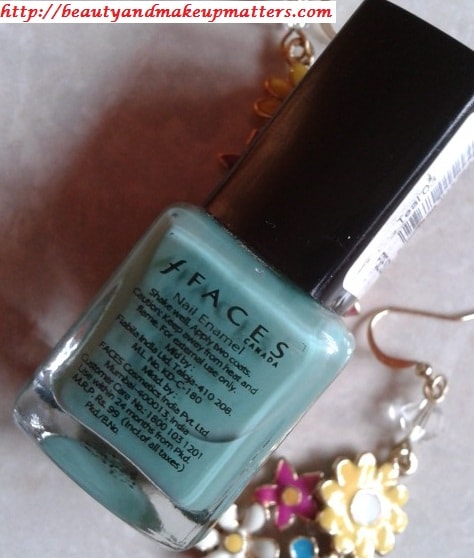 Price:- Rs.99 for 7ml. Also available in 12 ml bottles
Shelf Life:-  24 months from the Mfg date.
Packaging:- The nail paint comes in a small square bottle with a square black colored plastic handle. The handle is slightly smaller compared to the regular ones. The applicator is extremely small but thankfully the brush is of decent length and the bristles are lengthy enough to pick up decent amount of nail enamel for application.
The bristles are somewhat flat but not as smooth as the Lotus or Colorbar ones.
Available in 37 beautiful shades
My experience with Faces Nail Enamel-Teal 03 :-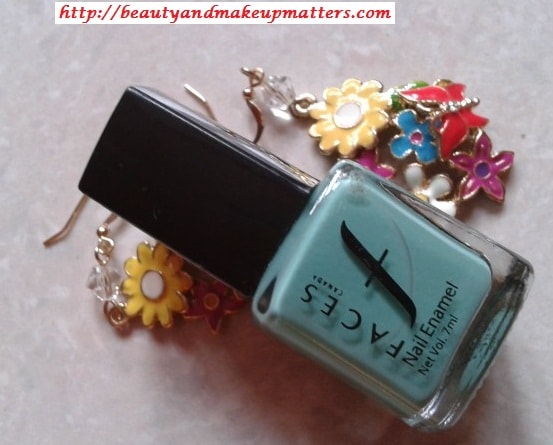 Shade:-Teal is a gorgeous light muted green shade. It is a kind of green shade which looks pretty on hands and can be carried easily by almost everybody. This is one of the most beautiful green colored nail paint. The shade is light, soft green shade which doesnt made my hands look dark unlike regular green shades.
Formula:- The formula of the nail enamel is slightly thick. It has a creamy consistency which comes up easily on the brush. The enamel goes a bit sheer and streaky in a single coat but gives an opaque coverage in the 2nd coat.
The nail enamel dries fast so you have to be really quick with the application or you can get streaky finish. Due to the thick creamy consistency of the nail enamel, if the brush is swiped again the application gets streaky.
The nail enamel starts getting thicker with the 2nd coat which also increases the dry time of the enamel so you ought to be careful while getting the color on hands and make sure not to get more than 2-3 coat thin coats of the nail enamel.
Finish:- The nail enamel dries to a creamy finish with only a hint of gloss. It is not glossy nail enamel but gives a nice shiny look to the nails. The slightly fluffy bristles do a little for getting a smooth and even application but depending on the ability you can get smooth creamy look.
Wearability:- The nail enamel lasts long on my nails without any fading or changing its color. The staying power can be increased with a top coat.
Don't Miss to Checkout:
NOTD:- In Natural light the green tones of the nail paint are not getting picked.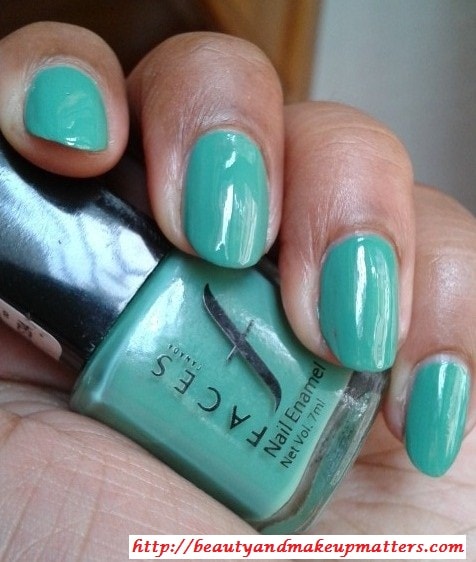 With Flash:- Flash picks the green hue of the color correctly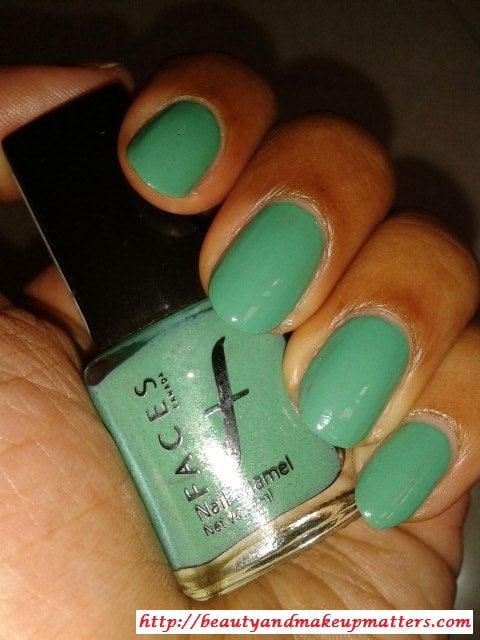 Pros of Faces Nail Enamel-Teal 03:-
Gorgeous Pastel Green shade
Reasonably Priced
Gives an opaque coverage with 2 coats
Dries pretty fast
Gives a creamy shiny finish
Stays good on my nails for 4-5 days
Lots of shades to choose from
Cute Packaging
Cons of Faces Nail Enamel-Teal 03:-
Brush is not one of the best in quality available in the same price range.
Slightly creamy texture which tends to get thicker with multiple coats.
Application is a bit streaky and develops minor scratches as it gets dry
Better nail enamels are available at competitive price.
Recommendation:- I had a little luck with Green nail paints but Faces Teal nail enamel is a wonderful shade. It is soothing and wearable green color. I like creamy finish of the nail enamel and quick drying feature. The formula is slightly thick but goes opaque in 2 coats. The brush is of average quality but works fairly well.

It is my first buy from the Faces Nail Enamel collection and will definitely be buying more. Faces Teal is a wonderful shade and must be given a try.
Rating:- 3.5/5
Have you tried Faces Nail Enamel-Teal 03? Do you like wearing Green on nails?