Faces Canada Long Wear Eye Pencil Solid Black Review
My love for Faces Eye Pencils isn't over yet. Even after owing 6 awesome shades of Faces Long Wear Pencils, I couldn't stop myself from picking more of these beauty liners. So, here is my review on black eye liner from Faces Canada Long Wear Eye Pencils Collection " Solid Black"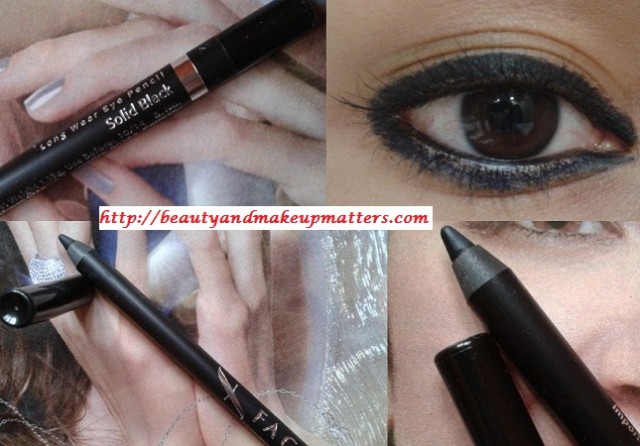 Product Claims:
Soft, gentle pencils in a rainbow of shades.
Use them to enhance your natural eye color for dramatic effect or give you that bright-eyed glow.
Gentle and safe for sensitive eyes.

Price:- Rs.249 for 1.15gm
Shelf Life:- 30 months from the Mfg date.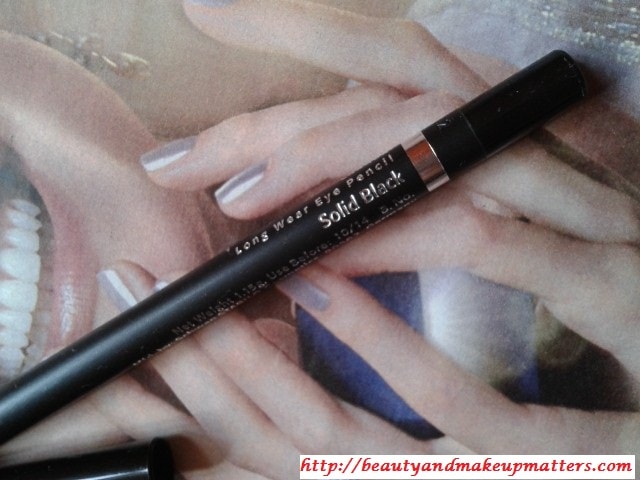 Available in 11 shades:-
Purple (Review Here)

Aqua Blue (Review Here)
ForestGreen
Gray (Review Here)
Metal Brown(Review Here)
Solid Brown (Review Here)
Turquoise Blue
Solid Black
Sparkle Black
Dark Green (Review Here)

Navy Blue (Review Here)

My experience with Faces Canada Long Wear Eye Pencil – Solid Black:-
Solid Black as the name signifies is nothing but a plain black eye liner. The pencil is free from all kinds of shimmers and makes a beautiful matte black liner.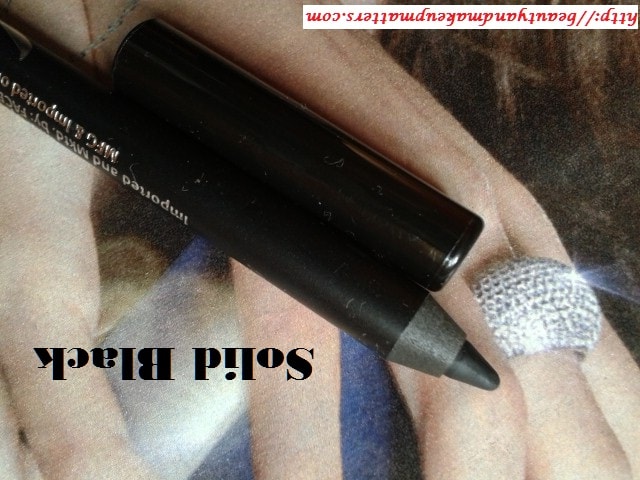 The color pay-off like rest of the liners is excellent. The liner is insanely pigmented and glides like butter on lids. The liner swipes smoothly giving rich black color to the lids in a single stroke. The intensity of the shade can be further increased with multiple swipes. The liner looks slightly glossy when swiped but turns matte within few seconds as it sets.
Swatch:-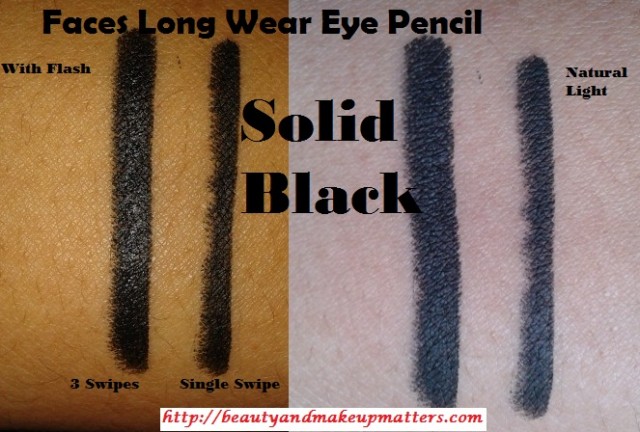 It lasts long on my lids and doesn't smudge, fade for 6-7 hours but as the eyes starts turning oily the liner shows slight smearing. When swatched on hand and given few seconds to set,  it didn't budge, just faded lightly even if rubbed it hard.
EOTD:- I used Solid Black over upper lash-line and Faces Navy Blue on Lower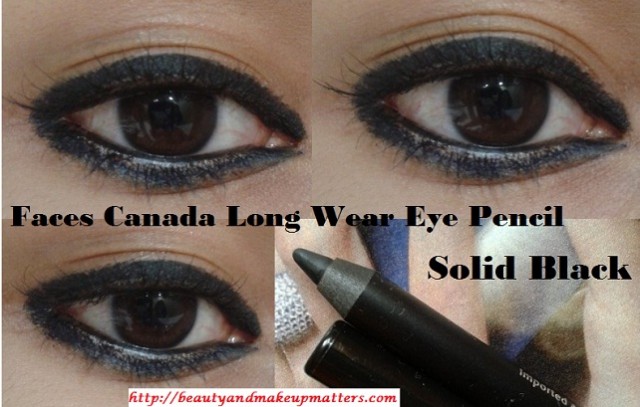 Pros of Faces Canada Long Wear Eye Pencil – Solid Black:-
Superb creamy texture
Glides Effortlessly
Great Color pay off
Beautiful matte black liner
Smudge-proof
Stays whole day
Color coded packaging
Cons of Faces Canada Long Wear Eye Pencil – Solid Black:-
I am not able to draw very thin lines with these eye liners.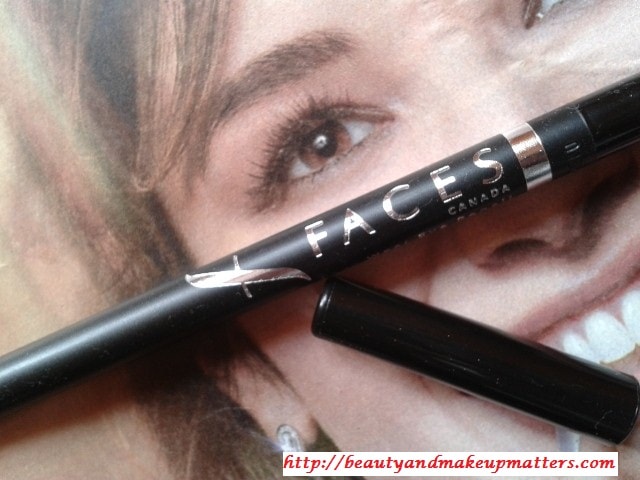 Recommendation:- Faces Canada Long Wear Eye Pencil – Solid Black is a basic black eye liner with extra ordinary staying power. The soft creamy texture glides nicely over lids imparting deep black color. It takes only few seconds to set and once set it is there for whole day without any fading or smudging. It tends to smudge a bit by EOD after (7-8 hours of wear) which is okay with me.

This is next favorite after Maybelline Gel Liner-Black but if you aren't ready for gel liner, try this eye pencil. Solid Black makes a lovely everyday black eye pencil. A must have for those who love tight lining their lower lash line. Highly Recommended!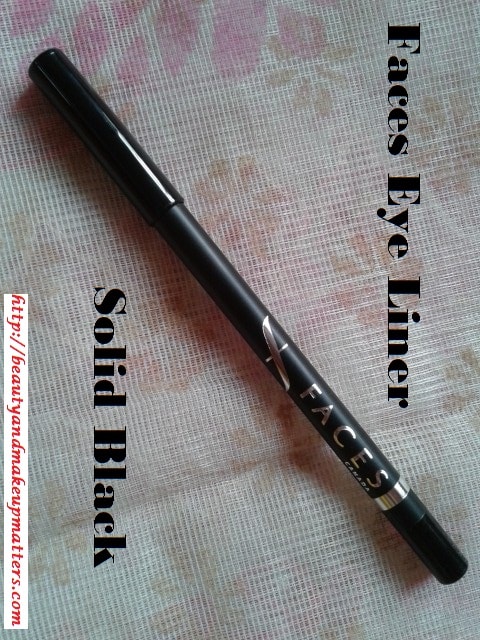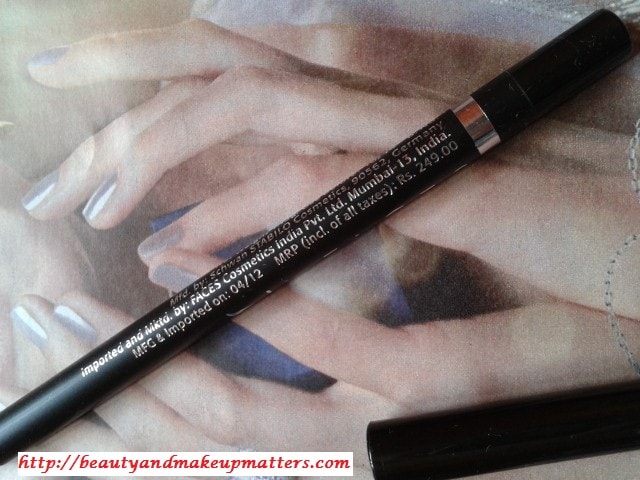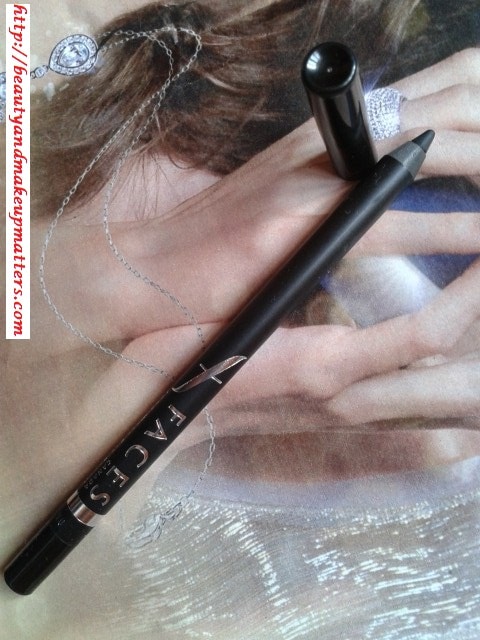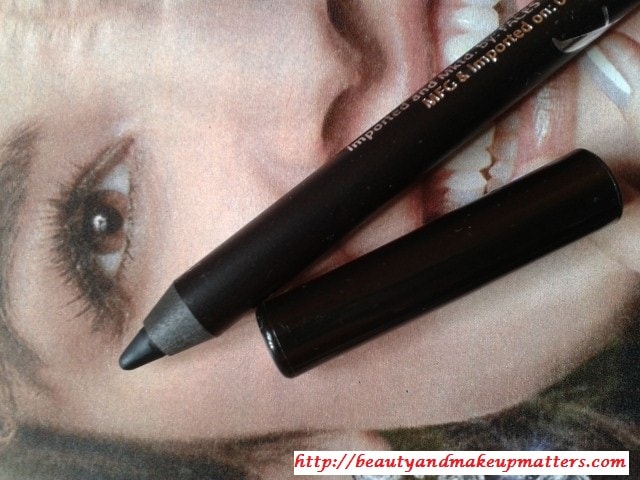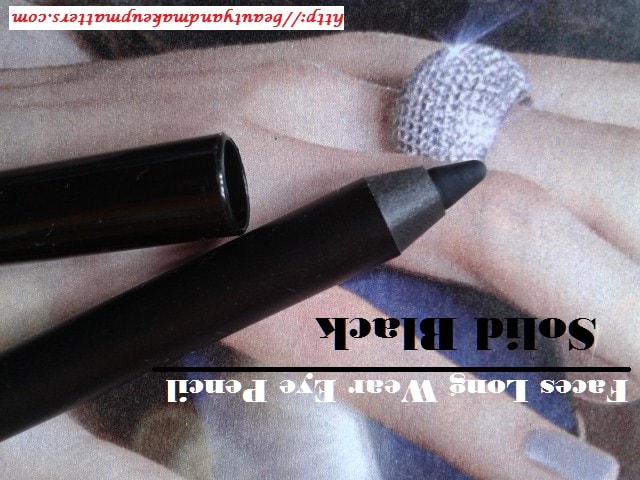 Rating:- 4.7/5
Have you tried Faces Canada Long Wear Eye Pencil – Solid Black? Which is your favorite Black Liner?