Faces Canada Kajal Review, Swatches, EOTD 
I am a big fan of Faces Eye Pencils (Aqua Blue, Purple, Gray) and have been super-satisfied with their pigmentation and staying power. So, I thought of trying out its Kajal too and bought Faces Canada Kajal from an online shopping website after finishing up my Lakme Satin kajal (yes I finished that up completely).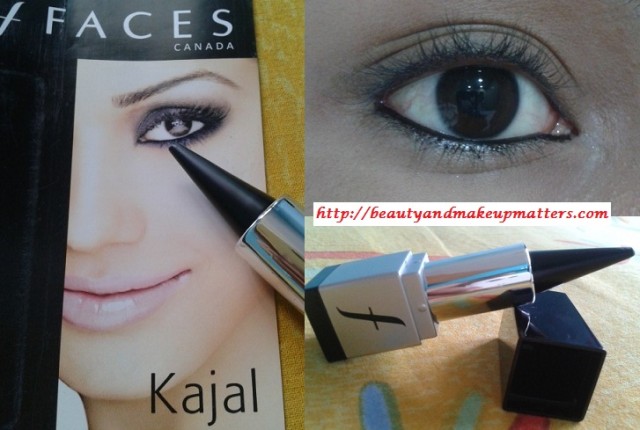 There was a time when I had 4-5 kajal's lying in my drawer, only then I promised myself that I will purchase next kajal only after finishing all of them. But that would have taken a lifetime for me to finish them so I made an adjustment and settled on finishing at least one of them before getting a new one 😉 . I bought Maybelline Colossal Kajal when I was half way through my target, you know it's so difficult to restrict myself on not to buy anything. I love the intense black color of Lakme Satin Kajal and was looking for something similar but in a smudge–resistant variant. Maybelline didn't work on my watery eyes and left me unsatisfied.
Coming back to the review, Lets see how Faces Kajal fared on me.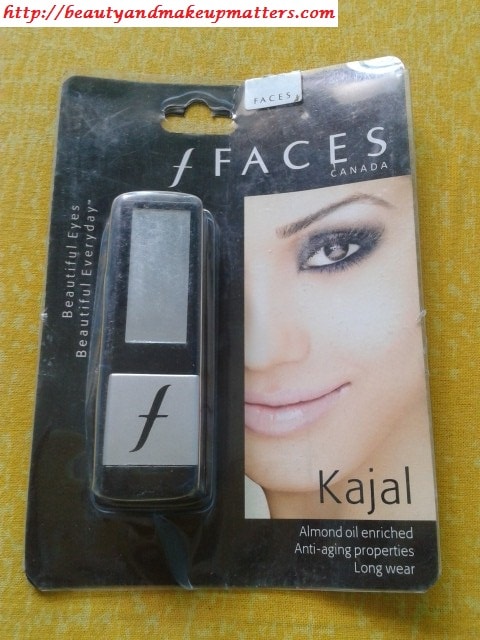 Product Claims:-
Contains Almond Oil which is known to promote eyelash growth
Lasts for several hours
Ginkgo biloba prevents ageing of under eye skin
Lead free Faces Kajal is safer for our skin.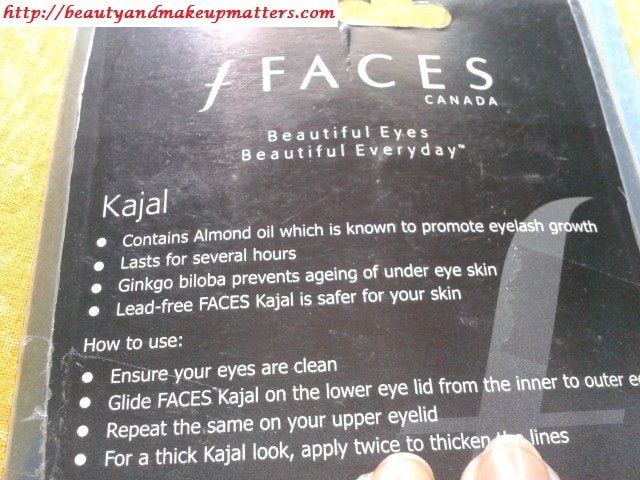 Price:- Rs.99 for 3 gm
Shelf Life:- 2 years from the date of manufacture
How to Use:-  Ensure your Eyes Clean
Glides Faces Kajal on the lower eyelid from the inner to outer edge
Repeat the same on your upper Lid
For a thick Kajal look, apply twice to thicken the lines
Beautiful eye
Beautiful Everyday.
Packaging:- The Kajal case comes covered up in moulded plastic sheet with a paper displaying girls face with the smokey-kohled eyes and on the back it contains the other details about the Kajal.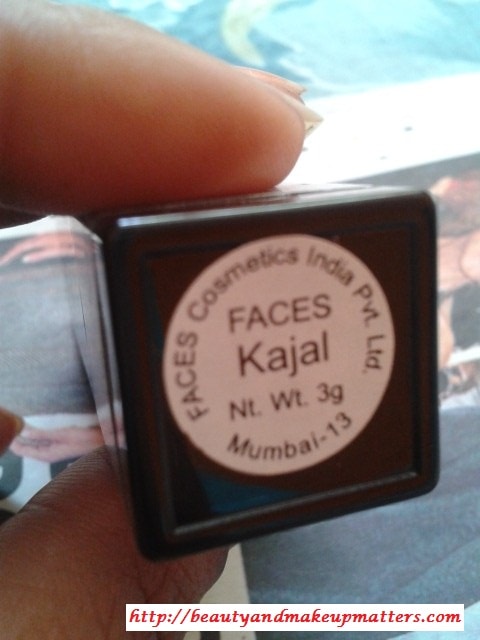 The kajal bullet comes in a classy black cuboidal case with a small mirror on the cap. The mirror is helpful if you want touch-ups and don't have a mirror handy. The cap shuts tight with a click sound. The case is black with a silver color base which carried the logo of the brand faces.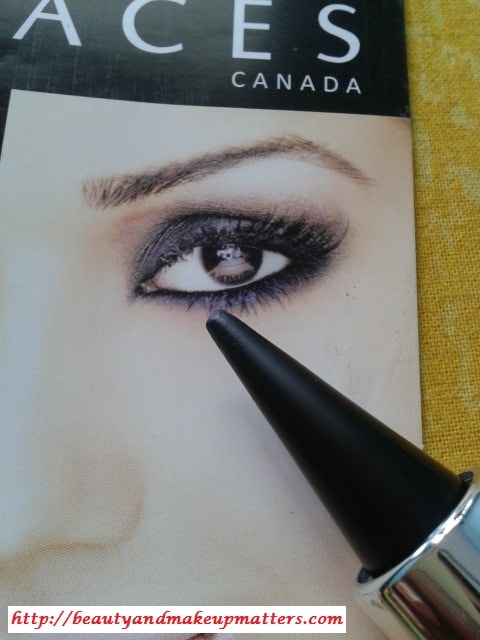 My Experience with Faces Canada Kajal:-
The kajal is a conical shaped bullet. It is creamy but not as creamy as Lakme Satin Jumbo Kajal. It glides smoothly on the waterline.  It doesn't give that intense black look in a single swipe but the kajal can be darkened by swiping it again and again. The kajal is not smudge –proof like any other Kajal but due to its less creamy texture it smudges less than Lakme Satin Kajal. It smudges teeny meeny and won't give dark panda eyes.
Swatches:-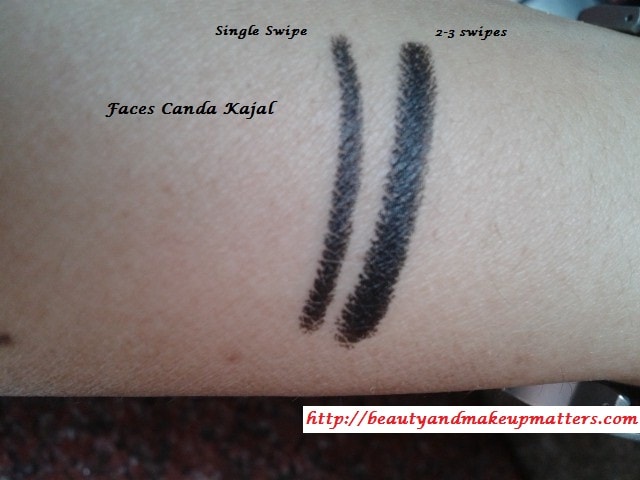 The Kajal starts fades a bit after 3-4 hours of application but stays pretty much there on the eyes for next 4-5 hours and doesnt completely goes off. The Kajal may stay better on non-watery eyes but it stays less on my watery eyes. I didn't face any irritation or stinging effect post application.
It doesn't mention it s complete ingredients list but it claims to contain Almond Oil and Ginko Biloba which are good for eyes. It also claims to be lead–free and hence won't harm eyes in the long run.
Don't Miss to Checkout:
Pros of Faces Canada Kajal:
Small mirror on the casing cap is useful for anytime-anywhere touch-ups.
Sturdy and classy packaging
Good value for money
Creamy and soft texture which glides smoothly over eyes.
Buildable color which can be intensified by swiping it multiple time over the waterline.
Smudges lightly and won't give racoon eyes.
Doesn't irritate eyes
Enriched with Almond Oil and Ginko Biloba which are good for eyes and under-eye skin.
Claims to be Lead free and hence does no harm to your lovely eyes.
The kajal is in bullet form hence no wastage while sharpening.
Cons of Faces Canada Kajal:
Doesn't mention complete ingredients list.
Staying power is not great as the kajal fades slightly after 3-4 hours of application on my watery eyes.
Recommendation:- Faces Canada Kajal is not an extra ordinary Kajal but a regular kajal with smudge- resistant feature. The kajal can fare well and stay pretty long on normal eyes than on watery eyes. The Faces kajal is not as intense black unlike Lakme satin kajal but the color can be intensified to get that dark black kohled look by swiping it 4-5 times over the waterline. The kajal does smudge due to it soft creamy texture but wont go horrible or move all over the eyes. It might not be one of the best kajal but considering its reasonable price it still can be given a try. Recommended!
Rating:- 3.5/5
Have you tried Faces Canada Kajal? Do you prefer sharpenable pencil or bullet form Kajals?