Faces Canada Glam On Mono Eye Shadow Teal Review, Swatch EOTD
I have revealed it several times and once again I am happy to share that Faces makes one of the best colored eye pencil which even Revlon and L'Oreal failed to deliver in terms of smoothness and pigmentation. In terms of eye shadow, its only INGLOT that had impressed me till date and was to receive this Faces eye shadow as a gift won in Jhilmil's (Beauty & Beyond) giveaway. So, today's review is about this Faces Canada Glam On Eye Shadow in Teal Green.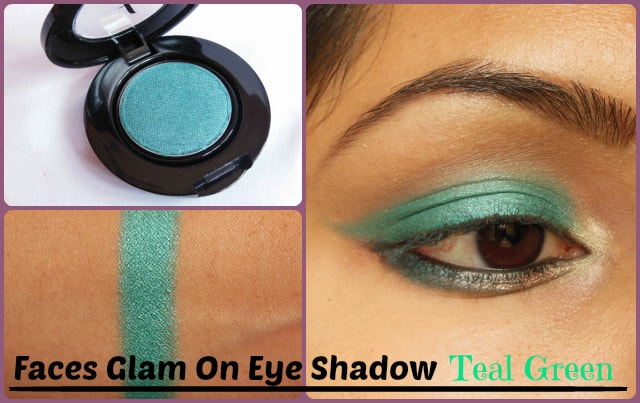 Product Claims: Embellish your eyes with Faces shimmery trail of color.
Advanced long-wear with powdery texture and crease-proof formula, is all what it takes to define Faces Glam On Mono Eye Shadow.
Designed as a single cute pool of color, it is easy to apply and can easily blend along with other colors.
Leaves you with those enchantingly dreamy eyes!
Price:- Rs.249 for 2gms
Packaging:- The eye shadow comes packed in a round plastic packaging with a black base and see through window in the lid. It doesn't come with a mirror or brush applicator like Colorbar Single Eye Shadows but I didn't miss that at all as they don't serve any purpose and I have never used them. They packaging is simple sturdy but eye makeup lover in me prefer palettes.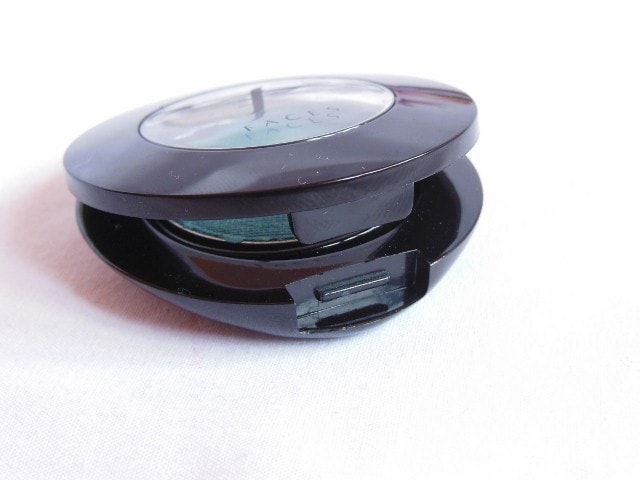 My experience with Faces Canada Glam On Mono Eye Shadow Teal:
Faces Glam On Eye Shadow is a gorgeous teal green shade with a metallic shimmery finish. The microscopic shimmers are finely milled in the formula which imparts a beautiful sheen on lids by reflecting light. The shade is quite close to INGLOT #372 Matte with a difference that it has metallic finish. It can be used all over the lids or on the lower lash line as a liner.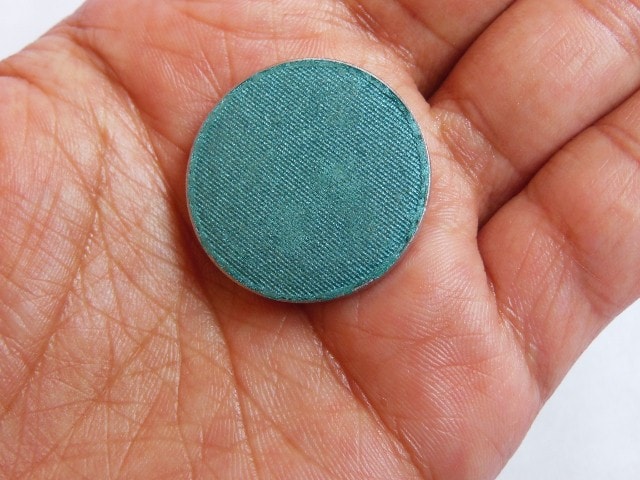 It has silky smooth texture with well packed pigments which doesn't fly away even with rough brush strokes. The formula gets applied evenly on lids, I use it with SIGMA E55 in small patting motions to deposit the shade on lids.
The eye shadow has rich color pay off which gives and opaque finish in 2-3 strokes. The smooth texture aids blending and its easy to blend any harsh edges of the color and get a lovely diffused look.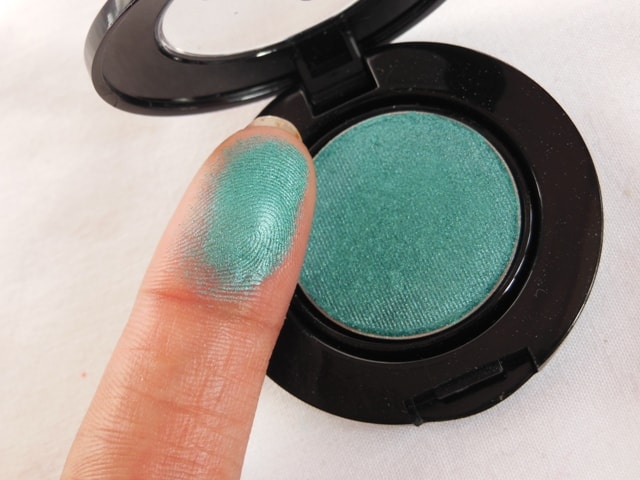 I haven't experienced much fallout during application which is great for an eye shadow of this price tag. It stays well on my lids for 5-6 hours with barely visible creasing and almost no fading. For super oily lids, it will go stronger with a primer underneath
Pros of Faces Canada Glam On Eye Shadow – Teal:-
Silky smooth texture
Beautiful metallic finish
Applies evenly
Finely milled shimmers
Extremely pigmented
Blends quickly
Minimum fallout
Lasts whole day on lids
Easy on Pocket
Sleek packaging
Cons of Faces Canada Glam On Eye Shadow – Teal:-
Name of the eye shadow is still a mystery
I would like Faces to add more shades and introduce customized palettes. 😉
Recommendation:- Faces Canada Glam On Mono Eye Shadow is a lovely peackcok green shade with a metallic sheen which makes a great lid color for colorful eye makeup. The shade has creamy smooth texture which gets applied evenly, giving rich teal blue color to lids in few brush strokes. The formula is wonderfully pigmented and stays on well on my slightly oily lids with minimum creasing for 5-6 hours. I am happy to say that formula is at par with INGLOT eye shadows and this detachable pot is soon going to take a place in my INGLOT Palette. Recommended!
Rating:- 4.5/5
Have you tried Faces Canada Glam On Mono Eye Shadow? Do you like Teal green in matte or metallic finish?