Fabindia Rose Facial Water Review
I was eagerly waiting for my Lotus Herbals Rose Toner to finish and finally it happened (not exactly but almost). It's not that I didn't like it but just that I wanted to try the FabIndia Rose facial water. This time I didn't miss the chance of trying my much awaited Fabindia Rose Facial Water and bought it before I hit the bottom of Lotus Herbals Rose Toner.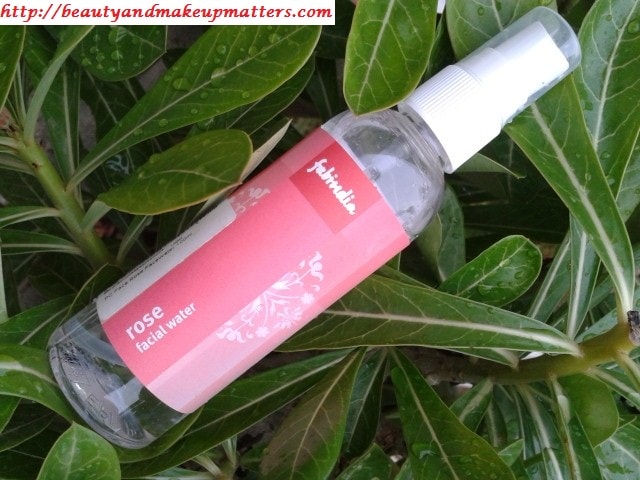 Product Claims: Our 100% plant based soothing water is collected during the steam distillation of flowers while extracting essential oils.
Ingredients:- Distillate of natural Rose petals(flowers)
Price:- Rs.175 for 100ml
Shelf Life:-  18 months from the Mfg date.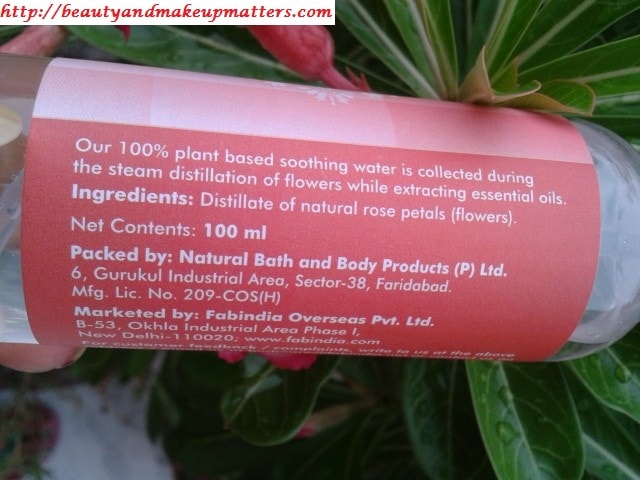 Packaging:-The Rose water comes packed in a slim plastic pump dispenser bottle.  The see-through bottle also has a transparent plastic cap to cover the mouth of pump and prevents it from getting in direct contact with external impurities. The bottle isn't bulky or heavy and can be carried easily along while travelling.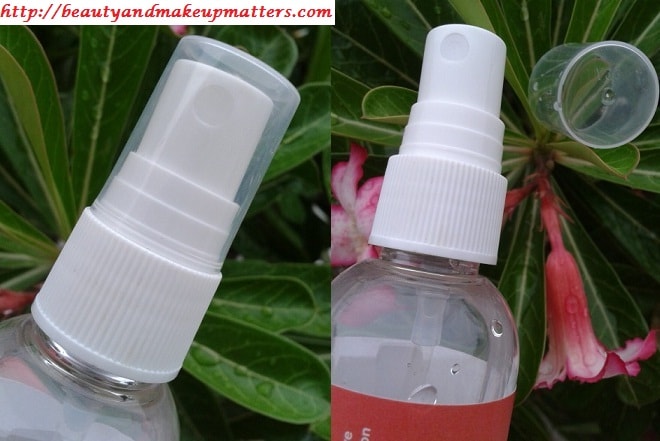 My experience with Fabindia Rose Facial Water:-
The Rose water appears similar to purified water in the bottle. It doesn't have any color which symbolizes the absence of any type of colorants in the liquid and validate purity of the liquid.
The pump dispenser is better than the Lotus Herbals Rose Toner and dispenses liquid in a better manner. When spurted over the face it gives a refreshing cool feeling which stays for few minutes. I thoroughly enjoy its natural Rosy fragrance but it is very faint and don't linger for long.
I just spray 2-3 pumps of the water on clean face and let it dry completely. It dries quickly to give an absolutely matte finish to my facial skin unlike Lotus Herbals Rose Toner which left my skin little sticky. It is not a moisturizing toner but provides instant hydration to my skin. It feels gentle on skin and totally a must have to for summers to get that cool fresh skin in 2 minutes.
Don't Miss to Checkout: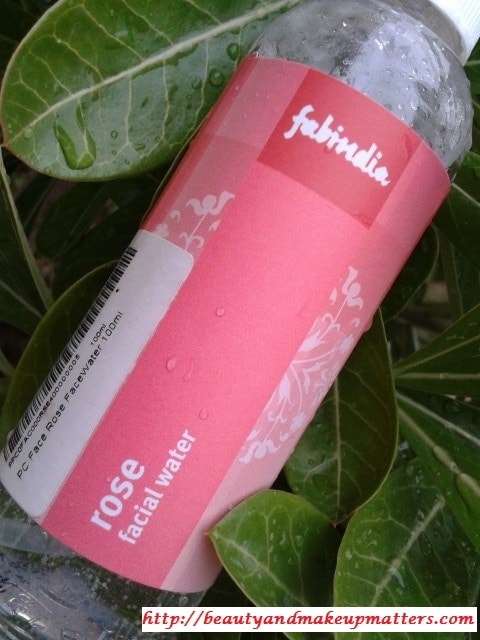 Pros of Fabindia Rose Facial Water:-
Soothing rose petal fragrance which isn't overwhelming
Give mild cooling sensation
Absorbs fast into the skin to give a fresh feeling
Feels light on skin and doesn't make it sticky or oily
Contain only Rose distillate and hence you can enjoy the true effect of Roses
Doesn't irritated or breakout my skin
See through and easy to use spray bottle packaging
Cons of Fabindia Rose Facial Water:-
Slightly expensive compared to others toners.
It isn't a moisturising toner so dry skin need to follow with a light cream.
Recommendation:- Fabindia Rose Facial Water is a mild facial spray which comes in a convenient to carry sleek spray bottle. I prefer these spray packaging's over the nozzle mouth ones. The facial water has become an essential part of my daily skin care regime. It is light and fresh and will also suit oily skin well. It can also be used to prepare face packs but I love it as a facial spray.

It is a must have product for summers and I am sure that you won't regret buying it. Highly recommended!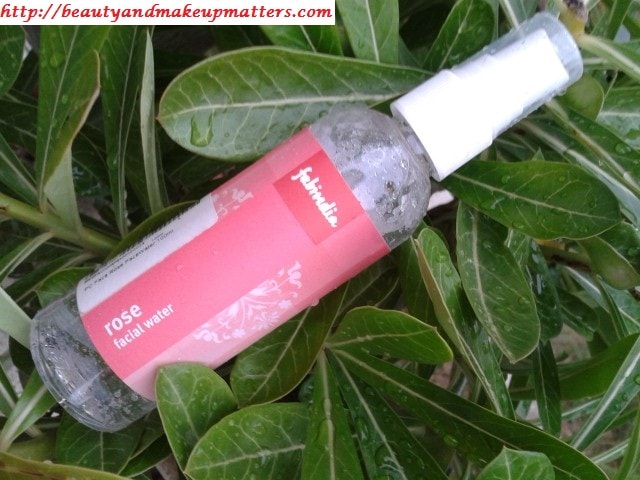 Rating:- 4.2/5
Have you tried Fabindia Rose Facial Water? Which is your favorite Rose toner?