FabIndia Papaya Face Scrub Review
I was just checking out the stuff available at the FabIndia store when I read the word papaya on a tube. It was the FabIndia Papaya scrub. Although Biotique Papaya Scrub was next on my list but as I reached Fabindia store first, I thought why not try this before going for Biotique one.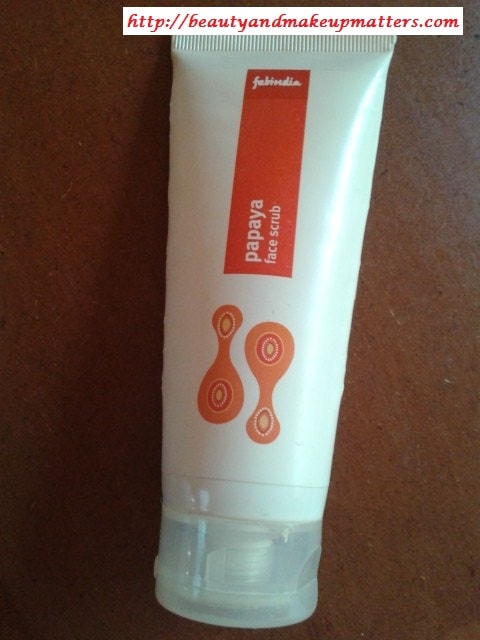 Product Claims: Made with Papaya Extarct and Walnut grits, this scrub removes dead skin cells and opens up the skin pores leaving your skin soft and glowing.
Direction for Use:- Wet face and neck, apply scrub and gently massage. Rinse off and pat dry
Key Ingredients:- Palm Wax, Mineral oil, Corn Powder, Walnut Grit, Multani Mitti, Papaya Extract, Apricot oil, Triclosan, Water, Kaoline, Permitted Colours, Fragrances, Preservatives.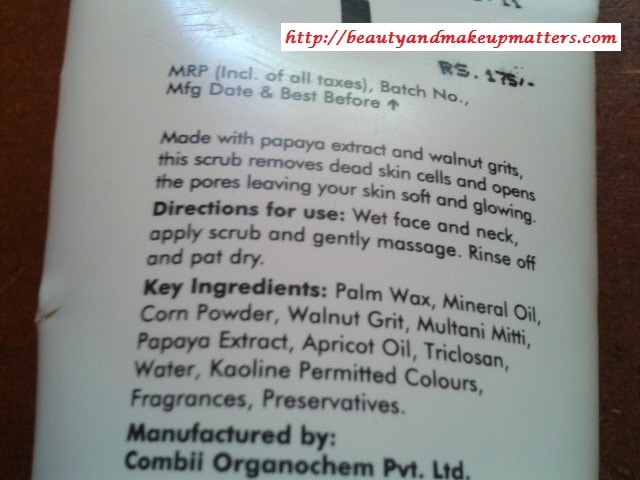 Skin Benefits of Papaya: Papaya is a natural exfoliator and good source of Vitamin A and papain. Vitamin A acts as an anti-oxidant, while the papain breaks down inactive proteins and removes dead skin cells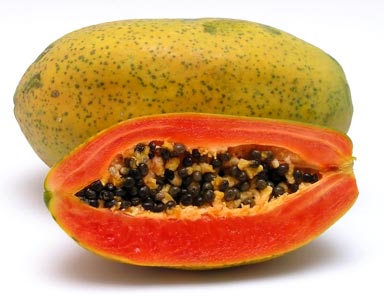 Papaya is a great skin-firming and anti-aging. It helps in removing blemishes, dark spots, evens out your skin tone and brings a glow to your face. It has low sodium and since the salt content is less, the water retention is also little which result is an overall hydrated skin
Price:- Rs.175 for 120ml
Shelf Life:- 18 months from the Mfg date.
Packaging:- The face pack comes in squeeze tube type packaging. It is an opaque white colored plastic tube with a flip flop cap The cap shuts with a click sound but a bit hard to open So don't use your nails else you will end up sacrificing them. The packaging is sturdy but quite boring.
My experience with FabIndia Papaya Face Scrub:-
FabIndia Papaya Face Scrub has thick creamy texture and is brown in color quite similar to multani mitti (Fuller's Earth). The scrub granules are a little oversized and feel harsh on facial skin. It has a weird smell but definitely not a herbal smell. It doesn't have a nice smell either. It smells like some chemicals mixed in Multani Mitti.
I found it difficult to work with this scrub on facial skin. Due to its thick texture you have to rub the scrub hard against the skin to make a contact between the granules and the skin. But the granules are gritty and feel rough and scratchy on my facial skin. Rinsing it off was also not easy and has rubbed it really hard to get it off the skin which resulted in rashes and redness. After all this mess, the unexpected was also waiting to happen. The scrub BROKE ME out badly.
I hated using this scrub and after its disheartening performance on my face I started using it as a body scrub just to finish it off. I feel it's even harsh to be used on legs and arms but it makes a great scrub for dry and rough areas like elbows, knees and heels. I love using it as a foot scrub.
Don't Miss to Checkout:
Swatches:-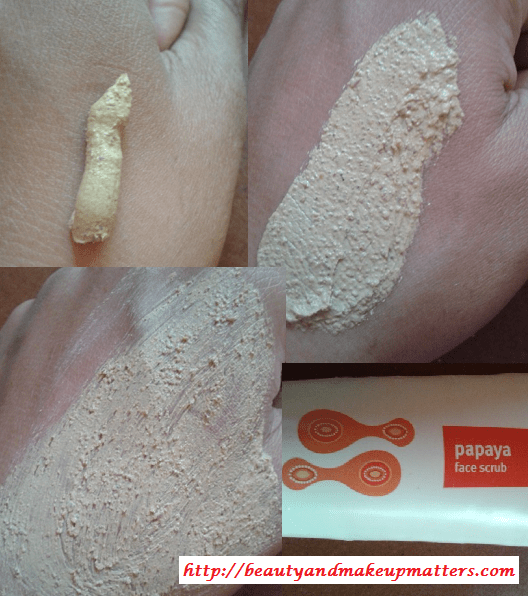 Pros of FabIndia Papaya Face Scrub:-
Contains Apricot, Walnut and Papaya which are natural exfoliators.
Makes a great foot and body scrub and specially for those rough areas like knees and elbows but be gentle else you will hurt your skin due to its rough exfoliating granule
Sturdy squeeze tube type packaging.
Fabindia does not test on animals.
Cons of FabIndia Papaya Face Scrub:-
Contains Cheap and harmful ingredients like Mineral oil and Paraben
Chemical kinds smell which is not at all pleasing
Super thick texture makes it difficult to get the scrub out of the tube
Too harsh to be used on facial skin.
Enlarge the pores
Broke me out. It irritates my skin and results in rashes and redness.
Hard to remove or wash–off with plain water due to its thick texture
Recommendation:- FabIndia Papaya Face Scrub is a total disappointment as a facial scrub. It claims to be papaya scrub but doest have any Papaya smell, neither a nice herbal smell. The scrub is definitely harsh and rough and the worst thing about this scrub is it broke me out. I won't recommend this scrub to any one.
Rating:- 2/5
Have you tried Fabindia Papaya Face Scrub?  Do you use facial scrubs as body scrubs if they feel harsh on facial skin?