FabIndia Papaya Face Pack Review
Few months back, I paid a visit to FabIndia store just to buy its Lemon hand cream but ended  up buying whole lot of other stuff and missed the hand cream (don't you believe me).
I bought this Papaya Face Pack along with FabIndia Papaya Face Scrub.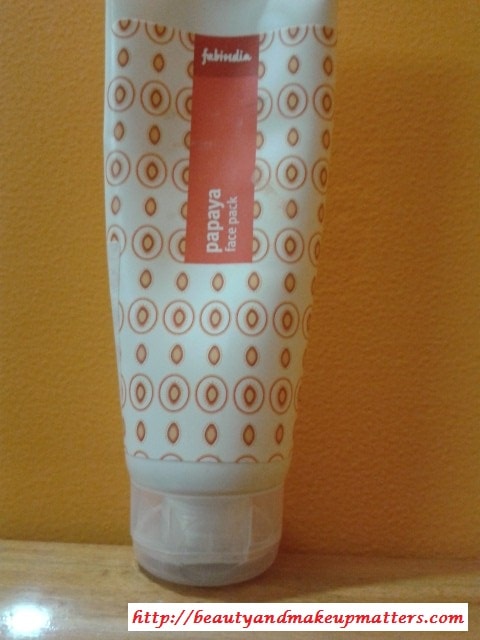 Product Claims: Made with Papaya Extract and Fuller's earth this pack deep cleanses and detoxifies the skin leaving it firm and fresh.
Direction for Use:- Wet face, apply pack evenly till a thick layer is formed. Let dry. Rinse off and pat dry
Ingredients:- Natural Spring Water, Papaya Extract, Glycerin, SLES, Multani Mitti, Kaolin, Light liquid Paraffin, Propyl Paraben, Methyl Paraben, Phenoxy Ethanol, Fragrance, Color.
Price:- Rs.175 for 120ml
Shelf Life:- 36 months from the Mfg date.
Packaging:- The face pack comes in an opaque white colored plastic tube with a flip flop cap.  The cap shuts tight and I have to struggle each time to unlock the cap. The packaging of the scrub and pack looks similar with a slight difference in the pattern on the tube. The packaging is simple, nothing fancy about it.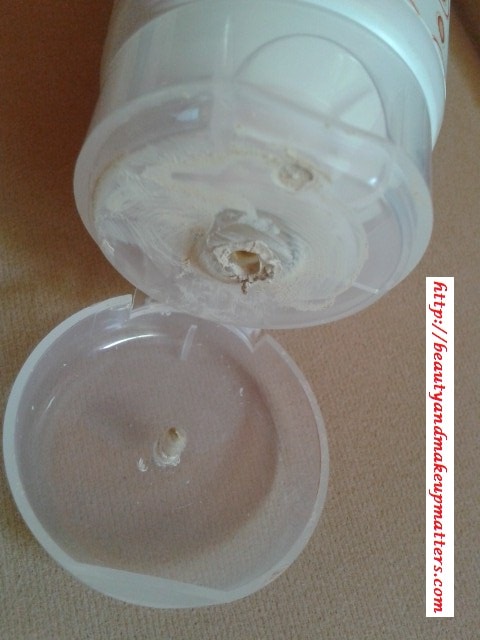 My experience with FabIndia Papaya Face Pack:-
FabIndia Papaya Face Pack is biscuit brown in color and has a thick paste like texture. It looks similar to multani mitti pack just that its bit thicker than that. The pack is so thick that you have to press the tube with extra pressure to squeeze out the pack. The face pack has a disgusting smell quite degraded kinds. I didn't expect it to smell delicious but at least a decent enough herbal smell would have been better. I have used so many herbal products with not so good smell but this one smells the worst. I would have liked it to be fragrance free than this rotten kinds smell.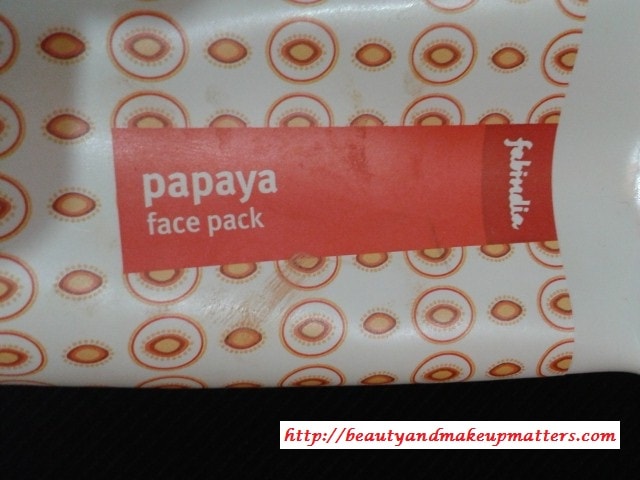 Coming to my results of this pack on my skin:- First time I tried using it after the FabIndia Papaya Scrub but it gave me a strong burning sensation. The mild sensation is kind of acceptable but it was strong and quite unbearable. I waited for the sensation to subside but as it was getting intolerable I have to wash off my face within a minute.
I thought I was getting maniac about the sensation part so ignoring my first experience I gave it another try but effects were still the same and I took off the pack immediately. I assumed that the strong sensation is just because I am using it just after scrubbing which opens up the skin pores and the pack is a bit strong to be used in such situation.
I wanted it to work, so next time I applied it without scrubbing. It still gave me the burning/ sensation but that was quite bearable comparatively or may be after experiencing it twice I was kind of used to it. This time I let the pack stay on my skin.   The pack dried in 15-20 min. Removing the pack was quite a task but the pack will comes out easily with facial sponges.
Now, the worst part of this pack is that it BROKE me out. I don't have a sensitive skin but still it irritated my skin badly and I could see 2-3 eruption on my face the very next morning. I just wanted to throw this tube away or dump it in the bin.
Don't Miss to Checkout:
Swatches:-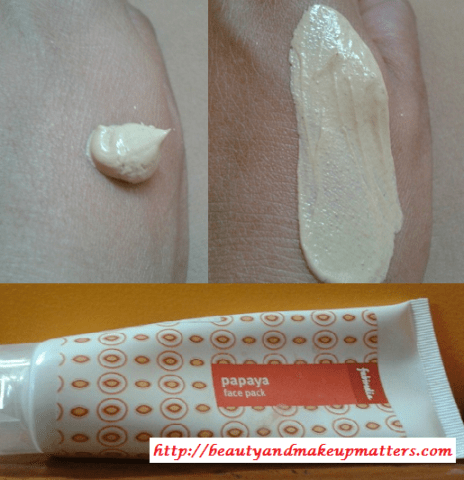 Pros of FabIndia Papaya Face Pack:-
It is a ready to use face pack which comes in hygienic tube type packaging
Cons of FabIndia Papaya Face Pack:-
Horrible smell
Thick paste like texture which is difficult to remove once dried.
Gives a strong burning sensation on my facial skin when applied after scrubbing
Irritated my skin and Broke me out.
Does nothing as claimed. I couldn't see any firming or detoxifying effect on my skin.
Contains Parabens as preservatives
Recommendation:- I am highly disappointed with this FabIndia Papaya Face Pack. I was not expecting it to do wonders on my skin but a little tightening effect with a subtle glow was what all I desired. The product is a complete failure starting with its unpleasant smell, burning sensation and skin irritations and then breakouts. It makes false claims of detoxifying and skin firming. I wouldn't recommend this to anyone.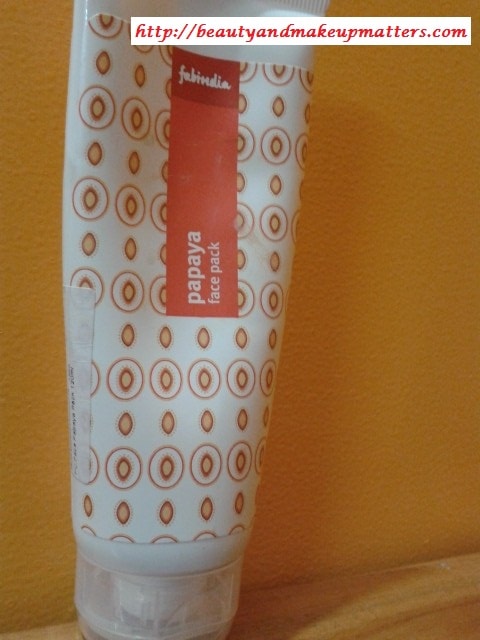 Rating:- 0/5
Have you tried Fabindia Papaya Face Pack? Which is your favourite face pack from Fabindia?