FabIndia Lemon Intensive Hand Cream Review
Hi,
We all agree on the efforts we make and pains we take to look our best. From Moisturizers to Scrubs and Face packs we leave no stone unturned in keeping our facial skin clean and clear and get the desired results but during all this we ignore our most used (abused) body part our "Hands" :P. So, for all those who are looking for something to keep their hands beautiful along with their face I am going to share my new love "FabIndia Lemon Intensive Hand Cream".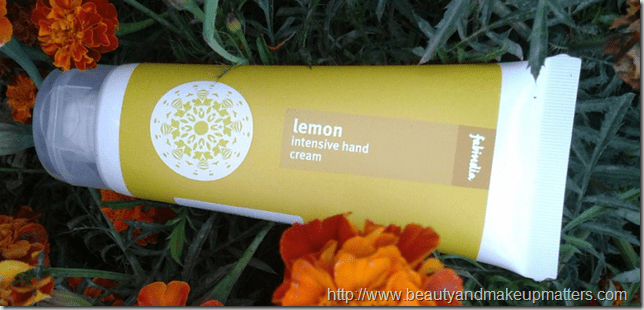 Product Claims:- An intensive non-greasy cream, this formulation combines natural extracts with essential oil. While lemon lightens the skin, glycerin softens it. Regular application ensures your hands remain supple and smooth.
Directions for use:- Smoothe over hands as often as required, specially after washing.
Ingredients:-Purified Water, Urea, Glyceryl Mono Stereate, Glycerine, Emulsifying Wax, Cetyl Alcohol, Sesame Oil, Lactic Acid, IsoPropyl Palmitate, Dimethicone, Sodium Hydroxide, Petroleum Jelly, Imidazolidinyl urea, Methyl Paraben, Allantoin, Lemon Oil, Carbopol 940, Propyl Paraben, Disodium EDTA.
I was a little surprised to see Urea in its ingredients list so, googled some info on it
Skin Benefits of Urea in creams:-Urea is a natural moisturizer and is naturally present in the outermost layer of the skin. Along with lactic acid and other chemicals, it helps to maintain the moisture of the skin. It achieves this by both attracting and holding on to water molecules. When applied to the skin in the form of a lotion or cream, urea also helps to get rid of dead skin cells.
Price:- Rs 150 for 120ml
Shelf Life:- 3 years from the Mfg date
Packaging:- It comes in a typical FabIndia tube packaging. It has lemon green tube with a transparent flip-top cap. The tube is sturdy and travel friendly and can be easily carried in the bag.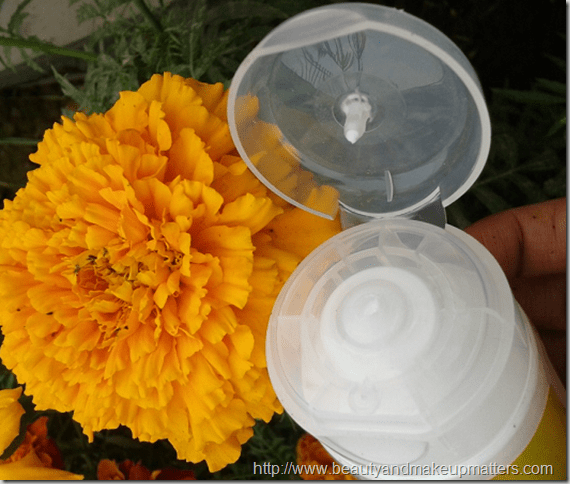 My experience with FabIndia Lemon Intensive Hand Cream:-
FabIndia Lemon Intensive Hand Cream is white in color and has thick and heavy texture. It smells like lemons which I like. The citrusy smell gives a fresh & cool feeling instantly.
Just a pea-sized amount is more than enough for both the hands. It feels heavy at first but gets absorbed with in seconds leaving behind no traces just velvety soft hands <3. It forms a protective layer on hands and keeps them moisturized till I wash my hands.
After regularly using it for a month I can see the visible difference in my hands. My skin has actually been lightened by a tone or two. This tube is going to last me long as I have been using it for a month and more than 70% is still left.
Most of the hand creams available in the market do nothing special for hands other than the moisturizing part but this is the only cream that I know that actually lightens the skin tone.
Don't Miss to Checkout: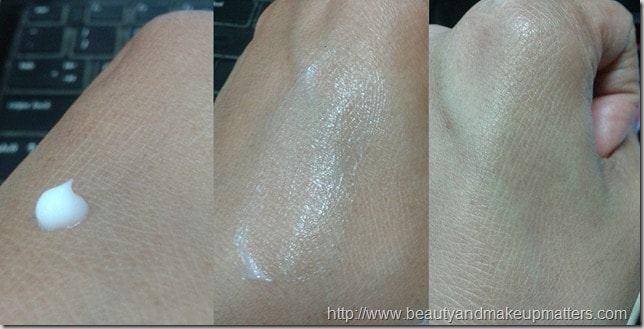 Pros of FabIndia Lemon Intensive Hand Cream:-
Leaves hand velvety soft and smooth
Lightens the skin tone with regular use.
Only pea-sized amount is sufficient for both hands
Moisturizes hands really well and best to use in winters
Easily available in FabIndia stores and also on online websites too.
Pocket friendly at Rs.150 only and is going to last me for 3-4 months easily.
Cruelty free as FabIndia is against animal testing.
Size of the tube is apt to be carried in handbag.
Cons of FabIndia Lemon Intensive Hand Cream:-
Contains Paraben.
If applied in excess it will take a little long to get absorbed completely and feels greasy.
Bit heavy for sweaty summers but go with only pea sized amount to avoid greasy hands.
Recommendation:- FabIndia Lemon Intensive Hand Cream is one of the best hand creams I have come across till date and only one of its own type which claims to lighten the skin tone and actually does.

I will recommend it to all but specially to those with super dry hand skin. I feel most of the hand creams are good as body lotions as they do nothing special for your hands but just moisturisation. I am to going to buy this again and again. Till I find its replacement. FabIndia Lemon Intensive Hand Cream is going to be one of my HG hand cream.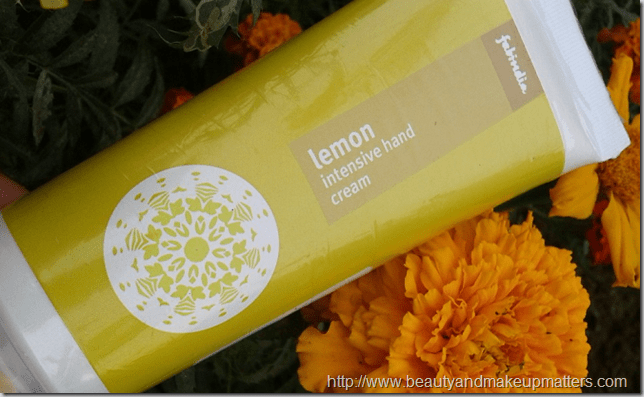 Rating:- 4.5/5
Have you tried FabIndia Lemon Intensive Hand Cream? Which is you favorite hand cream?