Catrice Long Lasting Lip Pencil- That's What Rosewood do!
Hello Gorgeousss,
I have through that phase when lip lining was a must for me and I hoarded lip liners but that were my early makeup days and then the lazy bum in me kicked and I sidelined all those lip liners. After so many years I planned to include them again in my makeup and wanted to start with a nude/neutral makeup look and this is when this liner landed in My Envy Box. Lets see if it fulfilled my wishes, Catrice Long Lasting Lip Pencil- That's What Rosewood do!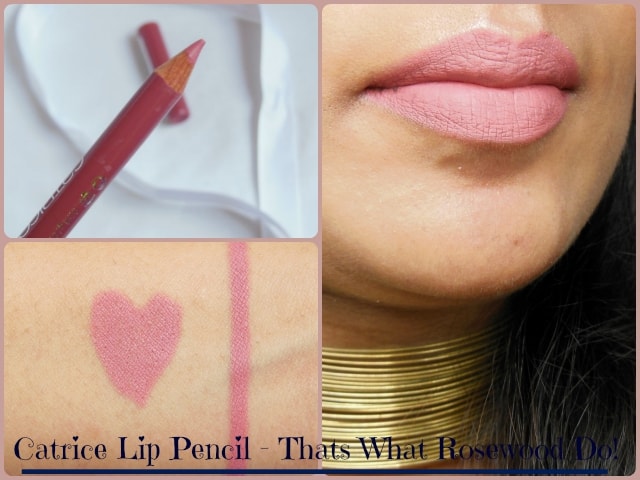 Product Claims: Water-proof lip liner for easy and precise application.With Vitamin E & C. Last upto 4 hours
Price: Rs.300 for .78gms
My experience with Catrice Long Lasting Lip Pencil- That's What Rosewood do!:
Catrice Long Lasting Lip Pencil in That's What Rosewood do! ..woohhh.. such a chic name :D. I wonder what Rosewood would do ;). It is my first stint with Catrice products and I really didn't know what to expect but such a lovely name of a liner amplified my expectation.
Catrice Long Lasting Lip Pencil is a wooden sharpneable lip pencil with color coded body and all the details engraved on the pencil. That's What Rosewood do! is a soft pinkish nude shade, not exactly the neutral shade I was looking for, as such pinky-nudes doesn't flatter warm Indian skin tones and looks washed out and same is the case with this lip liner shade.
The texture is soft and creamy texture, not super creamy though and on dry lips once can feel a bit of drag while swiping the pencil across lips. The color payoff isn't good either as it doesn't give that opaque coverage I expect from a lip liner. The formula has something wrong as it tends to develop patterns and slip around post application which is definitely not acceptable from lip liners. Also it settles in fine lines and emphasizes lip imperfection if lips are not prepped well before application.
Don't Miss to Checkout:
The lip liner has powder matte finish. The shade can be worn beneath any of the lipsticks or use as a color base for sheer glosses to hide lip pigmentation but I feel we have better options in Indian Drugstores brand.
The lip liner doesn't last long and I can see it fading in few hours of application but I am happy that it doesn't make any such claims as well.
Recommendation:-Catrice Long Lasting Lip Pencil- That's What Rosewood do!  left me disappointed with it sheer coverage and not so smooth formula. I was expecting much better results and at least good pigmentation from this lip line but it doesn't fare well on any of the parameters. For the price point I feel Maybelline Color Sensational Lip Liners perform are much better than this Catrice one. Can't say, if the issue is with this particular shade or is common in all of them.
Rating:- 1/5
Have you tried Catrice Long Lasting Lip Pencils? Which is your favorite Lip Pencil Brand?