Eye Makeup Tutorial – Yellow Bronze Eyes
Hello Dolls,
I have a quick neutral to glam makeup look tutorial to share with you today. I started with a warm bronzy brown look which is perfect for day time for a hint of color on eyes but just dabbing a little bit of bright yellow transforms it to a lovely evening party look.
I have been a little obsessed with Yellow on lids these days and have been using it in many ways in most of my looks and I am actually liking how it looks in here on the lids.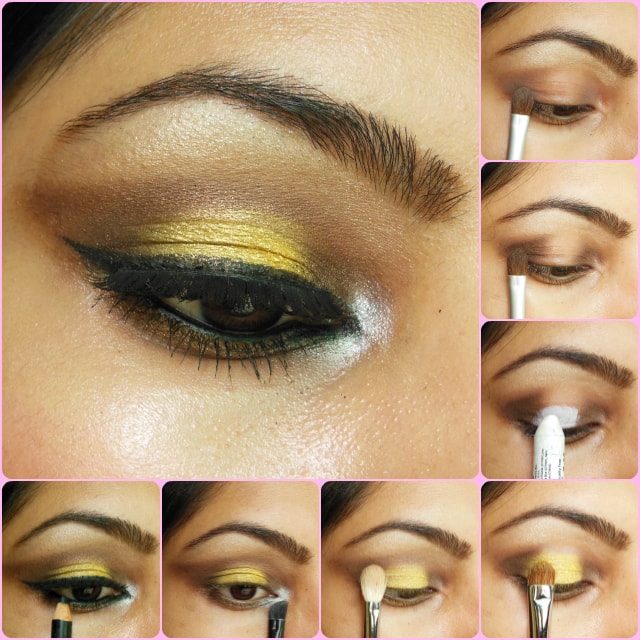 Steps to Achieve the Look:
Start with getting a light skin tone color on the crease to have a soft transition shade there and ten pick a medium brown and apply it on the outer and inner corners softly blending over the crease but keeping the centre of the lid clean.
Layer the medium brown with a dark chocolaty brown shade for more intensity and follow the similar pattern. Try to create a V at the outer corners for that extended winged effect.
I wanted the Yellow to pop so I used White as a base and NYX Jumbo Pencil in Milk Bean did the job for me. I applied it over the centre of lid area and blended it lightly with fingers.
Pat the Bright Yellow Eye Shadow over the white with Flat Shading Brush. Pack the color until you get the desired intensity.
Blend the color in the crease with the transition shade using a clear brush or with a skin tone eye shadow and reapply the Yellow if it seems to loose the intensity.
With a fluffy blending brush, highlight the brow bone with this satin shimmery highlighter.
Using an Eye Pencil or Gel Liner create a short winged eye liner and extended wing liner. Curl lashes and coat them with your favorite Mascara. Apply false lashes for more glamorous look
You can easily replace Yellow with a shimmery peachy shade for more a subtle but glam eyes without any bright shades in case you are not comfortable using such colors.
Hope you enjoyed this tutorial!!
Share your thoughts and feedback in comments below
Loads of love.. :-* :-*
PS: If you get inspired and recreate the look, don't forget to share it. Tag me on instagram, facebook, twitter (@Poonam_BMM). I would love to see it on your eyes.