Eye Makeup Tutorial -Valentine's Day Special "Pink Love"
I know I am so so late to write this post and have the same damn excuse of hectic schedule.. but I can beg some mercy from you people as it is Day of Love and you can't hate me today from my delay.. 😉 .
I first thought of doing something smokey Eyes or some subtle eye makuep but didn't get any positive vibes an decided for something out of the usualss… something special for this Super Special DAY!! <3 <3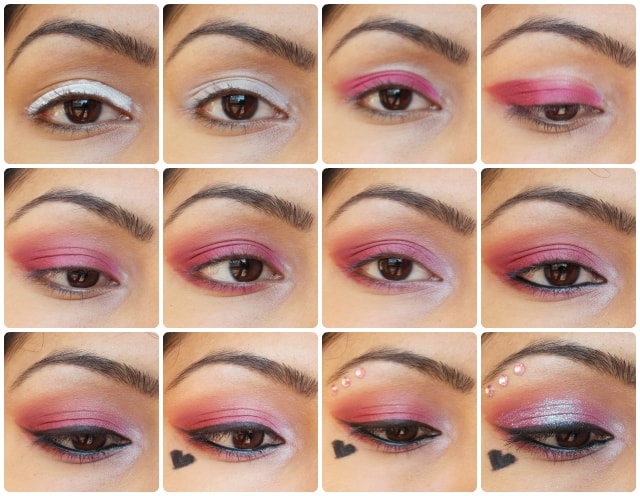 Steps to achieve the look:
Conceal under eyes and use a white creamy base on the upper lid for a bright pink effect
Blend it out with fingers
Now pat a Reddish-Pink Eye shadow all over the lids, bealow the crease line
Put a dark Shimmery pink eye shadow on the outer V corner for some added intensity
Blend out all the harsh lines using a soft, fluffy blending brush
Using a wet angled liner brush apply the same reddish-Pink on lower lash line.
Using a shimmery peachy-white highlighter on inner corners
Line the waterline with black Kohl
Apply a Matte black liner on the upper lash line with a slight wing.
Draw a tiny heart just below the outer-V Corner with a smudge proof Black Pencil. 

You can stop here as the next Two steps are just for a Glam touch… 😉

Use tiny studs, I used "Bindis" in baby pink and places them on my brow bone, just after the arch
Using a damp flat shader brush apply some shimmery pigment all over the lids, preferably some light shade and finish off with Volumizing mascara.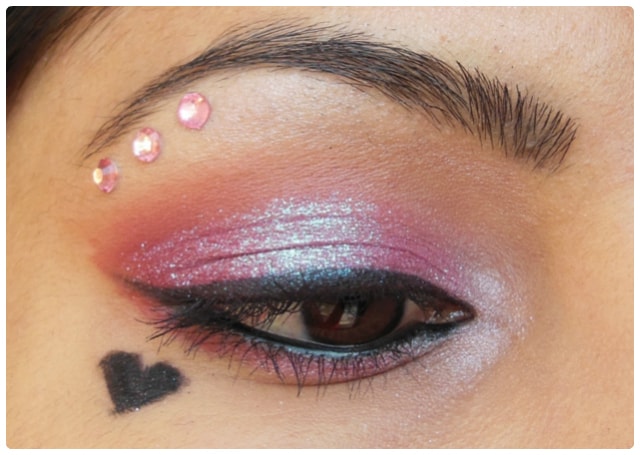 Products Used (Forgot to click the pic.. 🙁 ):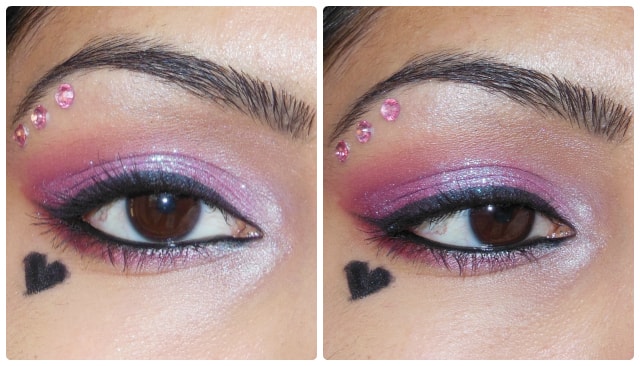 I am writing this post super quick, I am half asleep now.. zzZZZzzz …so if there are some errors.. let me know, will correct tmrw.. 😉
Don't Miss to Checkout:
Hope you liked the tutorial.. 🙂 All decided what you will be wearing tomorrow.. ?? .. (jst few more minutes to goo… )
Wish you loads of love and fun filled Valentine's Day!! <3 <3
PS: I have some face pics clicked too.. might upload tomorrow.. Dead tired now for any further editing.. 😛
Love, Poo.. 🙂