Eye Makeup Tutorial : Soft Brown and Shimmery Pink Eyes
Hello Dolls,
Today, I am sharing another shimmery and studded eye makeup look using Pink Glitter. The eye makeup isn't perfect and needs a lot of improvement but I had this in my drafts folder for long waiting for me to publish it so I thought why not and let you people decide what do you think of this look.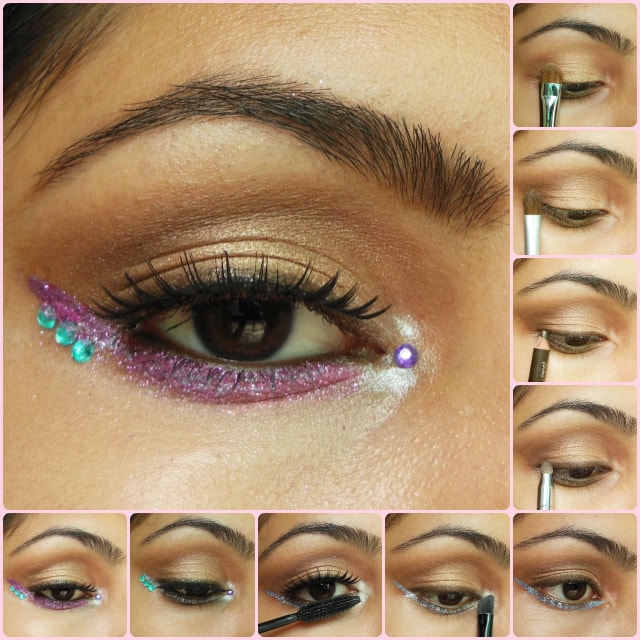 It is a very bold eye makeup and not for everyone but you can easily transform it to your favorite type by skipping the stones and replacing shimmers with a bright colored eye pencil on lower lash line
Steps to Achieve the Look:
Pat the bright Metallic Brozey gold shade all over the lids just below the crease area.
Start with blending now and pick a dark brown shade to blend the harsh edges and giving a depth to the crease at the same time. Better use 2-3 different shade sof brown for a nice gradient effect.
With a dark brown eye pencil, trace the upper lash line.
With a small smudger brush blend the liner slightly to give a soft diffused look to the liner. Also, highlight the brow bone with the same eye shadow for a defined brow bone look.
Apply glittery liner/glitter glue on the lash line till the poin you want to use the shimmers; I extended it to the wing.
With a small brush highlight the inner eye corner with a shimmery champagne shade.
I will be using glitters later so I am applying the false lashes now and be done with my upper eye makeup. Finishing off with coats of mascara to blend my natural lashes with false lashes.
Stick on some colored stones at the respective places like inner eye corner and just below the wing.
Finally, add those Pink shimmers on lower lash line. I should have used glitter glue just before this step but I messed it up 😛
You can easily replace shimmers on lower lash line with a bright colored eye pencil for a more easy and wearable look.
Hope you enjoyed this tutorial!!
Share your thoughts and feedback in comments below
Loads of love.. :-* :-*
PS: If you get inspired and recreate the look, don't forget to share it. Tag me on instagram, facebook, twitter (@Poonam_BMM). I would love to see it on your eyes.