Eye Makeup Tutorial – Shimmery Bronze Soft Smokey Eyes
Today I am  going to share another tutorial using Maybelline Color tattoo Eye Shadow in Bad To Bronze. I have fallen in love with these creamy eye shadows and love use them every time I do eye makeup.  I have done an Everyday Brown Eyes Look, now I will be sharing a Soft Shimmery Bronze eye look.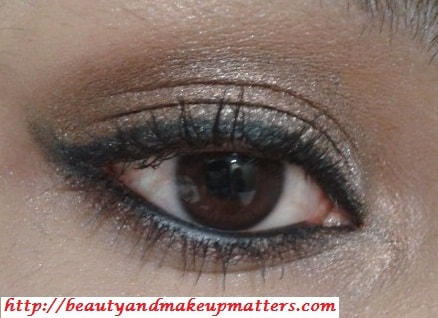 Steps to Achieve the Look:-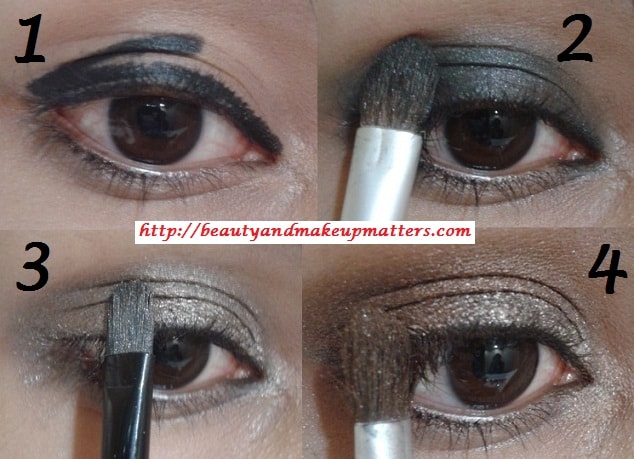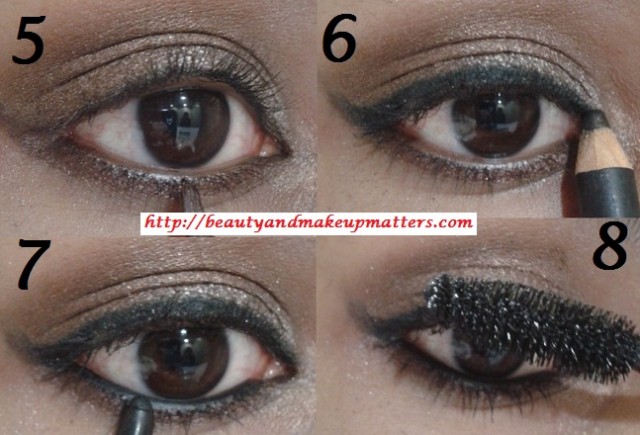 Start with creating a black base for the look, so line your upper lash line with an easily smudge-able Black eye liner or a long staying Kajal. I used Bourjois Kohl & Contour Eye Pencil-Noir Expert and took the line till half of socket area (crease line).
Smudge the liner all over the lids with a soft fluffy Faces Eye shadow brush but make sure you don't go beyond the crease area
Now, pat Maybelline Color Tattoo Eye Shadow – Bad To Bronze over the lids using Maybelline Eye Shadow Brush.
To add smokey effect pick up the Shimmery Bronze eye shadow from Revlon Custom Eye Palette in Naturally Glamorous and blend it over the crease and outer V eye corner.
Line lower lash line with a copper toned shimmery brown Eye Liner from L'Oreal Or you can apply the same Shimmery bronze eye shadow
Define upper lash line with a matte Black liner, for me Bourjois Kohl & Contour Eye Pencil-Noir Expert did a good job.
Fill waterline with your favorite Kohl, I used Chambor Transferproof Smooth Eye Pencil – Black Dazzle.
Finish off by curling your lashes with Maybelline Colossal Water-proof Mascara.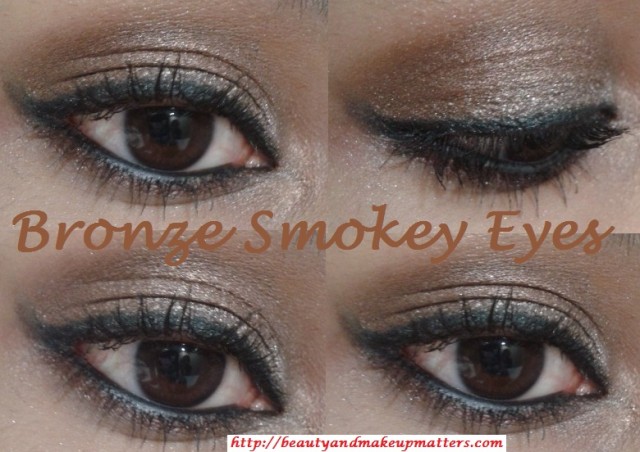 This is another soft brown smokey eye look that goes easily with formal occasions and outings. The eyes stays in perfect condition even after 7 hours of wear. So, if your heading for a dance party, Rock n Roll with these soft bronze eyes.

Don't Miss to Checkout:
Products Used :-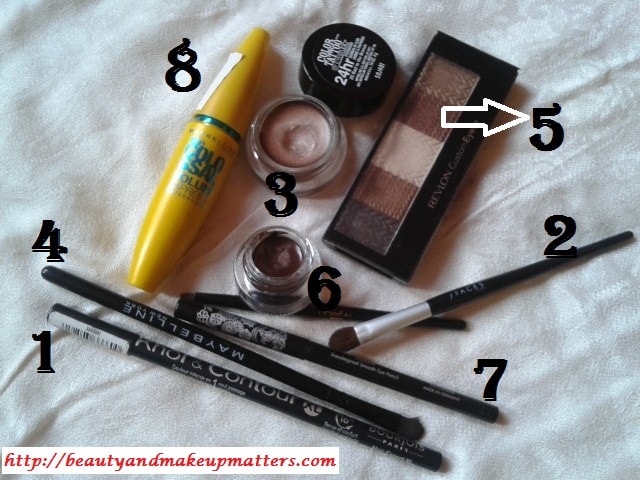 Maybelline Eye Shadow Brush
Revlon Custom Eyes Naturally Glamorous – Shimmery bronze shade (4th)
Hope you liked the look! Do share your thoughts through Comments 🙂