Eye Makeup Tutorial: Royal Blue Eyes
Hello Dolls,
I have been dying to do Royal Blue eyes but didn't had a perfect dark blue shade in my collection and then I added this gorgeous Sleek Rio Rio Eye Shadow Palette and bang,.. I got my blue there 😀
So, today I am sharing this bold Royal blue eye makeup look, I know it could have been way better but the light wasn't helping much and as it was an inspirational look I didn't changed it the way I liked .. ( I should have done that 😛 )
I promise I will come up with a better blue eye makeup soon!! ..and to see that live don't forget to Subscribe to my channel HERE <3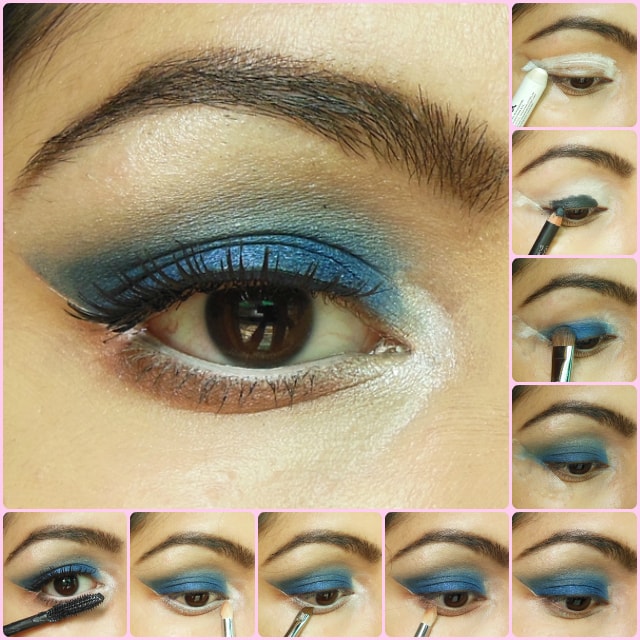 Steps to Achieve the Look:
I fixed a scotch tape around the eyes to keep the edges clean and get a crisp look. Start with applying a white eye shadow base under the crease area and blend it with fingers. You can easily skip this step if you have really light blending shades for the job.
As I want the base color to really pop so I swipe a black eye pencil all over the lids and blended with fingers just under the crease area.
With a flat shading brush, SIGMA E55 pat the bright Royal Blue shade all over the lids just below the crease area. I used the blue from Sleek Rio Rio Eye Shadow palette.
Start with blending now and pick a light brown shade to blend the harsh edges and giving a diffused blue look in the crease at the same time. I used some cool toned brows to blend the color even more in the crease
Remove the tape and highlight the brow bone with a satin shimmery white shade for a defined brow bone look.
Apply rose gold shade on lower lash line with a pointed pencil brush and the blend it slightly with a warm brown
Line water line with white color pencil, I used NYX Milk Bean on an angled brush for a precise application
With a small brush highlight the inner eye corner with a shimmery white shade, I used Makeup Geek Ice Queen.
Applying the false lashes and Finish off with coats of mascara to blend my natural lashes with false lashes.
You can easily replace white colored lower lash line with a black Kohl for a more easy to wear and smokey eye effect.
Hope you enjoyed this tutorial!!
Share your thoughts and feedback in comments below
Loads of love.. :-* :-*
PS: If you get inspired and recreate the look, don't forget to share it. Tag me on instagram, facebook, twitter (@Poonam_BMM). I would love to see it on your eyes.