Eye Makeup Tutorial: Pop Of Green
Hello Everyone,
I have a pretty Simple eye makeup tutorial to share with you today.  Basically you can tone it up or down as required by just replacing the bright green liner with a dark brown liner or may be just smudging the kohl on lower lash line.  So, you can wear soft black and pink eye during the day and transform to a glam self by adding a bright eye liner on the lash line to rock an evening party!! 🙂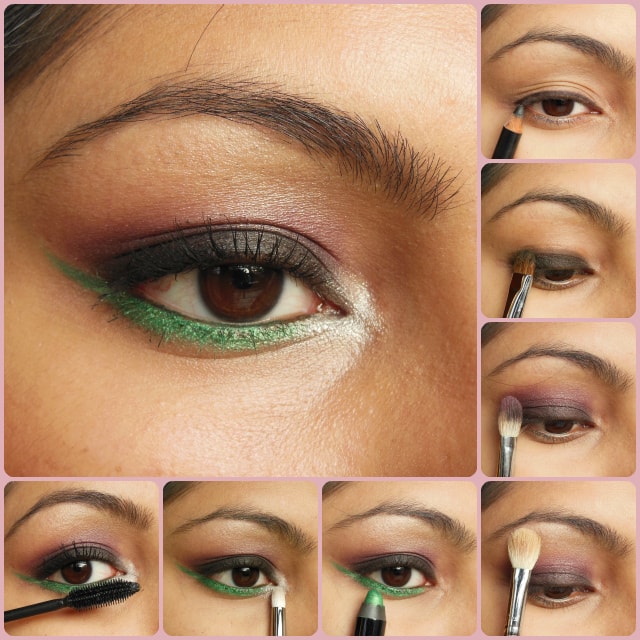 Steps to Achieve this Look:
Prime the lids and line your upper lids with a black Eye Pencil. You don't need to be perfect with this because we are going to smudge it out.
Smudge the liner with fingers or any brush just slightly and then pick matte black eye shadow with Flat Shading Brush and pat it all over the lid. Pack the color until you get the desired intensity but keep it towards the lid area only.
Pick a satin/metallic pink eye shadow using a blending brush and then apply it over the crease area blending in short viper motions. You can intensify the look as desired; I wanted to keep it subtle so didn't added anything more.
With a clean brush pick some satin peach highlighter and Highlight the brow bone area
Time to add some pop of color on lower lash line, I used Sephora Jumbo Eye Crayon in Green.
Using pointed pencil brush pack a shimmery champagne highlighter on the inner corners
We are skipping the eye liner so just Curl your lashes and coat them with your favorite Mascara. Apply false lashes for more glamorous look
Here is a close up..
Products Used:
Hope you liked the tutorial. Share your thoughts and feedback in comments below
Loads of love.. :-* :-*
PS: If you get inspired and recreate the look, don't forget to share it. Tag me on instagram, facebook, twitter (@Poonam_BMM). I would love to see it on your eyes.