Eye Makeup Tutorial: Pop Of Blue
Hello Everyone,
If you have not seen me in a neutral eye makeup look and then here it is with just a blend of browns on my lids but as you all know me well.. colors complete me so I added a bit of them on my lower lash line.
I feel that this look can be pulled off by anyone with slight tweaking like just do the upper lids if you are not into colors but if you want to add some color glam to the eyes pat some blue on lower lash line and you are ready to exhibit your colorful side 😀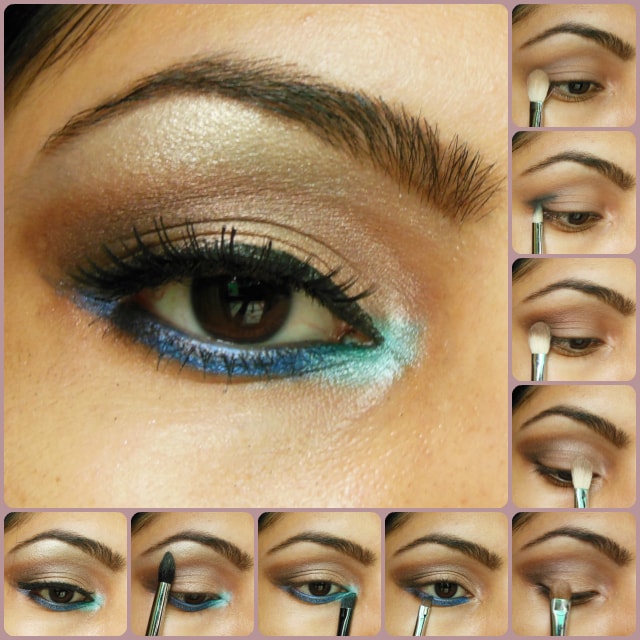 Step by Step Tutorial to Achieve this Look:
Start with apply a concealer to hide dark circles and under eye pigmentation and get a smooth base for the look to be started. I also did my eye brows beforehand and hence they are not a part of this tutorial.
Apply a taupe brown eye shadow over the crease area and blend it really well using a fluffy blending brush. This step will work as adding a transition color in the crease.
To add some depth to the Outer-V, apply a matte black eye shadow with a  pointed pencil brush and just place it to define the V in eye corner.
Using the same blending brush, pick a pearly medium brown eye shadow and blend in the crease as well the outer V for more diffused look
Apply a light pearly taupe brown shade just under the crease area using a flat shading brush , just make sure to leave the center part of the lid as we will be applying a different shade here.
Pat some medium copper-gold shade in the centre of the lid with the same a flat shading brush . You can also use some glitters for a neutral glam look if you feel comfortable
Using an angled eye shadow brush, apply a dark blue eye shadow close to the lower lash line and blend it lightly on outer 2/3rd area.
Now using the same or a different angles brush pat some light sky blue eye shadow on the inner 1/3rd of lower lash line and inner eye corners
Apply a peachy highlighter to define brow bone area.
Tight line your waterline and line the upper lash line with any of your black liner, Curl your lashes, add some falsies for a dramatic look and coat them with your favorite Mascara.
Here is a close up look at the steps..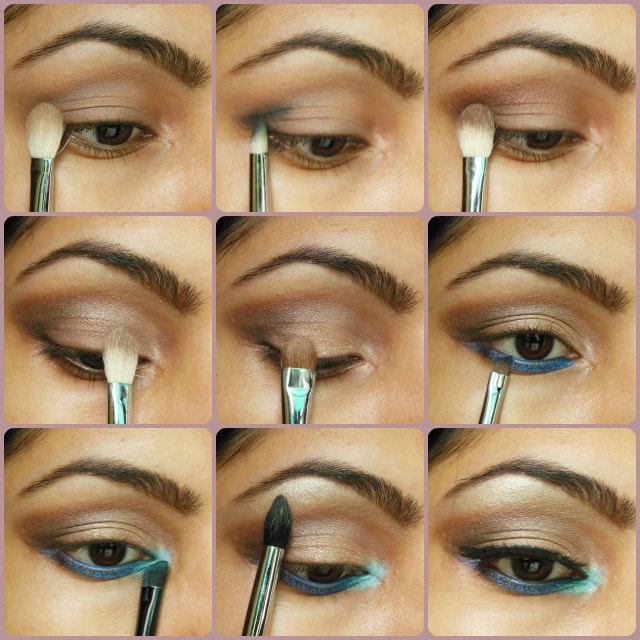 I paired it with a bright fuchsia pink lipstick because blue looks best with pinks 😀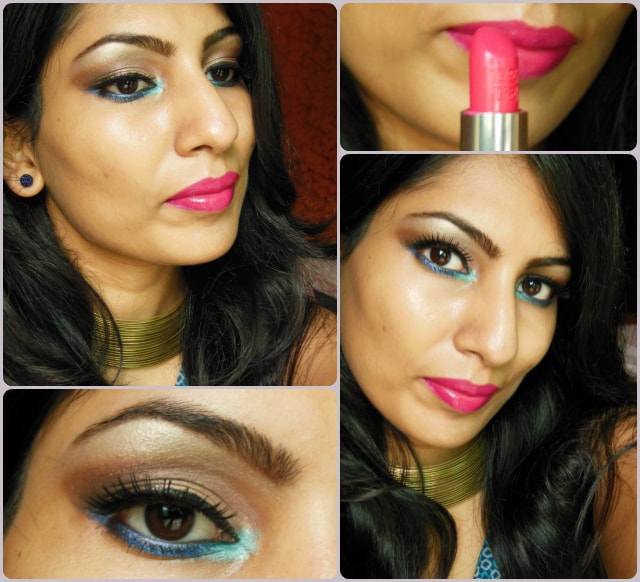 And this is how it looked on me :). I absolutely forgot to add blush on my cheeks because I got super excited with the way the look turned up :). If you notice that gleaming glow on my cheeks than I must tell you that it is from my favorite highlighter – MAC Strobe Cream. For more pictures and details of the look checkout my Pop Of Blue Makeup Look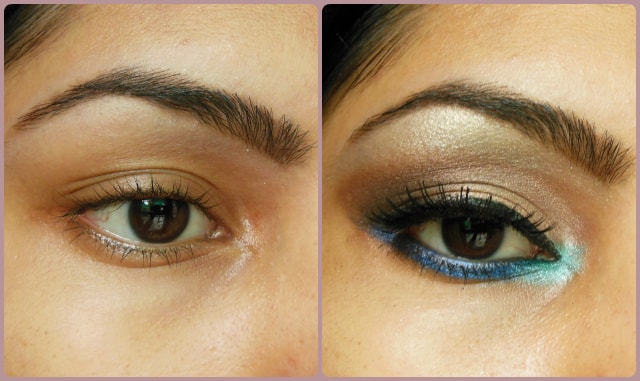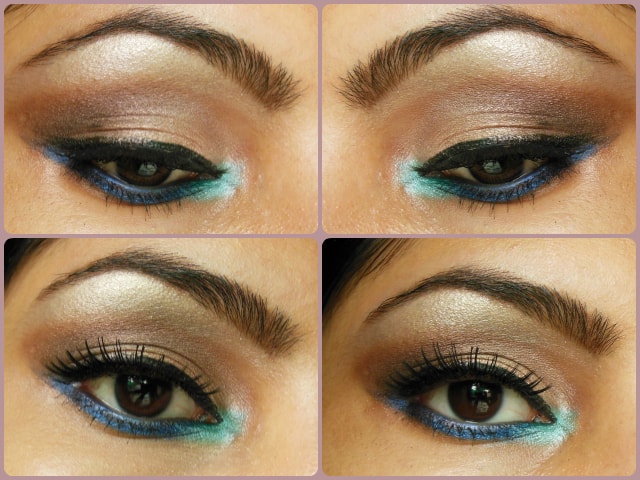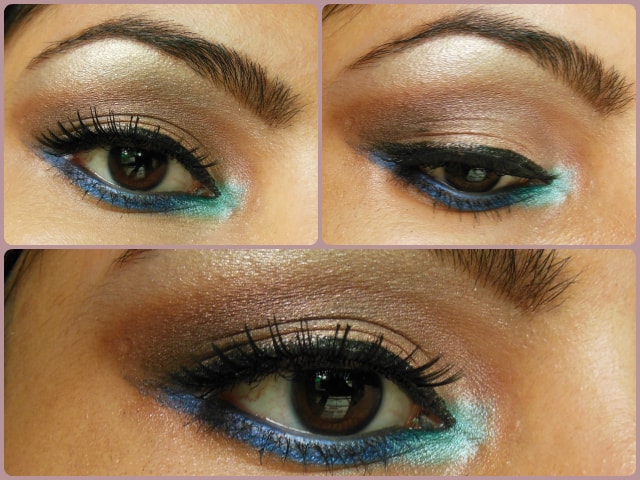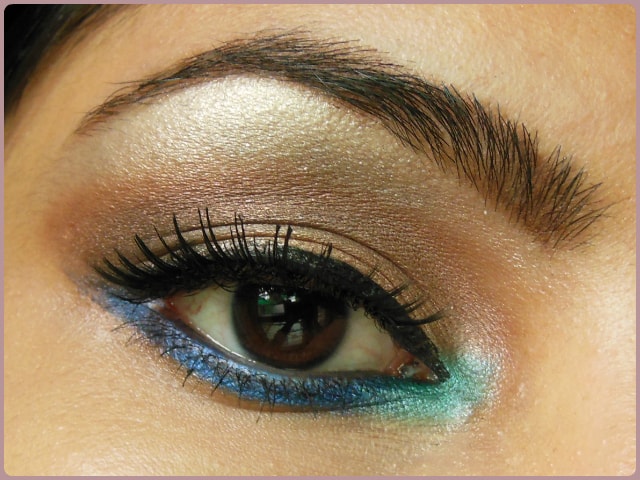 Hope you like this Glam Eye Makeup Tutorial!  Share your thoughts and feedback in comments below
Loads of love.. :-* :-*
PS: If you get inspired and recreate the look, don't forget to share it. Tag me on instagram, facebook, twitter (@Poonam_BMM). I would love to see it on your eyes.